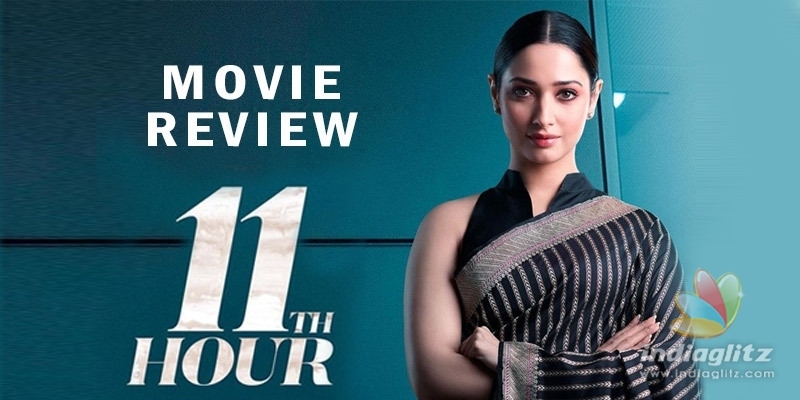 '11th Hour, the web series starring Tamannaah Bhatia, is now streaming on Aha. Here is our review of the 8-episode series.
Story:
Tamannaah plays Aratrika Reddy, the head of the nearly-bankrupt Aditya Group of Companies. If she doesn't cough up Rs 11,000 Cr by morning, her company will be taken over in a hostile deal by one of her enemies. The chairman (played by Srikanth Iyengar) of the bank that had lent Aratrika's company thousands of crores is determined to see her lose. Her father (played by Madhusudhan Reddy) is seemingly against her wishes to save the company at any cost. Shatru plays a corporate honcho who wants to see Aratrika go bankrupt. There is a Dubai-based business leader who wants to teach her a lesson. Adith Arun plays a mediator. Vamshi Krishna plays her ex-husband and he has his own grouse against the female protagonist. Amidst all this, Jayaprakash plays Aratrika's well-wisher, while two Central Ministers have their hand in the till. Can Aratrika win against all odds?
Analysis:
The web series, whose 8 episodes have a run-time of approximately 20-25 minutes each, is based on a novel by the name of '8 Hours' written by Upendra Namburi. The corporate thriller, whose story unfolds over a night at a star hotel, throws into the mix a range of characters. From wheeling-dealing politicians, questionable bankers, unscrupulous investors, and cynical power brokers, you have them all. Then there is Aratrika's not-so-benight family.
Besides Tamannaah's digital debut, '11th Hour' also marks the notable debut of acclaimed director Praveen Sattaru on the Telugu-only OTT space. Touted to be the biggest Telugu-language web series thus far, it has been written by Pradeep U, who is also its producer.
For starters, the web series is enhanced by neat performances by one and all. Tamannaah is engaging in the role of a focused corporate leader, who is on the verge of joining the league of Vijay Mallyas and Nirav Modis. As she races against time, the star actress brings tension to the table. Shatru is surprisingly nuanced, while Jayaprakash is at his usual best. Adith Arun shows range, while Vamshi Krishna (who is seen in this Friday's other release, 'Vakeel Saab') aces in a negative role. The rest of the cast also fit the bill.
At the start of each of the episodes, an event related to Aratrika's past is narrated for a couple of minutes. Then the titles roll and the story cuts to the present. And each of the episodes ends on a cliffhanger.
For a corporate thriller involving intrigue and a range of despicable characters, '11th Hour' somehow fails to create curiosity about what might happen next. Some episodes are slow-burn, while others feel a little rushed.
The track involving a CBI officer could have been more clear. After a point, the dialogues start becoming either monotonous or jaded. The common theme of a number of dialogues is this: Some or the other character is heard saying he wants to finish someone.
The drama is overwhelmed also by the presence of too many characters. There are as many names for the viewer to remember as there are rooms in the swanky star hotel. It's a consolation that the names are distinct because the characters come from a range of socio-religious backgrounds.
The finale feels simplistic, with Aratrike executing a sucker punch just like that. Too much is narrated in the form of TV news reports.
Bharatt-Saurabh duo composes fine BGM. Mukesh G's cinematography and Avinash Kolla's production design are fine for a web series.
Verdict:
 '11th Hour' is a mixed package. The corporate thriller has its moments, but the narration could have been more edge-of-the-seat.
Rating: 2.75 / 5.0
Showcase your talent to millions!!
Write about topics that interest you - anything from movies to cricket, gadgets to startups.
SUBMIT ARTICLE
More
Telugu Movie Reviews
Babli Bouncer
Dongalunnaru Jaagratha
Krishna Vrinda Vihari
Alluri
The Life of Muthu
Saakini Daakini