30 out of 50 of those stories are horror-comedies: Allari Naresh
Tuesday, December 27, 2016 • Telugu Comments

Listen to article
--:-- / --:--



Allari Naresh, whose 'Intlo Deyyam-Nakem Bhayam' will hit the marquee on Dec 30th, talks in this interview about what makes the movie a cut above other movies belonging to the same genre, when he will turn into a director, and more.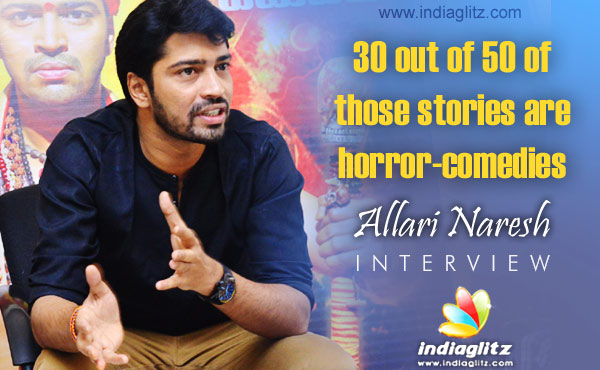 We have seen a number of horror-comedies in recent times. How is 'Intlo Deyyam-Nakem Bhayam' different?
It's true that there have been a number of films belonging to this genre. In fact, of the 50 stories I have heard in recent times, 30 of them are of this genre. While they have shown horror, comedy and suspense in the context of characters inadvertently getting holed up in a haunted house, our film is about horror and comedy in the context of a ghost haunting a household in which marriage is going to be held.
What is your character like in the movie? Do you believe in ghosts, by the way?
I enter into that haunted house as a band member who doesn't believe in ghosts. I pretend to scare away the ghost with my quackery. I am playing a scared yet scaring person in the movie! No, I don't believe in ghosts. I believe in God.
Your films come with a lot many quirks. What does this film have in store?
I am scared of doing romance because the ghost will scare the daylights out of me if I romance with anyone else save the two heroines.
Since 'Seema Shastry' and 'Seema Tapakay' in the direction of G Nageshwar Reddy worked well, why didn't you go with the sentiment with respect to the title?
People did expect that the word 'Seema' would be there in the title for sure. If we had to go by the sentiment, we would have gone for 'Seemalo Deyyam-Nakem Bhayam'. But that wouldn't have suited the story.
Why have you been failing of late?
'Sudigaadu' turned out to be my 'Magadheera'. It did good to me, but it also did bad. The audience's expectations from me increased manifold after that movie. Moreover, with comedy genre picking up, the standards got raised, so also expectations from me. I did try to come out of the genre, which is why 'Laddubabu' happened. That didn't work, though. By the way, comedy can't be there in a movie for the sake of it. It has to be organic and grow from the story, which should also have emotions inbuilt into it.
You now have a promotion in your personal life. How are you seeing all this?
People say that responsibilities increase post marriage. The truth is they increase only after the birth of a child. I am very happy on my fatherhood.
When are you going to don the director's mantle, something your late father (EVV Sathyanarayana) accomplished in an exemplary way?
I have penned a story. I want to direct a heart-touching love story. My aim is to plan it in such a way that the film hits the screens in May, 2020. 2020 carries positive vibes. And May is a month I find lucky. We also have plans to launch a film on our home banner on June 10th, Nanna garu's jayanthi.
What are your up-and-coming projects?
The film in Anish Krishna's ('Ala Ela' fame) direction will go on the sets in February. After that, a film in the direction of Bheemineni Srinivas and another one in the direction of Satish are scheduled to be there.
Follow us on Google News and stay updated with the latest!
Follow
Actress Photos
Keerthy Suresh
Yaashika Aanand
Aishwarya Dutta
Namitha Pramod