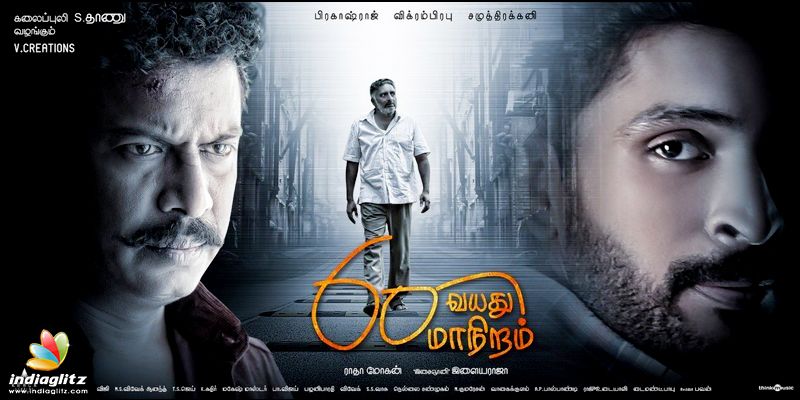 60 vayathu maniram : Emotions running high
60 vayathu maniram is remake of One of Kannada's biggest 2016's blockbuster - Godhi Banna Sadharana Mykattu. Vikram Prabhu, Prakash Raj and Samuthrakani play lead roles in this thriller that is strong at heart falters a little bit in execution. Centered on an old man who suffers from Alzheimer, the drama unfolds as he goes missing during a hospital checkup. There is also a gangster interference to this plot and then not far away is a love story developing too. Radha Mohan known for the sensitive emotional thought process comes up with a neat drama that exposes the vulnerability of people suffering from Alzheimer.
Virkam Prabhu comes as a busy Software engineer from Mumbai, aspires to travel abroad just as any another IT felon. His father Prakash Raj stays in an old age home, suffers from the deadly Alzheimer disease. Radha Mohan's strength always lies in bringing out the little known emotional things that lie deep down beneath the human complexion. While what might appear right to someone, it might be wrong in the eyes of another. Vikram Prabhu is not shown as an evil son who disrespects his father nor forcefully puts him in an old age, but someone too busy with his own agenda falls to negligence which later comes back haunting. Its rather touched upon in the most sensitive and beautiful way.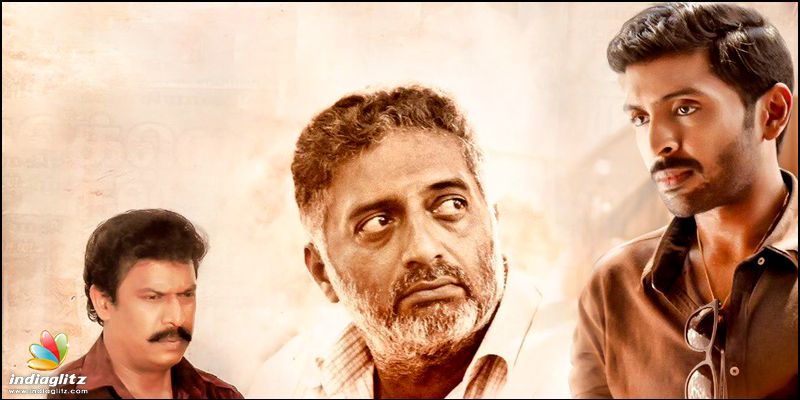 On one of the visits to the hospital, Prakash Raj goes missing after a mix up, the story then breaks to various sub plots. Prakash Raj accidently gets mixed up in the middle of a murder scenario with Samuthrakani the gangster. While Samuthrakani's boss orders him to clean up without any witnesses, the drama unfolds as Samuthrakani sees the lighter side of life through Prakash Raj's eyes. On one hand is a son who desperately searches his father, he realizes it rather emotionally by breaking down to the psychiatrist (Induja) who accompanies him in the search. Various flashback of the father-son duo is one of the key highlights, however the same gets a little too repetitive slowing down the pace. And then there is this love story which takes a backseat with a lot other sub stories that unfold. Now for the all-important part – the drama involving Prakash Raj and Samuthrakani; it forms one of the best emotional drama seen in a long time.
To quote how strong the dialogues in the movie, here is an example. Prakash Raj advises this in his own comical way, there reside two dogs within each of us; the black and the white. Which dog wins is a question that we need to ask within ourselves. The answer is simple, the dog that you feed more biscuits eventually is the winner and what you become. This sums up the beautiful drama and Prakash Raj's role in a nutshell. He appears faint, confused yet a sense of clarity in his simple needs. His conversations with the gangster has a sense of relativity, he draws from his own experience rather than going all preachy. After a point of time we forget Prakash Raj the actor, and just see a man who suffers from the disease with pity and care. Samuthrakani's role of a gangster turned samratian overnight is told in the most convincing manner, he has a greater role to play than Vikram Prabhu. Ilayaraja's BGM is sweet, but the songs are just average. Vikram Prabhu said recently that this might be his comeback, maybe that's good as the film is sweet in its own way. He is that son who has done no mistake but neglects his duty to a father in dire situation, the pain he expresses is something everyone can co-relate.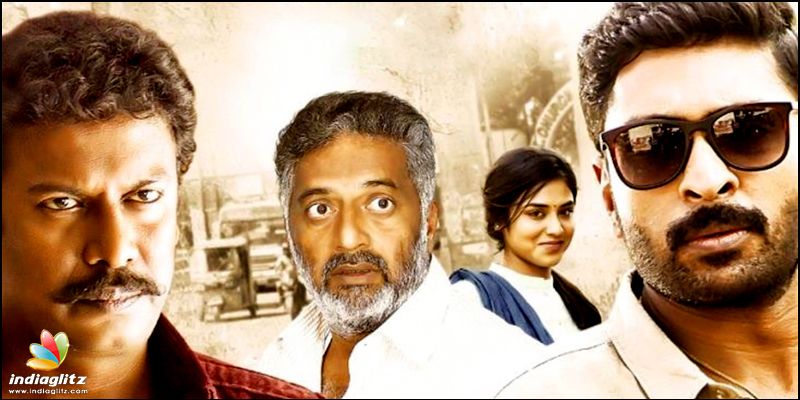 The flip side of the movie is its pace, too many flashbacks, songs and a dull screenplay makes the 144 minute ordeal bigger than it is. A few crisp edits and some engaging content with apt humor would have helped 60VM. With 60 VM, Radha Mohan continues his good nature of emotional storytelling and hopefully he continues that.
Our final say: To all those who love their fathers or not, do not miss out on this movie. 
Rating: 3.25 / 5.0
Showcase your talent to millions!!
Write about topics that interest you - anything from movies to cricket, gadgets to startups.
SUBMIT ARTICLE
More
Tamil Movie Reviews
Annapoorani
Kuiko
80s Buildup
Chevvaikizhamai
Jigarthanda DoubleX
Japan