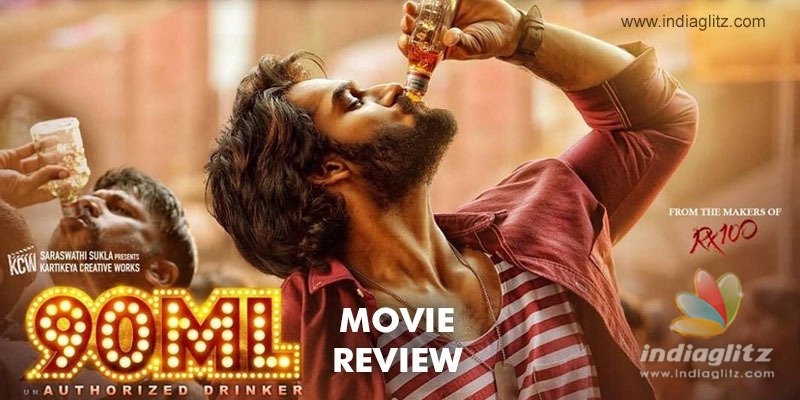 '90ML', starring Kartikeya in the lead, hit the screens this Friday.  Here is our review of the latest Telugu box-office release.
Story:
Devadas (Kartikeya) was born with Fetal Alcohol Syndrome due to which he has to consume 90 ml alcohol every few hours to remain alive.  As a jobless youngster, he falls in love with Suvasana (Neha Solanki), a physiotherapist with a social cause.  Her father (Rao Ramesh) eschews even the smell of alcohol.  As such, Devadas hides his drinking habit from the girl and her family.  
Meanwhile, a powerful industrialist named John Wick (played by Ravi Kishan) develops enmity with the gutsy Devadas and also has some grouse with Suvasana.  
The rest of the story is about what happens when Suvasana discovers the truth about Devadas, and how John Wick seeks to capitalize on the situation.
Analysis:
The very premise of this movie is weird, to put it mildly.  The only genre that it deserved is the Sampoornesh Babu genre.  It should have been a 'Hrudaya Kaleyam'-level comedy featuring an actor who offers himself for laughs.  Director Sekhar Reddy Yerra, however, develops the premise into an atrocious story in an attempt to make a mass action-rom-com for a relative newcomer who has no idea what he is supposed to do.  
The hero has a disease that is found in Medicine books.  But none of its symptoms/afflictions has anything to do with science and has everything to do with Tollywood 'paithyam', which is a separate genre nowadays.  Ali is Dr. Nadirdinna (!), a deaddiction specialist.  His character, the junior artists seen as alcoholics in his hospital, and the dialogues penned for this episode prove just one point: that this film has been made with the sole intention of selling a bunch of (cheap, uncreative) alcohol jokes.  There are two songs where liquor gets paid rich tributes.  It's tiresome to watch such lame ideas in the era of 'Jabardasth', which at least respects the viewers by selling trash as comedy and not as a mass action entertainer.
The hero has a medical disorder about which he tells everyone but not to the heroine!  "Ala cheppesthe movie aipotundi", is the kind of stupid reply you will get from our directors if you ask them why he doesn't tell her the truth.  So, don't even try.  
The universe of '90ML' is absurd to the core.  Like this mother of the hero who prays that her son becomes a great lover like Devadas.  Like the hero who carries with him a certificate titled 'Authorized Drinker', seeing which traffic police let him go without imposing fine.  The hero is a gold medallist in MBA but the bugger never makes an attempt to move out of the wine shop where he lands a job by accident despite knowing well that such a job would be hated by his girlfriend and family.  
When the heroine questions him over his alcoholism, our hero has perverted arguments to offer.  "I never lied to you that I don't drink.  I have only concealed the fact that I drink," he says to the girl who has been making it clear from Day 1 that she and her family hate drinkers.  "Did I ever misbehave with you when I am drunk?" the cute bugger asks as if girls have to love boys for not misbehaving with them.
After a point, I didn't understand what the thread involving Ravi Kishan was all about.  There is too much of crap at one place.  
As performances go, Kartikeya wastes his anger and anguish on a story that deserves neither.  Rao Ramesh is good, Kalakeya Prabhakar is hardly funny, while Neha Solanki is artificial.
Anup Rubens' music gives one or two good tunes.  The BGM is apt.  J Yuvaraj's cinematography is efficient.
Verdict:
'90ML' stretches a juvenile idea into a serious flick.  It would have been laughable had its characters been bearable.  Watch it only if the choice is between cheap liquor and cheap entertainment. 
Rating: 1.5 / 5.0
Showcase your talent to millions!!
Write about topics that interest you - anything from movies to cricket, gadgets to startups.
SUBMIT ARTICLE
More
Telugu Movie Reviews
Calling Sahasra
Atharva
Animal
Kota Bommali P.S
Aadikeshava
Sound Party