Getting the sound right
Monday, May 2, 2016 • Telugu Comments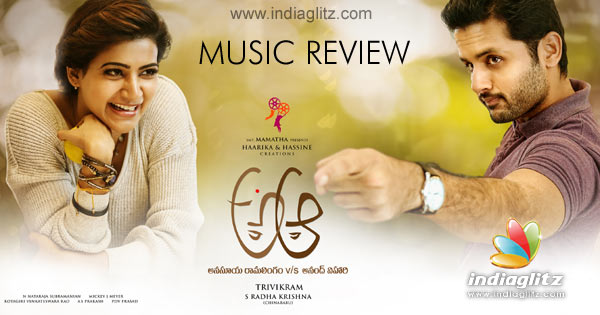 Mickey J Meyer's albums have their takers among the lovers of music with a native touch. He ensures that this time around, too. Four of the numbers have been written by Ramajogayya Sastry, while the fifth one is from Krishna Chaitanya. Abhay Jodhpurkar, Anjana Sowmya, Sai Shivani, Ramya Behara, Rahul Nambiar, Karthik and Shravana Bhargavi are the singers.
Ya Ya
Artists: Abhay Jodhpurkar, Chitra, Anjana Sowmya, Sai Shivani
Lyricist: Ramajogayya Sastry
The album begins with a song imbued in the rustic flavour. Since the hero's character comes from a rural background, the song seems to serve the purpose of the village's introduction song. The devotional-sounding Carnatic interludes are a Mickey innovation. Ramajogayya Sastry marshalls his stock knowledge of the rural traditions to enrich the number. One feels the song is more a rip-off than anything else. Abhay's voice makes an impact.
Rang De
Artists: Ramya Behara, Sai Shivani, Rahul Nambiar
Lyricist: Ramajogayya Sastry
The song begins on a Mukunda-esque note and goes on to acquire a lyrical quality of its own, thanks to Ramajogayya Sastry's boisterous-sounding phrases. Ramya Behara and the other singers prove that they are apt choices. Music-wise, the number could have been better. One hopes the song will have an elevated appeal on the big screen.
Anasuya Kosam
Artists: Karthik (Rap: Roll Rida)
Lyricist: Krishna Chaitanya
Krishna Chaitanya's lyrics come with juxtapositions and comparisons. It's again situation-based; the lover boy is at the receiving end of Anasuya and is ready to bear with anything. Karthik's voice for this song is apt, just like it is for the other song of his in the album. Mickey J Meyer's music comes with a sense of deja vu, but it's enjoyable nevertheless.
Mummy Returns
Artist: Shravana Bhargavi
Lyricist: Ramajogayya Sastry
This song is story-based and, like the number 'Pakdo pakdo' in Julayi, this one is trendy, coming with a deliberate Western influence. This female-centric number has imaginative lyrics coming from Ramajogayya Sastry. The lyrics have us guessing about the story line, to the extent possible. Shravana Bhargavi with her vocal value is refreshing. Even tune-wise, this one is a very good Mickey musical.
Yellipoke Shyamala
Artist: Karthik
Lyricist: Ramajogayya Sastry
The music seems to have been loosely inspired by an AR Rahman song. Ramajogayya Sastry's lyrics bring out the regret of a lover boy who let his girl go. Mickey's instrumentation and tuning let the lyrics get a pride of place. The deployment of words/phrases like 'poster addanga chimpesananukunna', cinema, switch, etc make the song contemporary. Karthik's voice is a major asset for the song. He has the right voice to mirror the mood of the lover boy.
Verdict: The album comes with good situational songs. Ramajogayya adds lyrical value. Mummy Returns and Yellipoke Shayamala are sure to click.
Rating: 3.25/5