'A Gentleman' - Movie Review
Saturday, August 26, 2017 • Hindi Comments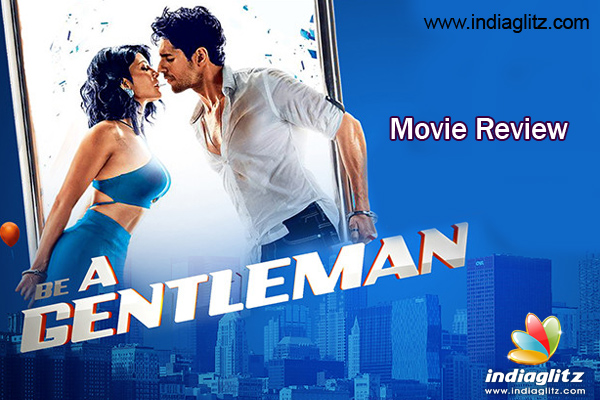 Expectations
Audience always loves fast paced light hearted action film. Thus, many of Akshay Kumar, Salman Khan, Ajay Devgn and few other stars films have managed to rake in good amount of money at the box-office. These films are made only with one agenda and that is to entertain its targeted audience.
The younger lot of actors are also venturing into these huge territories. While few are succeeding, others are falling flat due to lack of heroism in them.
Sidharth Malhotra is one such young actor who is venturing into light hearted action genre with his latest film 'A Gentleman'. The trailer seems interesting and the songs are setting up the right level of expectations for its targeted audience.
Story
'A Gentleman' is a story of Gaurav (Siddharth Malhotra), living a happy go lucky perfect life in Miami. Gaurav is a perfect gentleman who is at his best when it comes to work, lifestyle, manners and every other aspect of life. Gaurav likes his work colleague Kavya (Jacqueline Fernandez), but Kavya consider him only as a good friend. Kavya feels Gaurav is nice but boring. On the other end Rishi (Siddharth Malhotra) works for a secret organization run by the government under the leadership of Colonel (Sunil Shetty). Rishi along with his colleague Yakub (Darshan Kumar) keeps following Colonel's orders until one fine day when Rishi decides to leave this organization and lead a simple man's life. Colonel does not agree to Rishi's decision and orders Yakub to eliminate him. Rishi elopes away from the clutches of Colonel and Yakub. Later, due to one small glitch Garav's world gets changed leading to a strange connection with Rishi.
The 'Glitz' Factor
The treatment out here is quite stylish and has been tried to be presented in a quirky manner. The Hollywoodish styling adds the glamour to this age old drama which from its first scene is totally predictable. It's the middle portions with some good action and few comical scenes which works as the main highlight of this film. The entire chase scene in China followed by car getting stuck in crunched buildings of Mumbai and few such action sequences are fantastically shot.
The cinematography is of top notch and gives the movie total international feel. All the action sequences have been shot in crafty manner. Music by Sachin-Jigar is peppy. 'Chandralekha', 'Baat Ban Jaye' and 'Lagi Choote Na' sounds good and works only on individual bas background music on the other side is great and goes well with the flow of the film.
Siddharth Malhotra looks great in both his characters, especially of Gaurav the clean guy. He excels out in the action scenes. Jacqueline Fernandez looks fantastic. Sunil Shetty looks great and has a powerful character. Rajit Kapur, Supriya Pilgaonkar and Hussain Dalal lend good support. Darshan Kumar is fine in his part.
The 'Non-Glitz' Factor
The screenplay is weak and lethargic. The movie takes lots of time in establishing the lives of Siddharth Malhotra as Rishi and Gaurav.There should have been many more such scenes as they are the signature style of the director duo Raj and DK. Failing to which, the movie lacks the connectivity factor and the excitement level keeps wobbling at frequent intervals.
'Bandook Meri Laila' has been criminally wasted in background. The first half only has one song and the second half is flooded with others.
Director Raj and DK are known for their unique style of films such as '99', 'Shor In A City' and 'Go Goa Gone'. Sadly, out here they settle down for a age old formula styled script and fails to create the much needed excitement or thrills related to mistaken identity. Their wacky humour is also very minimal in the film.
The movie is not bad or boring. It's just that its too simple, bland and slow paced. There is everything in the movie but still nothing seems to connect nor work for the film, except some fine action stunts.
The romantic track between Jacqueline and Siddharth is lame and not up to the mark.Amit Mistry is wasted.
Final 'Glitz'
'A Gentleman' is full of stars and style and not much soul attached to it.
Rating: 2.5/5
Related News