"There were 20 lakh piracy downloads for D16"- Popular Distributor
Thursday, April 27, 2017 • Tamil Comments
Your producer and distributor Abinesh Elangovan of Abi & Abi Pictures banner has been supporting many small budget films by taking part in their production or acquiring the distribution rights of the film either individually or with a group of like minded producers. His next release will be the Kalaiyarasan-Satna Titus starrer 'Yeidhavan' which will be hitting the screens on May 5, 2017. Abinesh Elangovan will be releasing this action thriller along with Sakthi Velan of Sakthi Film Factory.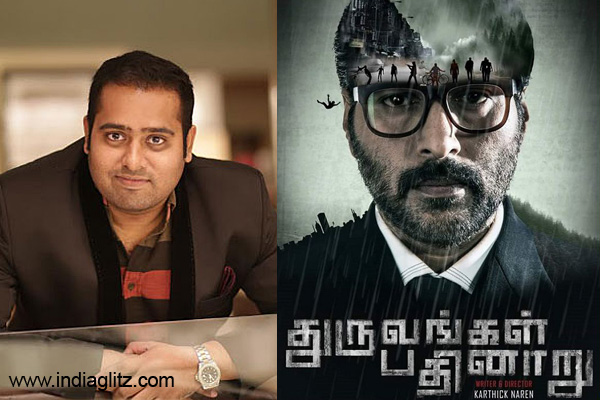 On Wednesday, the 'Yeidhavan' team met the press and the trailers and three songs of the film were screened for the press and media people. Addressing the gathering, Abinesh spoke about another serious problem caused by piracy to the entire Tamil film industry, mainly the small budget films with new or lesser know actors and technicians.
"Piracy is severely affecting the revenue potential of quality films made in small budget. The main problem is most people in Tamil Nadu are unaware about the ill effects of piracy and they are not even aware that it is illegal and unethical. 'Dhruvangal Pathinaaru' grossed Rs.7 crores. But its theatrical share is only Rs.2.5 crores. There were 20 lakhs piracy downloads for 'D16'. If these people had watched the film in theaters the film would have collected an extra Rs.2 crore. If a film like 'D16' had released in Telugu, it would have collected Rs.30-40 crores. The awareness about piracy is very high over there. I request media to educate people about the evilness of piracy. If piracy is eliminated the quality of films will increase."
'D16' the taut new age thriller directed by Kathick Naren completed 100 days of successful run in theaters and the film was one of the critically acclaimed super hits of last year. If this was the effect of piracy on a much admired super hit film like 'D16' we can understand how serious is the piracy issue.
Related News
Actress Photos
Hebha Patel
Sona Patel
Priya Singh
Nandini Rai