Fusion
Monday, June 27, 2016 • Tamil Comments
Gautam Vasudev Menon is synonymous with the paradigm of romance. In association with Simbu, this category of movies saw a new high, with Vinnaithaandi Varuvaya. One of the stellar pillars to that movie was music. That magic struck us more than half a decade ago. And here comes the man with a wand, to cast a spell yet again, in Achcham Yenbadhu Madamayada. As you plug in and lose yourself, we break it down to basics, on AR Rahman's latest album.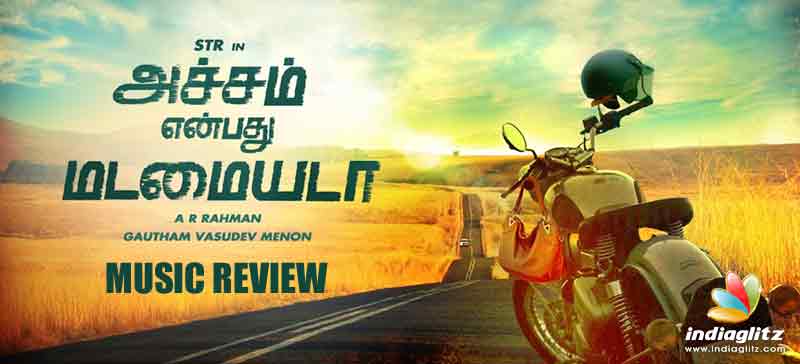 Thalli Pogathey Listen here
Voices: Sid Sriram, Aparna Narayanan, ADK
Lyrics: Thamarai
At five months since its release, it is unclear now whether it is the song that first registered the thrill of a gushing ride on neat roads, or whether the posters and trailer that followed, which reiterated this point. All the same, the uniqueness of this song is that it sounds fresh as the first time, even today, despite having cruised all our playlists at least a thousands times, if not more. This song carries a little something for every music lover; melody, foot tapping beats, karoake tune, kiss of nature, classical twist, a touch of rap - you name it, Thalli Pogadhe has it. The enchanting voice of Sid, and the crisp rap by Dinesh, won't fail to leave you spellbound, immaterial of how many times you could have listened to the song already. This spell of magic is a timeless classic!
Showkali
Voices: Aditya Rao, Aaryan Dinesh Kanagaratnam, Sri Raskol
Lyrics: Vignesh Shivan Rap Lyrics: ADK, Sri Raskol

Beginning at the intersection of electronic and R&B, Showkali flows on a steady dubstep. It tends to sound like a number dealt by the DJ from the brightest corner, though thick smoke at a disco; but as you pick the tempo of lyrics, it clears out as certainly a party, but one of a different kind. Showkali celebrates the masculine love of a passionate biker, for riding and travelling in style. The song is tightly packed rap, penned entirely - but for just a word or a few - in Tamil. Breaking down the pace between stanzas, there are two breathers in Aditya's voice, which make up for the only soft, mellowed down lines in the entire song. Although written with style-statement in mind, out-and-out, the song however does not exempt to stress the importance of safety gear. With a switch to a brief flash of Arabian touch, zipping back to the original rhythm, and also touching upon a kuthu twist, and finally racing up game style almost at the swift flip of a switch, Showkali is pure worship of the dash of adrenaline through our blood steam, rushing and racing to every tip, at the bliss of hitting the road.
Idhu Naal
Voices: Aditya Rao, Jonita Gandhi
Lyrics: Madhan Karky

Breaking the dripping sweetness of the melodic opening notes is the edgy lyrics delivered with the sharp energy in Aditya's voice. The emotion of letting himself be ruled over, in Aditya's voice is aptly complemented by Jonita's commanding voice. However, her rendition edges on a faux, taunting command. The song deepens to volume with the consistently echoing bass and guitar, which gathers up multiple strings in hum, at its climax. This romantic duet is the self realisation of a Cupid-struck-lad, devout in merrily devouring being proven wrong in his judgements thus far. So much that love is capable of...
Avalum Naanum
Voice: Vijay Yesudas
Lyrics: Pavendhar Bharathidhasan
Time for a breezy break in flutes, chilling out on a hammock of ukulele, back to the sweetness of yesteryear classical melodies. This song is a romantic solo, but the lyrics speaks volumes for the chemistry between the pair. This song is a long thread of inseparable duos - tides and sea, light and sun, and banyan and shadow, to name a few. More than the lilt, the mesmerising flutes, than even the signature violin masterpiece, it is the breathtaking array of metaphors that is the most catchy in the song. The fit of poesy, as though tailor made for the tune (or could even be the other way round), in chaste Tamil, rendered to their best in Vijay's voice, transports us effortlessly to a sweet cherished spot of divine musical experience.
Rasaali
Voices: Sathya Prakash, Shashaa Tirupati
Lyrics: Thamarai
Graceful like a swan, or cute like a parrot, is all passe. Getting real and calling out to the lady love, who happens to belong to the bold and brave cadre, the song draws a comparison with the mightiest in flight - a falcon. The song is about the man's love for the lady, and the lady's love for her experience in travel. Although this one is predominantly a song of journey of one kind or the other, it doesn't simply flow like a mighty river unobstructed, but takes a deliberate detour to an ecstatic Carnatic string. That way, Sathya is the perfect choice for this song, as his voice is ductile to both genres involved, and also fits right into each note. Shashaa's nuance in the stanza that plays quickly, adds depth to the tune. With the right amount of sugar and spice, Rasaali is a simple yet outstanding number.

We were already introduced to three (two-and-half is more like it) of the tracks already. Surprisingly, the mojo that AYM is as an album, is intact as fresh from note one, in its comprehensive form, too. For Gautam, lyrics ought to be in the purest form; so all you language lovers out there, grab a pen and take notes. As GVM keeps experimenting every aspect of love, he ropes along the best expression of such emotions, in each of his albums. And when it is AR Rahman, need we say more?
Rating: 4/5
Verdict: Where passion meets love