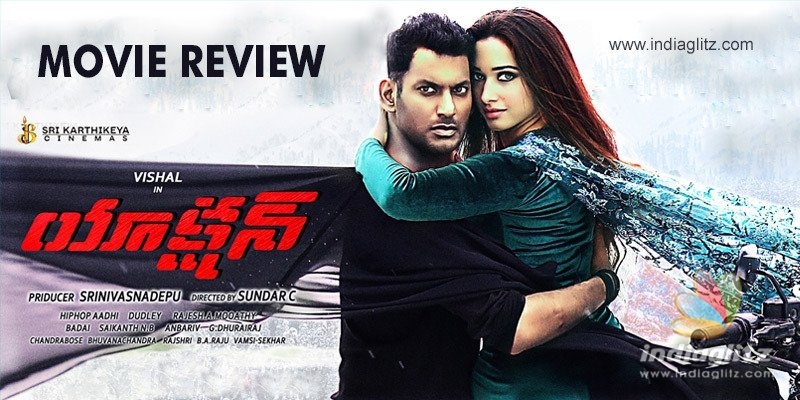 'Action', starring Vishal, is out in the theatres.  Directed by Sundar C, what does the film have to offer?  Our review says it all.
Story:
Colonel Subash (Vishal) is not just a decorated soldier but also is a son of the Chief Minister.  He is in love with Meera (Aishwarya Lekshmi). His elder brother (Ramki) and Meera die in an explosion that targets Gupta, India's potential Prime Minister.  
Political scheming and media activism bring disgrace to the reputation of Subash's family, which is accused of conspiring to assassinate Gupta.   
As expected, there is a terror angle to the whole tragedy and it involves the international terrorist Malik (Kabir Duhan Singh).  
The rest of the film is about how Subash pursues the villains of the piece, one after one, and proves the innocence of his family.  
Analysis:
Writer-director Sundar C pens a rather convenient story that is also predictable at various levels.  However, thanks to the excellent production values, 'Action' becomes a worthy watch.  
If you are a stickler for dishum-dishum movies with a difference, this one could warm up to you despite its obvious inspired fights.  The gravity-defying action set pieces are interesting, helped in no small measure by some slick editing.  
If Hiphop Tamizha's background music is easy on ears and doesn't go blaring, Dudley's cinematography gives a high.  Together, the technical departments put in earnest work.  
The film's various lavish backdrops add spice.  From Lahore, Istanbul to London and even Carribean Islands, it's a tour of several high-end places.  All because of the story.  In this regard, 'Action' does remind you of the recent Hindi film 'War'.  
Not that the film is crisply edited, but the length doesn't get onto your nerves.  There is substance, albeit irreverent cinematic liberties take the zing out of the proceedings several times.  
Kollywood cinema (this one is dubbed from Tamil) just can't resist the temptation of mixing comedy with international events of gigantic proportions.  A bank account with Rs 4,000 Cr in it is hacked into by the hero with practised ease.  The officials are caught clueless and, even though the suspects are right in front of their eyes, they don't get it!  
There is a fugitive whose fate mimics that of Nirav Modi and the similarities end there.  
Had the film got the first act right, the impact would have been even better.  Why on earth do our filmmakers continue to show high-profile political assassinations in cavalier ways?  Why don't they learn valuable lessons from movies such as 'Madras Cafe'?  
Also, for how long are they going to show the hero as a saviour without leaving loose ends?  By all means, show the hero as the one and only hero.  But do it in a tight way.  
The rom-com tracks lack the zing.  The comedy, involving Yogi Babu and others, falls flat.  
If Vishal deserves appreciation for pulling it off with aplomb, Tamannaah Bhatia, Aakanksha Puri and Aishwarya also get to showcase their talents.  Some characters are not-so-tight and Kabir Duhan Singh's is one of them.  
Verdict:
'Action' is in the mould of 'hero alone can save the nation' stories.  From money laundering to terrorism and political intrigues, from family bonds to love stories, a lot is there in the script.  Not everything is well-cooked.  But this one tastes better than many of the recent dishes from south cinema.
Rating: 2.75 / 5.0
Showcase your talent to millions!!
Write about topics that interest you - anything from movies to cricket, gadgets to startups.
SUBMIT ARTICLE
More
Telugu Movie Reviews
Boo
Mem Famous
Malli Pelli
Sathi Gani Rendu Ekaralu
Bichagadu 2
Anni Manchi Sakunamule