Action scenes in 'Hello!' were never seen before: Nagarjuna [Interview]
Wednesday, December 6, 2017 • Telugu Comments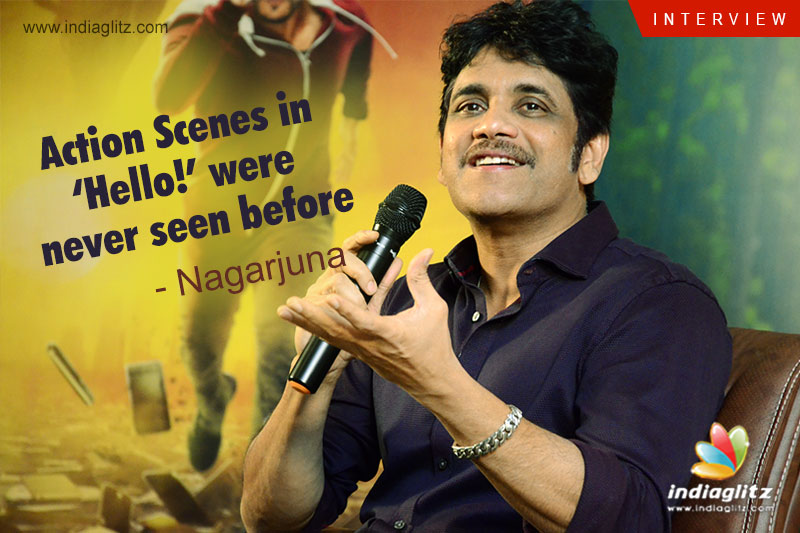 Saying that he is elated by the response to Teaser and Trailer of 'Hello!', Nagarjuna in this interview talks like a proud producer. Read him say what makes the December 22nd release a special more, what he thinks about 'Manam' not winning Nandis in prestigious categories, and more.
The pre-release buzz seems to be at a high since the release of Teaser. Your comments.
Since the time the first visuals were out, 'Hello!' has got a tremendous response. We are elated. The trailer has so far crossed more than 8 million digital views.
When is the audio release function going to be?
We are planning to hold the audio function on Dec 10 in Vizag. I have asked Akhil too sing a song and perform a dance live. He will practise for it. We are planning to hold the function in a grand way. 1-minute videos of all the four songs will be aired during the function.
As for the pre-release function, it will be held later in Hyderabad.
Is 'Hello!' complicated like 'Manam'?
Vikram Kumar can tell any complicated story in a simple way. He showed it with 'Manam'. 'Hello!' does throw up some puzzles. But they are not esoteric. People can understand the film very easily.
We started out with proper planning for many months. 'Hello!' is a beautiful, romantic story that families will like. There is a magic in romance. And the action scenes have come out really well.
What are the film's main highpoints?
I can say with confidence that this film will be loved by audiences. Even the action sequences are very new. They haven't been seen in any other film. There is a fight in the backdrop of Hyderabad Metro. Then there is another in the backdrop of Krishna Nagar; the whole fight unfolds in the air. A Hollywood action choreographer was roped in. The action episodes alone took 30 days to be completed. You will be reminded of the Jacki Chan-kinda action.
This is like Akhil's introduction film. This is how I wanted to see him.
Does the entire story unfold in a single day?
The search of the soulmate goes on and on for 15 years. But the entire story unfolds in less than a day. The son-parents (played by Ramya Krishna and Jagapathi Babu) relationship is another touching element. The climax is so strong. The impact is as huge as what we saw in Bhajrangi Bhaijaan's climax. The film will have you laughing, it will have you crying.
The visuals are grand, thanks also to cinematographer PS Vinod.
Akhil's dance moves in 'Hello!' will be watched out for. Your comments.
The dances shouldn't be there for the sake of it. It's not a physical exercise! Whatever is necessary, is there in the film.
Tell us about the newbie, Kalyani Priyadarshan.
Kalyani's mother, Lissy, was supposed to be introduced in Telugu in a film opposite me. But that didn't work out. It's a sheer coincidence that her daughter is getting introduced opposite my son! She has done a nice job.
Why do we the coded message about audience awarding 'Manam' in the trailer of 'Hello!'?
'Manam' was my father's last film. I thanked the audience because of the way they loved the film. Their love is greater than any award.
'MCA' is also hitting the screens on Dec 21. Your comments?
We announced the release date of 'Hello!' in September itself. The plans have always been there. Christmas-New Year is a holiday season. So, it can accommodate at least two movies. There are going to be five releases next Sankranthi. There are enough theatres for all of them.
What is the idea behind your Manam Enterprises?
Manam Enterprises has been floated for sentimental reasons. I, Naga Chaitanya and Akhil have collaborated for it. If and when my sons want to do something new, they can do so under the banner.
What went wrong with the BGM of 'Hello!' teaser, which was claimed by someone else?
Most of the teasers/trailers are not cut by the film's editor or director. They are cut by someone else. In the case of 'Hello!', Anup Rubens was too busy to compose the BGM for the teaser. So, we bought a score from a platform from Hong Kong. However, due to miscommunication, it was removed (by YouTube). I asked Anup to do it for the trailer to avoid any problems.
Are you planning a new movie with Vikram Kumar?
Vikram Kumar's next will be with Naga Chaitanya. I am very happy working with him. He is a master.
Your son is touring the US. Did you want to go too?
I too wanted to go to the US as it has been long since I interacted with the Telugus out there. But since I am busy with the post-production works of 'Hello!', I had to give it a miss.
Are you ready for a multi-sttarrer again?
I am ready to do a multi-starrer if and when a nice story is offered. If Vikram were to tell a story that suits all of us, we are ready to do a multi-starrer.
Related News
Actress Photos
Ramya Pasupuleti
Priya Vadlamani
Dhaksha
Aishwarya Dutta