150 is just another number for this Ageless Charmer
Saturday, July 29, 2017 • Tamil Comments

Listen to article
--:-- / --:--




Rajinikanth and Kamal Haasan were ruling the roost in 1980s when Vijayakanth, Sathyaraj and Sarathkumar were upcoming heroes. In the early 90s the three heroes slowly started gaining prominence and started competing with the two stalwarts and remained as top league stars throughout the 90s. In the post millinieum era, Ajith, Vijay, Vikram and Suriya have raised up the ladder and they are now the prominent members of the top league while Rajini and Kamal are still playing the game with the same form.
One actor who has been constantly in the game retaining the same charm and form since his entry to Kollwyood in 1980 is none other than the Action King Arjun. Like many other heroes, Arjun too has had many ups and downs in his illustrious career. But there are many things that make him unique and have a shining presence in the star ladder till now.
It is in the early 90s Arjun gained the moniker Action King for his amazing fitness and dedication for action scenes. Till date he retains the same fitness and his age is visible only when he opts not to apply die for his grey coloured hair and even in his most recent films the fight sequences are a delight to watch.
Though his moniker is Action King, Arjun is not just known for action films. He has acted in versatile roles in a wide range of films. This has been a phenomenon through out his career. In the early 1990s, between two action films 'Prathap' and 'Gentleman', he acted in the film 'Gokulam; which is a family entertainer. He also carried the challenge of playing the Chief Minister in Shankar's 'Mudhalvan' with sheer aplomb. Remember this film was written keeping Rajinikanth in mind but Arjun had to come in when the Superstar refused the offer. The replacement was perfect as evidenced by the blockbuster success of the film and it is till date the film which gets enormous TRP whenever it is telecast in Television.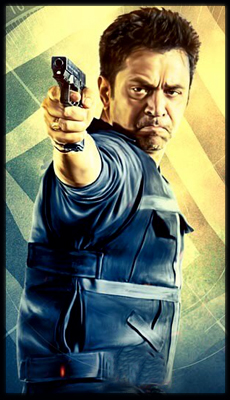 While his contribution for the success of many high octane action films is undeniable, he has also given his best in romance and emotional films like 'Kondattam', 'Kannodu Kanbathellam' and 'Rythm'. Especially it was a memorable treat to watch Arjun playing a soft and friendly hero character Karthikeyan in that critically acclaimed film directed by Vasanth.
Arjun is also an actor who has been part of best comedy tracks in many films. Especially his combination with Goundamani in 1990s and Vadivelu in the 2000s has resulted in many hilarious comic sequences.
In the recent years Arjun has also started acting in negative roles. He played the role of a cop with negative shades in 'Mankatha' and he was as fit and smart as the lead actor Ajith in that film. In 'Kadal' which marked his first association with ace filmmaker Mani Ratnam, Arjun played the role of wickedness personified and lifted the film with his spellbinding performance.
Many actors lose out on hero roles after they have started acting in character roles or villain roles. But Arjun whose fitness, charm and acting prowess has only increased with his age is still playing in the lead role and also delivering hit films. Today his 150th film 'Nibunan' has hit the screens amid positive buzz. Arjun plays the lead role of DSP Ranjith Kalidoss in a fascinating manner. To quote from the IndiaGlitz review for the film. "We have seen Arjun as a cop in many films but Ranjith of 'Nibunan' is entirely different from what he has played so far. This cop is not only smart, intelligent, playful, brave and effective. He is also matured with age and experience. Arjun displays a fantastic understanding of this multi-layered character. There are scenes that require him to behave matured for his age and in others he should be as effective as a young and fresh officer. The highly experienced actor has shouldered this challenge quite impressively. The actor and the character supplement and compliment each other and end up benefiting the film."
150 will just be another number for Arjun as we can be assured that he will keep entertaining us for many more years to come by presenting himself on the silver screen in varied characters and giving his best to them. We wish the actor to be healthy and active as always and keep giving many good films.
Follow us on Google News and stay updated with the latest!
Follow