Why did Madhumitha bite her neighbour?
Friday, September 1, 2017 • Tamil Comments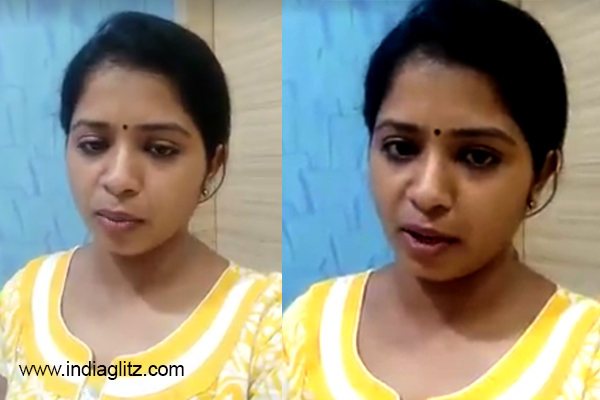 On Thursday actress Madhumitha popularly known as Jangiri Madhumitha was in the news for a very bad reason. Her neighbour Usha had lodged a police complaint against the actress for allegedly biting her hand. Madhumitha had also lodged a complaint against Usha for attacking her.
Now Madhumitha has come with a video explaining her side and what lead to the incident. She admits to have biting the lady's hand but that was only to defend herself when Usha was severely attacking her
The crux of what Madhumitha has spoken in Tamil is this:
Six months back Madhumitha relocated to a own apartment in Valasaravakkam. Things were going fine until the apartment owners found that Usha, one of the flat owners who was taking care of the maintenance of he building is messing up with funds collected for maintenance. After a meeting they decided to shift responsibility of collecting maintenance charge to another person. Infuriated by this, Usha started harassing the apartment owners including Madhumitha by doing cheap things such as cutting the EB line. DTH cables, making frightening noises and stopping the water flow. Madhumitha and others were forced to file a complaint against Usha in the police station. The police had called Usha and let her off after warning her.
But after that Usha's torture became more and more serious. When Madhumitha was in shooting spot she got a call from her neighbours to lodge a complaint immediately. So she went to the apartment with a police officer. In front of the cop, Usha badmouthed Madhumitha,. linking her with the cop. She also started beating Madhumitha severely due to which the latter had to bite, the upper part of Usha's hand to escape from her attack.
Usha attacked Madhumitha by banging her head on the grill gate and also broke her mobile phone. Apart from doing all these, she self inflicted injuries on the spot where Madhumitha bit her and lodged a complaint against the actress.
Madhumitha clarifies that she had to bite Usha only to save herself from the attack and says that such a kind of attack for self defense is allowed for women by Indian law. She also apologised for the mistake on her side.
Actress Photos
Hamsa Nandini
Raiza Wilson
Nabha Natesh
Megha Akash