Adivasi on tribal life, G Murthy, Tsunami Kitty combine
Friday, March 3, 2017 • Kannada Comments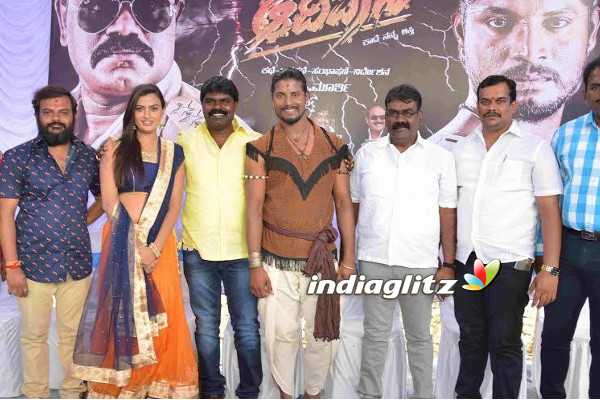 Adivasi` Kannada film with caption Kaade Nanna Asthi` by actor cum producer turned director G Murthy with Tsunami Kitty taking title role went on the floor at Kanteerava Studio on Thursday morning. Dr Shivarajakumar sounded clap board while former minister of BJP government V Somanna lighted lamp for start of the film.

G Murthy a leader of backward class community was shocked to know the 577 tribal on road in Madikeri. The huts and living conditions were demolished with no place to live. On this point of life of tribal people he decided to stitch a story for the film. The compensation was later given to tribal later on real life. But the living for sometime was horrible for them in the thick forest belt. G Murthy who invested on Slum` Kannada cinema in the past. He is producer of three Tamil films also.
From the day one he discussed with Tsunami Kitty a lot of inputs and involvement helped him in getting things at right place. It is a five crores of rupees in association with Kemparaju K and Vel Murugan K.
In sixty days shoot will be held in Madikeri, Shimoga and greenery belt shoot will be held. In Shimoga Rs.2 crore Adivasi` community set is erected for shooting purpose. Four action and five songs are part of this film. Twenty days song shoot will be held. Hemanth Kumar is music director of this film – P Murthy with lot of excitement disclosed about his film. S Nagesh is cameraman of this film.
Tsunami Kitty precisely fit the film role for his dark complexion. Winner of reality show, Big Boss 3 participant and martial arts knowing Kitty has rejected scores of films. This one is very close to my heart as I always think of deserving people in the society he said. Some of the martial arts he has learnt are coming to his help. The art in me delivered well would get respect he knows. Kitty is a good Samaritan for his community.
Anvitha is in her second film. It is a good story and ready to live in forest surroundings for the role of a tribal girl in the film. There is another heroine who is coffee estate owner daughter. She joins the team from 15th of March when the actual shoot begins. Gollalli Shivaprasad and Revanna are lending lyrics for this film Adivasi`.