Akhil on 'Hello!', competition, being an Arian & more
Wednesday, December 27, 2017 • Telugu Comments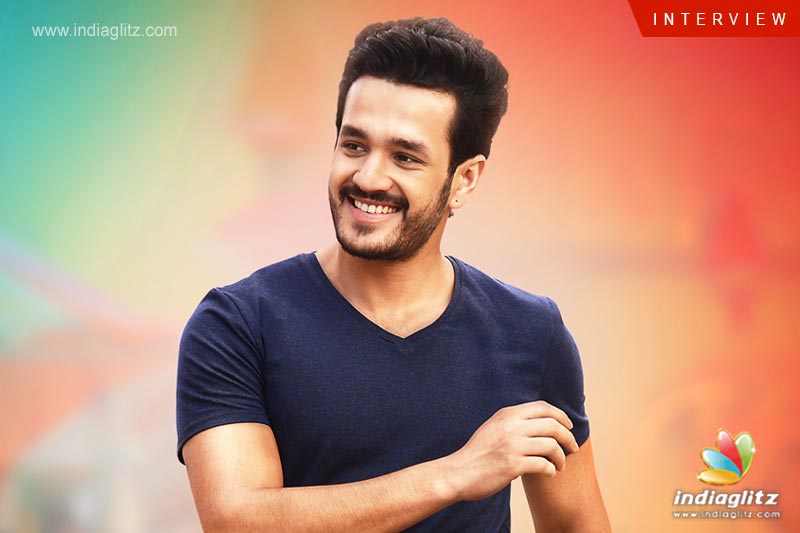 Akhil Akkineni is in a happy space. 'Hello!' gives him the satisfaction of having done a very good movie. In this interview, he talks a lot about it, and more.
Ability & training put together:
If I am good in the action scenes, it's not just because of my ability but also because of the amount of training that I went through. Bob Brown's team flew down to Hyderabad to train me in the stuff. There was a separate trainer for running, for fighting, so on and so forth. The training went for 60 days.
The first thing we decided was not to have any CG for 'Hello!'. That's why the action scenes had to be very realistic.
The best compliment:
The one big compliment I remember is that a girl messaged me saying that, in the climax, I stole her heart!
Dad (Nagarjuna) was very particular about the climax. He wanted to see how I would act in this crucial segment. He knew the story and so, he knew how important it's for me to be convincing in the climax.
Never diverts from the story:
With montage songs, the film doesn't deflect. Vikram Kumar (director) doesn't like a song to hinder the pace of the film. A song-and-dance routine will stall the flow for 4 minutes. Vikram doesn't like that to happen. That's why we had only one such song - the 'Sangeet' number.
The long flashback was necessary:
Some have felt that the flashback (the childhood episodes) is long. But it was necessary because it establishes the story the most. Why Avinash is searching for Junnu is established through the childhood episodes. Moreover, the two children have done a remarkable job.
Couldn't sleep at all:
I couldn't sleep the night before the film's release. I wanted to know at least one review. I was waiting for the first report from the US. The good news is that all reviews have rated 'Hello!' at 3 or above 3.
My mindset is now right:
I feel I now am in the right mindset. I no longer am bothered about numbers. When you think about numbers, cinema becomes business-like. I want to enjoy the process of filmmaking. With 'Hello!', this is what I have got. More than the result, I have this satisfaction that I have done a good film.
I knew Overseas people will love it:
I always had good expectations from the US audience. 'Hello!' is a kind of film they would definitely love. It happened with 'Manam', too. I am glad our film is already nearing the 1 million mark.
My father is the father of 'Hello!':
I should say that Nanna garu is this film's father. He got involved with editing, RR, etc. He has been a hands-on producer. He postponed the film with RGV garu for one month for the sake of 'Hello!'.
That's why I sang:
Anup Rubens felt that my voice has got a good base. So, he wanted me to sing a number. But I didn't want to just go about it. I am not a professional singer. I trained under Anup for 100 hours.
That's a universal praise:
Everybody is telling me that there is a lot of ease in my performance in 'Hello!'. Chiranjeevi garu too has said I am very subtle in the movie. I did the scenes spontaneously. Vikram would tell me the scene to be shot for the day only just before its shooting! The way I talk with my heroine in the movie, it's the same way I talk with girls!
I have so far watched 'Hello!' with joy. I should start doing it judgementally. I have watched my first movie 30 movies to analyze my faults.
Chiru garu, my lucky charm:
He is like a lucky charm. He encourages everyone in the industry, but I think he motivates me more. He has a passion for cinema.
Vikram never cheats:
There is no way I could have involved with direction. Vikram is not that kind of a filmmaker. If he finds a water bottle is at the wrong place in a scene, he would re-write the scene. I am glad to have got to work with a meticulous director like him. A film with him was planned even during the making of 'Manam'. But since he got busy with '24', it took a lot of time.
Nothing routine:
I don't think 'Hello!' is a routine love story. We hardly have 5-7 love stories to do. Only the screenplay and the premise keeps changing from film to film. We are not making art movies. Commercial movies have some similarities.
No mass vs class:
I really don't make such distinctions. If the story is good and I like it, I will want to do it. If I make mass-class categorizations, I will end up having calculations in mind. In 'Hello!', I am glad that women, too, are liking the action scenes.
Tollywood is my first focus:
Telugu is my home turf. This is my main priority. I may do bilinguals in future, but I won't be doing anything at the cost of neglecting Telugu.
Competition is normal:
It's true that had 'Hello!' been a solo film, it would have done better. But the thing is that it's commonplace for films to chase long weekends and festivals. On more than a few occasions, it was proven that 2-3 films can be accommodated by the market.
Film with Vamsi Paidipally:
It will definitely be there. But there is no story in place as of now. We had only met once. The problem is that if a hero and a director meet for lunch, it would be written that they are doing a film together. In the last one year, I have met so many directors. So many that it will take another 100 years for me to work with all of them!
I am a passionate Arian:
I am very Arian. When I take the plunge, I give my 200 percent. The moment I dive off, whether it's right or wrong, I start giving my all. For the time that I am into it, you won't see me doing anything else. It's not that I am particularly more passionate than others. By nature, I cant multi-task.
This trait of mine has helped me move on. When Vikram came to me with the final version of the script, he knew that I was emotionally low. I wasn't talking much. As soon as the story was ready, I changed completely. It helped me come out (of the emotional phase).
Related News
Actress Photos
Aishwarya Rajesh
Payal Rajput
Pooja Hegde
Eesha Rebba