Allu Sirish on 'Okka Kshanam', trying novelty, following Bunny & more
Friday, December 29, 2017 • Telugu Comments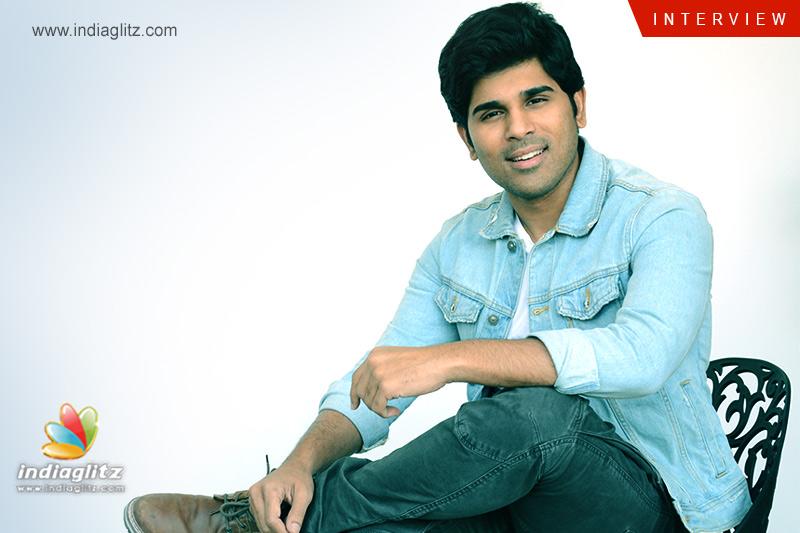 Allu Sirish is hearing only good things about 'Okka Kshanam'. Starring also Surabhi, Avasarala Srinivas and Seerat Kapoor, this Vi Anand-directed movie released on December 28. In this interview, he talks about why he wants to do novel films, what he has learnt from Allu Arjun, and more.
How are the audiences seeing 'Okka Kshanam'?
I must say that not just the film but also I, as an actor, have been praised by the audience ever since the movie released on Thursday. People are saying that I have done a nice job in fights and the emotional scenes.
'Gouravam' and now this movie. What makes you go in for concept-based movies at this early stage in your career?
'Okka Kshanam' is my fourth movie in Telugu. 'Kottha Janta' and 'Srirastu Subhamastu' were safe bets and they did well. Their box office performance has encouraged me to take up one more concept-based movie. Co-incidentally, Vi Anand came to me with this story. I fell in love with the subject as soon as he was done with the narration. The concept of this film actually haunted me for days on end. Only good concepts have such a strength.
What did your father say after he listened to the story?
Except for a few changes, Nanna garu didn't suggest any major changes. When he heard the story for the first time, the climax was yet to be written. He saw a copy after the film was done.
Do you personally believe in the concept of Parallel Life?
Yes. After listening to this story, I did start believing that there definitely are lives that bear resemblance to each other.
What is your take on the critique that 'OK' doesn't have comedy?
One section of audiences might say that there is no much comedy, but another section of audiences, who come to watch 'OK' as they are interested in Parallel Life would say that they are not expecting any comedy. Actually, we shot many more comedy scenes. But they were chopped off as we felt that they were delaying the beginning of the story.
Why was a special song between you and Surabhi removed?
It was shot at last. We felt that it was dragging the run-time; also, the song has nothing to do with the story. That's why it has been used as an end titles number.
What are your criteria for choosing the stories?
I like love stories and family entertainers. But one can't keep doing them always. Bunny did films like 'Vedam' and 'Rudrama Devi'. I too want to try novel films. While being commercial, they have to be fresh.
What are your upcoming movies?
I have listened to 2-3 stories recently and have okayed them. They have been developed into full scripts. I am ready to work with newbies, as their thinking is out-of-the-box.
Actress Photos
Gnaneswari Kandregula
Shyamala
Pooja Jhaveri
Payal Rajput