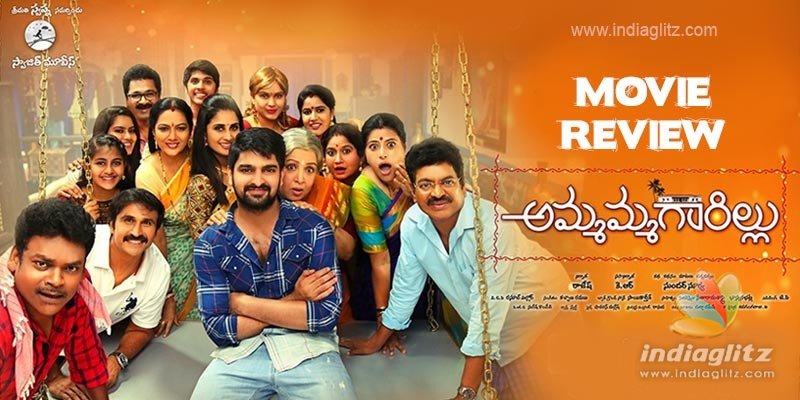 'Ammammagarillu', starring Naga Shaurya in the lead, hit the screens this Friday.  Here is our review of the family drama.
Story:
There was a time when the joint family headed by Chalapathi Rao was an epitome of familial unity.  However, the family's elder son Ravi Babu (Rao Ramesh) was always an odd man out.  He never liked the unity because it was coming in the way of his material progress.  On a fateful day, he happened to slap his brother-in-law (Suman), a pro-unity 'alludu'.  
Since then, the family started falling apart after the death of Chalapathi Rao two days later.  Seetha Maha Lakshmi (Sumithra) becomes witness to the steady deterioration of family ties.  Everybody goes on to live in far away places.  Rao Ramesh and Suman go on to become arch rivals.  
Suman's son (Naga Shaurya as Santosh) grows up to be soft-natured. His single-minded focus is to reunite the extended family members at Ammammagarillu's house.  The occasion comes when the grandma decides to divide the property equally among her children.  Everyone comes to the house, after 20 years, with the sole intention of getting their own share.  But Santosh is an odd man out.  He is there to do everything that he can to make the money-minded relatives see that love is everything.
Analysis:
A sure way to subject the audience to boredom is to write uni-dimensional characters.  In family entertainers like 'Kalisundam Raa', this was effectively avoided.  Forget Venkatesh's character, to an extent, even K Viswanath's character was cleverly written in the movie.  In 'Ammammagarillu', almost every character, especially Naga Shaurya's, comes with a sense of predictability.  The hero has to be a mini-Gandhian.  The relatives (Rao Ramesh, Raja Ravindra, Hema and others) have to display their meanness.  The grandma has to sob.  The comedy sidekick (Shakalaka Shankar) has to leave everything aside and soldier on to help the hero in his Mission Grandson's Grand Dream.
This goes on and on in the first half.  In the second half, it's more of the same with some changes from the pre-climax phase (which in any case follows a known trajectory).  
The relatives wait for the day when they can get the registrations done at the Registrar's Office and go back to their respective work places.  And our hero secretly plans to avert it so that the grandma's house always has celebratory vibes going for it.  And this is all bland.  
All the while, the 'Maradalu' (played by Shamili, who makes a comeback) waits for an opportunity to teach the hero a lesson.  And she keeps on doing it even when he is banished from the grandma's house!  In the process, she almost looks like a vamp.
The grandma deserved good dialogues, if not grand ones.  The film's real hero gets them instead.  And he is Rao Ramesh, who entertains with his sharp sense of dialogue delivery and timing.  His repartee and mean-spiritedness add pep to the dull proceedings.  
The film makes a lot of fuss about the hero's virtues.  Such an excessive indulgence might have worked during the heyday of a Venkatesh.  
The Posani Krishna Murali (as a political muscleman) track is a big turn-off.  It leads to an unexciting climax even.  
Some moments come with originality.  The scenes where the grandma feels happy thinking her son is calling out for her when he actually is calling for his daughter by shouting  'Amma.. Amma' is touching.  'Ammamma neeku bangaram icchindi nuvu merisipovalani kadu, nuvu murisipovalani' - this line by Naga Shaurya to comedienne Hema is alright.  
Despite the flawed writing, Naga Shaurya and most others do a fine job as actors.  Shaurya, however, needs to invent a style of his own with respect to rom-com scenes.  
Kalyan Ramana's music and background music are OK.  Rasool Ellore's cinematography and JP's editing are average.
Verdict:
The family entertainer falls flat for reasons ranging from cliches to melodrama and predictability.
Rating: 2.25 / 5.0
Showcase your talent to millions!!
Write about topics that interest you - anything from movies to cricket, gadgets to startups.
SUBMIT ARTICLE