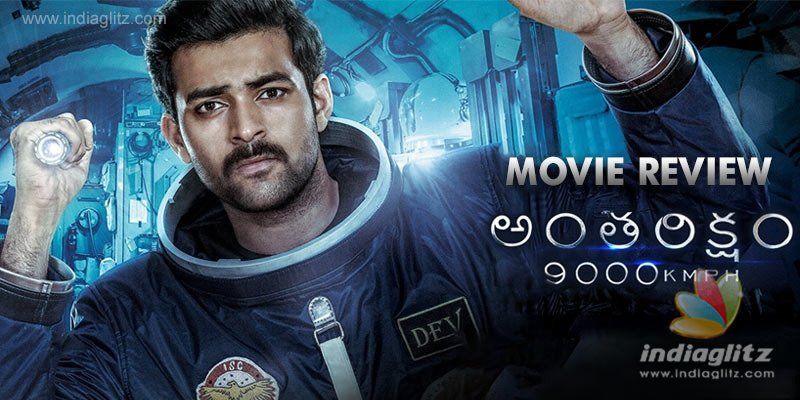 'Antariksham', starring Varun Tej, Aditi Rao Hydari and others, hit the screens this Friday.  Here is our review of the space thriller.
Story:
India's satellite of pride, Mahira, goes missing.  If it disintegrates and its debris collides with the satellites of other countries, the global communications systems can be blacked out, resulting in chaos.  At the Indian space centre, a group of scientists (played by Rehman, Aditi Rao Hydari, Srinivas Avasaral, Raja Chembolu, and Satyadev) is helpless.
This is when Dev (Varun Tej), a brilliant scientist who used to work at the space centre until a personal tragedy devastated him, is brought on board.  But Dev is a maverick whose curiosity and ambition know no bounds.  He suggests that a manned mission be deployed to fix the issue with Mahira.  
There is more.  Dev has another secret mission while on the manned mission.  What's it?  Can he and his compatriots (Aditi in the main) achieve it?  Or will they fail in it and end up as the brave souls who dared to risked their lives for the country?  That's the second half for you.  
Analysis:
Writer-director Sankalp of 'Ghazi' fame has an able team on board for his second outing.  The bunch of superb technicians (more about them later) and Kittu Vissapragada (dialogue and additional screenplay writer) do a noteworthy job, giving us several clap-worthy moments.
The spirit of 'Ghazi' is writ large over the receptive space of 'Antariksham'.  Bright men and women who are made of a different material, a leader who goes out of his way to make the impossible happen, a risky mission whose failure can cost the country its prestige and security, situations which necessitate the players to take spontaneous decisions and perform with surgical precision...
The first half is packed with sublime and soul-stirring moments.  The love track between Dev and Riya (Lavanya Tripathi) is brief yet evocative.  Their conversations ('It feels like rocket kissing the sky', says Riya to her lover boy) are lovely.  The scenes at the space centre pack a punch.  'Don't mistake his pride for arrogance', says Avasarala to Aditi, whom Varun Tej mistakes for a rookie.  'My satellite is my baby', the hero says.  The emotional attachment that he shows for his space projects is exalting.  
Consider Lavanya Tripathi's first scene.  A teacher, she visits the space centre with her school children on an industrial tour.  A kid asks why India should be on a lunar mission.  Varun Tej explains that it's essential to be curious and futuristic and that a satellite is like a soldier who can't afford to fear failure.  Moments before this beautiful scene, the audience comes to know that the hero and his lover haven't talked for a few days now.  The hero's conversation with the kid charms her and she forgets everything that has been going on between them.
Prashanth Vihari's background score is majestic, so also the songs 'Samayama' and 'Dheemaga'.  VS Gnana Sekhar's cinematography is top-notch.  Ramakrishna and Monika (art directors) do a meticulous job.  The VFX walks away with extraordinary work (for the budget).
The film's problems lie elsewhere.  The writing in the second half takes a beating.  Once Varun Tej delivers a shock to his fellow astronauts on the manned mission (its name is Mission Kinnera and there is a layered sub-plot out there) and to the scientists working on the ground, the thriller takes too many creative liberties.  Worse still, it's almost as if he is making it risky rather than facing the risks coming his way.  
The 'zero gravity' shots are just about OK and hardly give goosebumps.  The only solace amid all this is the family melodrama (it's brief, so don't worry) that is interspersed with the narration.  'Life is beyond calculations', Dev declares.  But can a space thriller be beyond calculations, quite literally?  
Also, even in the face of earth-shattering catastrophe, there is no role for the political leadership of India and other countries! 
To talk about performances, Varun Tej delivers a dekko.  He is earnest, dignified and can be both cold and sentimental.  Aditi is talented and gets her due.  Rahman, Avasarala, Lavanya, Raja, Satyadev and others are good.  
Verdict:
'Antariksham' has a remarkable first half and a not-so-convincing second half.  The director tells a layered story, overall.  Don't expect nail-biting scenes in the last 30 minutes, as these portions are full of wild cinematic liberties.  Awesome technical output and able performances are a big plus, so also the dialogues.
Rating: 3 / 5.0
Showcase your talent to millions!!
Write about topics that interest you - anything from movies to cricket, gadgets to startups.
SUBMIT ARTICLE
More
Telugu Movie Reviews
Babli Bouncer
Dongalunnaru Jaagratha
Krishna Vrinda Vihari
Alluri
The Life of Muthu
Saakini Daakini