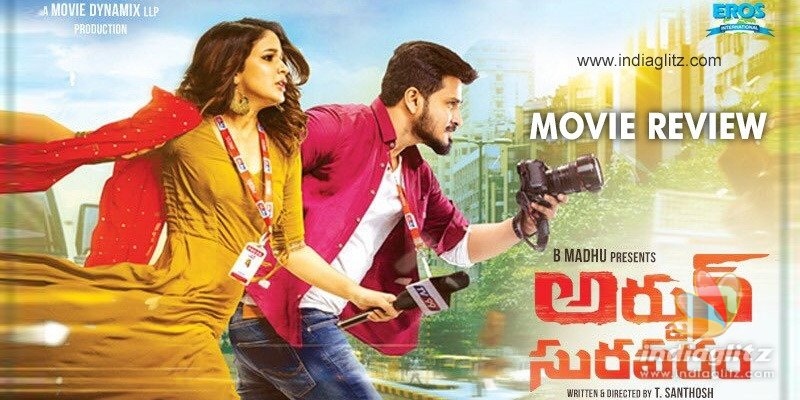 'Arjun Suravaram', starring Nikhil and others, hit the screens this Friday.  Here is our review of the remake.
Story:
Arjun Lenin Suravaram (Nikhil Siddharth) works as a sting journalist for TV99.  He and his cameraman Rambabu (Sathya) are on a mission to expose a drug racket.  Meanwhile, the TV channel CEO's daughter Kavya (Lavanya Tripathi) falls in love with Arjun.  
Danger visits Arjun from an unexpected quarter when a top cop arrests him for faking his degree certificate.  There is a huge scandal of gigantic proportions behind this.  Very soon, the hero realizes that he has to think like a reporter and expose the murky racket.  
Analysis:
Somewhere in the film, Lavanya's character says with a trace of anxiety in her voice that what might be unfolding in Andhra Pradesh and Telangana could be bigger than the Vyapam scam (the real-life scam in Madhya Pradesh cutting across politicians, middlemen, bureaucrats and students).  This particular moment captures the tension that 'Arjun Suravaram' tries to build throughout, with or without heft.  
After some light-veined scenes in the first act, the story thickens with the sudden arrest of the hero.  From there, it's a roller-coaster ride for the aspiring BBC journalist who finds himself locked up in jail.  When he walks out on bail, Arjun turns into an investigative journo out to crack a mind-blowing scam that has gamed the system for years and rendered lakhs of eligible degree holders jobless.
Nikhil's performance is earnest; besides looking the part of being a vulnerable chap, he is convincing in the action scenes.  Tarun Arora is a caricaturish villain, while Lavanya and others like Nagineedu are just there.  Vennela Kishore draws laughs as an incompetent lawyer.  Posani Krishna Murali has a limited role.  
Sam CS' background music adds value.  The cinematography is decent.  
While the storyline packs a punch, the narration has one too many loose ends.  Fifteen news channels air special bulletins on the fake certificate racket all at once and the villain (Tarun Arora of 'Khaidi No. 150' fame) inexplicably but correctly suspects that a reporter must have ensured it.  In real life, you have to be a political heavyweight, a Minister or an influential industrialist to achieve what this ordinary reporter does in this film in 24 hours flat.  "Only a reporter can have done such a thing," the kingpin of the scandal says with confidence.  
In one of the crucial scenes, the hero reveals his actual name to the villain's men even when there is no need, thereby endangering his life.  The antagonist is so powerful that he can randomly attack or kill journos, but he can't get a single unscrupulous police officer to investigate important murders on a war footing.  When the media exposes the fake degrees racket, nobody cares.  But when the hero gets framed, lakhs of youngsters in the Telugu States demand his immediate arrest!  The media fails to exert pressure on the government to nab the racketeers so that our omnipotent hero can take it upon himself to track the villain -- with ease.  'Thupaki' hangover?  Yes, the director (TN Santosh) is an AR Murugadoss disciple.  
Just so that the audience thinks that the phenomenon of fake degrees is the biggest problem facing the country (after farm distress, for which all 'solutions' have already been offered this May by Mahesh Babu's Maharshi), the film projects the racket as the single biggest cause of unemployment in India.  
The love track lacks substance (the heroine tells the hero, 'Neetho oka vishayam cheppali', too early) but that's hardly the big problem.  Our hero has his girlfriend tag along with him in his dangerous mission, putting her life at risk in every possible manner.  
Nagineedu plays the hero's father and he surely has some mental issues.  One second he sentimentally asks his son not to risk his life by going too far as a reporter.  Next second, he emotionally says that even prostitution is better than his TRP-crazy journalism!  Phew!!
Verdict:
The premise and storyline are exciting.  Good performances and some nice technical output help.  The action scenes should have been gripping.  The film builds a loose narrative around the scourge of fake degrees.  It's more of an action film than a thriller.
Rating: 3 / 5.0
Showcase your talent to millions!!
Write about topics that interest you - anything from movies to cricket, gadgets to startups.
SUBMIT ARTICLE
More
Telugu Movie Reviews
Peddha Kapu 1
Skanda
Chandramukhi 2
Sapta Sagaralu Dhaati
Changure Bangaru Raja
Mark Antony