Exclusive: Arvind Swamy to have three direct Tamil releases this year
Tuesday, February 14, 2017 • Tamil Comments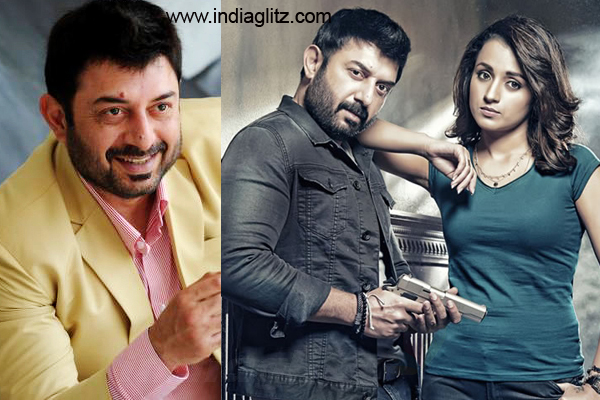 After back to back stellar performances as a smart villain in 'Thani Oruvan' and 'Bogan;, actor Arvind Swamy will be seen as the protagonist in three Tamil films that will be hitting the screens this year.
The actor is currently shooting for 'Sathuranga Vettai 2' the sequel to the 2014 super hit and 'Vanangamudi' directed by Selva, He will also be seen in the Tamil remake of Malayalam super hit comedy 'Bhaskar The Rascal'.
In his special Red Carpet interview to IndiaGlitz, the ever charming actor revealed some exclusive details about the plot, his character, completion status and release plans of the three films he is currently working on.
'Sathuranga Vettai 2'
"Sathuranga Vettai Part 2 is very different in terms of its structure. He(the lead character) is a conman . It is (a story of) one big heist It has been written by the same director (H.Vinoth) and directed by Nirmal Kumar (of 'Salim' fame). Its got lost of twists and turns. the audience are in for a lot of surprises.its 60-70% over. The film probably will release in May. "
'Vanangamudi'
"'Vanangamudi' with Selva- we have been talking about this story line for quite some time. Its about a cop. We are trying almost like a life story of that police officer..his graph. Its not a typical Tamil cinema cop. Its a very interesting script. its not about (the cop's) bravado and things like that. Its a story where he solves crimes and takes a lot of flak for the way he does it. Its got a lot of action and certain elements of grey in it. We are starting it next week. It will be like a full length commercial film. This film will probably come out in August.
'Bhaskar The Rascal' Remake
"Remake of Bhaskar the Rascal will start in a couple of months probably in April and I hope the film will come out in August. I am not sure whether the heroine has been finalised..I think Siddique sir has some ideas of making some small changes in the script. I'd like to bring certain elements of Tamil for my character."
So Arvind Swamy will have Three big releases this year and he says he has been working almost round the clock without any week offs and holidays.
Related News
Actress Photos
Eesha Rebba
Indhuja
Kavya Thapar
Hebha Patel