AV Ravi is contestant, Actor inspector distinction
Monday, September 11, 2017 • Kannada Comments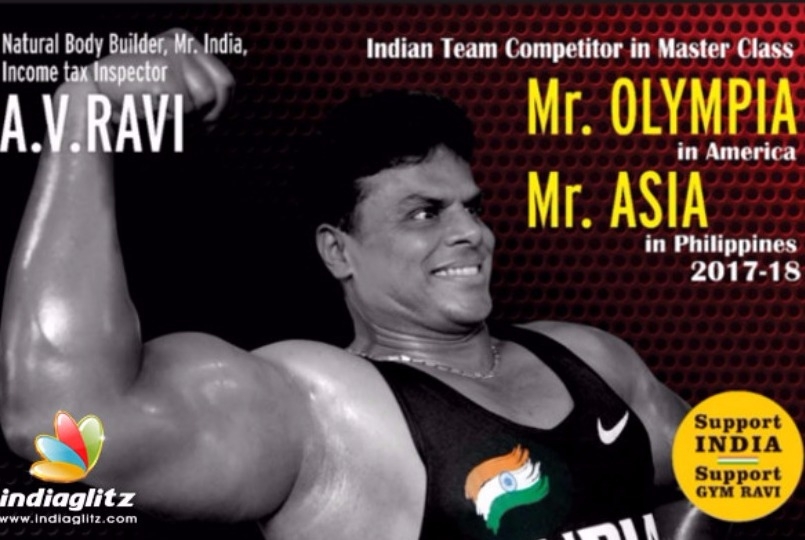 The proud Indian with name and fame at the state, national and international level, actor of over 100 plus films is pocketing another distinction in his life. He was coach and judge of NAC – Asia Universe Body Building and Fitness championship 2016 at Cabu City Phillipines, AV Ravi accompanied Indian team in November NAC world meet at Germany, in December for WABBA word championship at France he has been selected as coach says a from Indian Fitness and Body Builders Federation, that is headed by Raju Rawal of Maharashtra as President.
With over 400 medals trophies to his credit contesting for the Master Class – 6th PHIL Asia championship to be held at CEBU city Philippines in September 2017 and INBA natural Universe championship at Los Vegas, USA in November 2017. He is one of the body builders who have not taken any food supplement and drugs during his career. He is always against to the drug and supplement users in the field of body building.
He preached to the body builders not to take food supplement or drugs that spoil the career of sportsperson.
According to the communication AV Ravi has received on 10th July 2017 from Secretary of Indian Fitness and Body Builders Federation Secretary PSB Naidu, Secretary general IFBF – AV will be participating at Master Class at:
·         Golden Times China, 15 to 17 September 2017.
·         WAWAN Kuwait, 29 to 30 September
·         6th PHIL Asia Championship CEBU city, Philliphines – 29th to Oct 1
·         NAC Tenerite Night Stars, Spain – 21st October 2017
·         INBA Natural Fitness and Best Physique Championship, Los Vegas, USA – 4th to 11th November
·         NAC World championship 2018 – Philippines, first time in Asia, March 2018
Related News