Ghibran's 'bangaram'
Monday, July 25, 2016 • Telugu Comments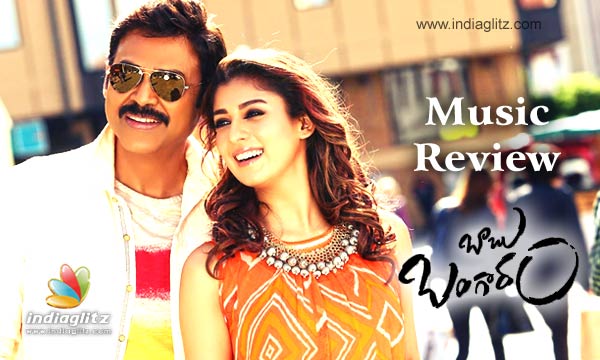 Just as the title is hero-oriented, so also the album. Ganesh Iyyer, Ranjith, Gold Devaraj, Dhanunjay Rami, Yazin Nazir, Shabbir and Narendra are the male singers, while Chinmayi and Uma Neha join with their terrific vocals.
Lyrics are by Ramajogayya Sastry, Sri Mani, Bhaskarabhatla, Kasarla Shyam and Shabbir.
Mallela Vanala
Artist: Ganesh Iyyer
Lyricist: Ramajogayya Sastry
Maruthi brings to this song his 'Motta Modatisari..' feel from 'Bhale Bhale Mogadivoy' in terms of the conceptualization and mood. To imagine Venkatesh in this predominantly youngish and youthful song is a treat. Enlisting Ganesh Iyyer makes the number all the more refreshing. Additional vocals by Zubin Nautalia come with a nasal twang. Ramajogayya Sastry employs evocative, easy-to-understand lines. Deployment of words like 'deepavali', 'rangula holi' add festive feel. Ghibran's tuning and instrumentation are enjoyable.
Snehithudo
Artist: Ranjith KG
Lyricist: Sri Mani
The song elevates the hero's character in a traditional language. Sri Mani's lyrics come with metaphors, among others. Ghibran's musical output ensures that nativity is not lost even as the number sounds updated enough. Ranjith's vocals are a major plus, lending the song a much-needed sharp base.
Dhandame Ettukuntam
Artist: Gold Devaraj
Lyricist: Bhaskarabhatla
This seems to be a song born from an unpredictable 'Babu Bangaram' concept hinted at in the trailer. After 'Snehithudo', this is yet another hero-oriented number, complete with a reference to the actor's real life name (Venkatesha). Ghibran goes for a number with a pronounced Kollywoodish feel. Even the choice of the singer, who renders the song like an non-professional one in a village fair, is Kollywoodish. Bhaskarabhatla's lyrics come with a language that is countryside in its essence.
Dillunna Vade
Artists: Dhanunjay, Rami
Lyricist: Sri Mani
Sri Mani essentially elevates the hero in poetic terms. In writing lyrics that describe how the babu bangaram treats criminals, he has employed intense langauge. After two hero-oriented after two songs, this is the third one belonging to the same category. Ghibran's instrumentation is enjoyable and is best used as BGM in key situations. Dhanunjay and Rami's vocals are apt for this one.
Raaka Raaka
Artists: Chinmayi, Yazin Nizar
Lyricist: Ramajogayya Sastry
This is the first song of the album with a female voice. Chinmayi renders the song to a terrific effect, smiling her way through the lyrically profound one. Yazin Nizar brings an aura of modishness to the romantic number. Ramajogayya Sastry's lyrics are quite imaginative, with metaphors like sky becoming an umbrella taking the cake. By deploying words like 'ishq' and 'lovely anthem', he helps the youth connect with the song in a bigger way. Ghibran's instrumentation is an added attraction.
Babu Bangaram Theme
Artist: Shabbir
Lyricist: Shabbir
The theme song announces the danger ahead -the danger called ACP Krishna. The English lines penned by Shabbir are impressive. Ghibran gets the theme music spot on.
Tikku Tikkantu
Artists: Narendra, Uma Neha
Lyricist: Kasarla Shyam
The item song-like number, too, is spent eulogizing the hero. Kasarla Shyam's lyrics come with a folkish language. Uma Neha's vocals are striking. Narendra passes muster.
Verdict: This Ghibran musical comes as a treat for Venky's fans. With most of the songs being hero-oriented, the album hints at what is in store in the movie. 'Mallela Vanala' and 'Snehithudo' are hummable, while others are enjoyable too. Overall, fine lyrics enrich the album.
Rating: 3.25/5