Bellamkonda Srinivas on 'Saakshyam', learning curve & more:
Wednesday, January 3, 2018 • Telugu Comments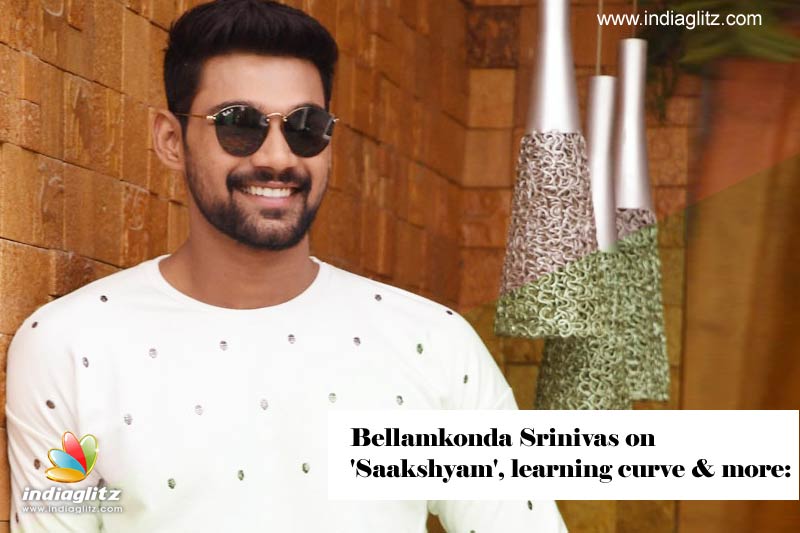 After 'Jaya Janaki Nayaka', Bellamkonda Srinivas is more confident than ever. Currently, he is shooting for 'Saakshyam', a prestigious venture that has Pooja Hegde playing the female lead's role. In this interview, the action hero talks about the film, the goodwill of his father, and more.
We have been hearing a lot about the scale of 'Saakshyam'. Director Sriwass seems to be mounting heavy-duty action episodes and songs, for example. What can we expect from the movie?
There are five huge action episodes in the movie. Peter Heins has choreographed them in different backdrops and they are breathtaking. The Master took it up as a challenging task.
It's not just the fights, but also the story which is quite substantial. Content-wise, 'Saakshyam' is my best movie till date.
What is the rationale behind the title and when can we expect it in the theatres?
I can say that the title is justified by the script. The whole story revolves around Nature. That's why the title. As for the theatrical release, the plan is to arrive in May.
What is your character in the movie?
I am playing a video games developer in the movie. Sriwass has designed my character with utmost care. He is one of the most hardworking directors out there. With 'Saakshyam', he is going to reach the next level. His screenplay for the movie is quite exciting.
Before Sriwass, you got to work with much bigger directors like VV Vinayak and Boyapati Srinu. Isn't it?
That was possible because of the goodwill that Nanna garu (Bellamkonda Suresh) carries. By working with the stalwarts, I got to learn so much about the craft of acting.
The film has been shot in such locations as Varanasi, Pollachi, etc. What is the status of the production works?
But for three songs and the climax portions, the entire shooting has been completed. We are going to travel to New York very soon to can a part of the film.
Who are your best critics?
I mostly listen in to the opinions of my friends and family. Since I am not an outgoing person, I mostly get to hear only these people. I do take their pieces of advice.
What after 'Saakshyam'?
A few scripts are under consideration. Right now, however, my focus is on the immediate task on hands. My father too is listening to the scripts that are coming my way. An announcement regarding my next movie will be made at an appropriate time.
Related News
Actress Photos
Ramya Pandian
Nandita Swetha
Indhuja
Athulya Ravi