A mix of genres
Wednesday, October 21, 2015 • Telugu Comments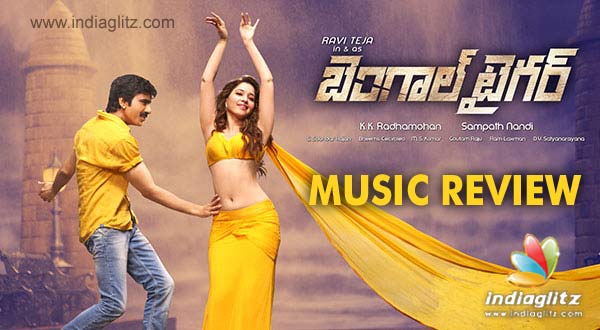 Bengal Tiger has music by Bheems Cecireleo, while the lyrics are by Ramajogayya Sastry, Sampath Nandi, Sri Mani, Bhaskarabhatla, and Suddala Ashok Teja. Shankar Mahadevan makes a big-ticket start, followed by a range of singers.
Bengal Tiger
Artists: Shankar Mahadevan
Lyricist: Ramajogayya Sastry
True to his style, Ramajogayya Sastry gives a swashbuckling introduction, fitting for a hero of Ravi Teja's stature. Just as the title is in English, so many English words are used in this song. From body language, mass mileage, signature, grammar, dictionary to wi-fi, there is English language galore. Shankar Mahadevan's splendid voice sets the tone for a character like Bengal Tiger. Bheems comes up with a dashing tune, although the instrumentation bears an idiomatic similarity to Thaman's style. Raap by Bhargavi Pillai is worth a mention.
Aasia
Artists: Nakash Aziz, Nutana
Lyricist: Sampath Nandi
Lyrics by Sampath Nandi come with a dose of English words, apart from proper nouns and even a lamentation worthy of a Puri Jagannadh hero. From words like Whatsapp, nature, future and more, it has it all. Nakash Aziz and Nutana deliver the song to the effect of giving a whiff of old air. The song's music itself seems like a throwback. Bheems Cecireleo might have done it deliberately to let the audience breathe some by-now forgotten musical style. It is a musical with a folkish flavour.
Chupulato
Artist: Vijay Prakash
Lyricist: Sri Mani
A hero with mass appeal, like Ravi Teja, looks special in a sensuous song that is meant to be a tribute to the seductress. Vijay Prakash's vocals add the necessary dose of high-brow feel to this romantic number. Sri Mani's lyrics mention many well-known entities like Bapu and Lord Brahma, besides celebrating her birth on the Telugu land! Sri Mani delivers this number in the idiom of a traditional romance. The music is attractive from the word go, as the melody is quite impressive.
Banchan
Artist: Adnan Sami
Lyricist: Bhaskarabhatla
The song will have an appeal more than it would otherwise have had, for the reason that Adnan Sami has rendered it. His voice is apt for a number like this, which comes with a good dose of folkish topping. His nasal twang could yet again do wonders for this song featuring Ravi Teja. Bhaskarabhatla's lyrics are creative and profundity wise, they are as good as the lyrics of 'Chupulato'. Rap written by Dev Pawar (a rap sung by Bheems) is the icing on the cake.
Raye Raye
Artists: Mamata Sharma, Uma Neha, Simha
Lyricist: Suddala Ashok Teja
Trust Suddala Ashok Teja to conjure up images of the Nature in the world and imagination of a rustic romantic. The lyrics strike an impressive chord, whether yours is a lyrical mood or not, for the images evoked are striking. Mamata Sharma and Uma Neha as the female voices lend the song the much-needed belle feel while Simha is at his usual self. Music-wise, it is yet again in the traditional mould.
Verdict: An album that has the influences of some present and past musicals. More than the tunes, the choice of singers and the lyrics are likely to salvage this album.
Rating: 3/5