'Bhale Jodi' audio comes
Wednesday, July 15, 2015 • Kannada Comments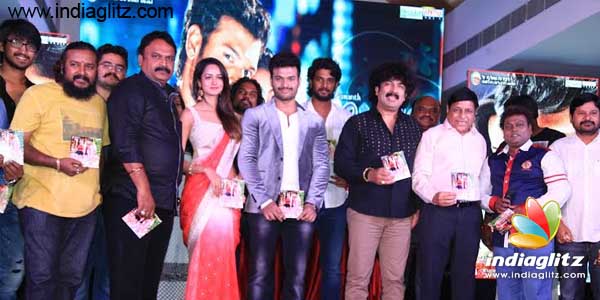 Veteran actor in comedy roles, ace music composer, director of high calibre Sadhu Kokila with all his inputs in 'Bhale Jodi' Kannada film starring Sumanth Shailender, Shanvi Srivatsa, Haripriya, Harshika Poonacha in prominent roles audio CD was released in a grand style with entertainment package from event manager Niranjan and team at KSCA top floor.
Producer Shailender Babu fourth film for his son in his 15 films invited Andhra Pradesh friends for the audio release. While Gurukiran ace music director released audio CD Telugu actor Raj Tharan (he is Shailendra Babu Telugu film) co producers Harish and Srikanth Reddy joined Kannada producer to make 'Bhale Jodi'.
A remake of 'Ala Modalindi' in the direction of Sadhu Kokila with five musical scores - audio event was also packed with dance and small skit. Guru Beat team drums, Shadows team dance, Sharat and Sagar piracy skit were part of cultural programs.
Jai Anand, Jony Harsha, Aditya Music proprietor, marketing head Wahida, Sadhu Kokila, producer Shailendra Babu, Gurukiran, Shanvi, Sumanth, co producers Harish and Srikanth Reddy, Raj Tarun hero of Shylendra Productions Telugu cinema, Dr V Nagendra Prasad, Madarangi Krishna, N Shanker, Seenu, Raja Ravindra, Kari Subbu, N Kumar, Basanthkumar Patil, singers of the album - all Kannada singers were present on the dais. One minute promo of songs was also screened on this occasion.
Related News