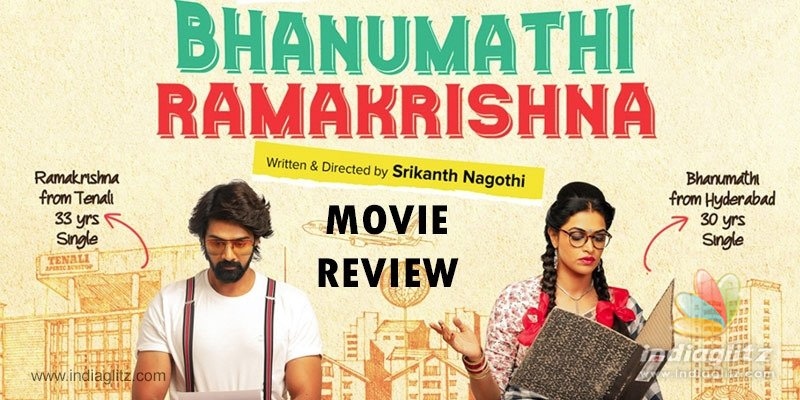 'Bhanumati Ramakrishna' has started streaming on AhA.  This July 3rd release has a run time of 95 minutes.  Here we present the rom-com's review.
Story
Bhanumati (Salony Luthra) and Ram (Raja Chembolu) end up having a break-up right in the initial moments.  The NRI guy finds Bhanumati, a delivery agent working for an advertising company, uninteresting.  One of the reasons is that she is pushing 30.  
Days later, Ramakrishna (Naveen Chandra) joins Bhanumati's workplace as her obedient and honest subordinate.  The duo develops a strong bonding super fast.  While Bhanu falls in love with him, does the small-town Ramakrishna have other plans?  The answer to this question is found in the third act.  
Analysis:
Debutant director Srikanth Nagothi, for the most part, handles the subject like an experienced director.  Be it the unraveling of a relationship (in the first 10 minutes) or the unfolding of a new relationship, he makes the scenes look cool and easy.  There is an undercurrent of pain in the female lead's story, but the narration is not made to look heavy.  
Salony Luthra is a good find.  The former theatre artist gets into the skin of the character like a quintessential Telugu girl next Hi-Tech City door.  The dubbing adds to the beauty of her performance.  Naveen Chandra proves to be a revelation.  Only that the director seems to fail him a bit by resorting to a stereotypical portrayal of a Tenali guy whose ways are somewhat awkward.  This is a bit forced.  Viva Harsha's travails with him are fun to watch.  Raja Chembolu makes an impact in the two scenes that he is seen.  
No tune composed by music director Shravan Bharadwaj is wasted.  Krishna Kanth's story-driven lyrics complement the compositions.  Achu Rajamani's background music becomes a character in the last 30 minutes. Sai Prakash U's cinematography is a plus, while Ravikanth Perepu's editing is skillful.
The film doesn't sanitize Bhanumati.  She is guilty of classism ("He doesn't know English", "How dare he send friend request to me?!").  She may not have seen Ramakrishna the way she sees him currently had it not been for the break-up with Ram.  She realizes that she can't handle loneliness only when she is alone.  She lives in a denial.  She doesn't think her mother deserves her answers.  She behaves differently in the presence of each of her parents.  
The writing department doesn't let the heroine-driven narration look out of place even a bit.  Had Trisha Krishnan's character been privileged over Venkatesh's character in 'Aaduvari Matalaku Arthale Verule', perhaps some of the scenes would have looked like the scenes in 'Bhanumati Ramakrishna'.  
For years, we have heard countless male characters say, 'Ammayilu artham kaaru'.  For a change, this film has the female lead say, 'Abbayilu artham kaaru'.  This is a feminist's delight.
The language in the initial scenes is borderline corporate culture English, with Telugu relegated to secondary status.  In contrast, the scenes in Tenali have characters use words like 'yedadi', 'kaburu' and 'udhyogam', words that Bhanumati might not have used ever in life.  
In making the heroine a weight-conscious character, the character is a halting throwback to Anushka Shetty's 'Size Zero' in a small way.  Ramakrishna's 'I am looking for marriage" is a bit caricaturish.  Despite these minor flaws, the drama holds.  
While the narration is smooth for the most part, the climax is a bit jerky.  For a film that gets even minute details right, the final moments cry for believability.  Since spoilers are a strict no-no when it comes to the climax, suffice it to say that it's the opposite of slice-of-life here.  A little more emotional investing should have gone into this segment.
Verdict:
'Bhanumati Ramakrishna' makes for a decent watch.  This is a convincing love story, by and large.  True-to-life conversations and character arcs are a plus.  But the rushed climax, and simplistic conflict are a big minus.
Rating: 2.75 / 5.0
Showcase your talent to millions!!
Write about topics that interest you - anything from movies to cricket, gadgets to startups.
SUBMIT ARTICLE