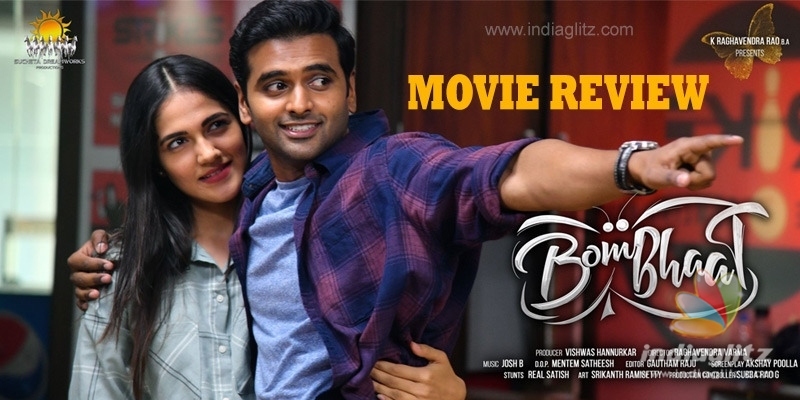 'Bombhaat' is currently streaming on Amazon Prime. Helmed by Raghavendra Varma, this one is a romantic sci-fi. Here is our review of the latest OTT release.
Story:
Vicky (Sushanth Reddy) is the embodiment of bad luck. Whatever he touches turns into a disaster. It's for this reason that his love affair with Chaitra (Chandini Chowdary) falls on the rocks.
When he was a child, a scientist named Prof. Acharya (Sishir Sharma) befriended him and gave him some life lessons. When a mad scientist (Makrand Deshpande) goes on a rampage, Vicky, who is now in company with Acharya's creation Maya (Simran Chowdary), a humanoid robot, accomplishes an adventurous mission.  
Analysis:
Director Raghavendra Varma made this film with a mission. He wanted to do with people exactly the thing they are incapable of. "Vikramarkudu actor Vineet Kumar is not good at comedy, let's make him do only comedy. Makrand Deshpande looks bizarre when he is over-the-top, let's make him do the most over-the-top antics throughout. Sushanth Reddy doesn't have it in him to pull off a lead role, let's give him just that. I just can't handle the sci-fi genre, let me do just that." The result of this kind of audacious thinking is a film that is a non-stop 135-minute-long calamity.
Almost everything in the movie is a second-rate inspiration when it's not a third-rate rehash. The hero's character is a direct throwback to Anushka Shetty's character in 'Khaleja'. There, Trivikram Srinivas created terrific comedy around her quirky character. Here, only the word 'Daridram' is repeated umpteen times as a substitute for drama. We don't have the exact count but the goddam word is heard at least 8-10 times in the first 20 minutes of the film!
When the director watched Shankar's 'Robot', he must have thought: 'Why not reverse the genders and write a story where a female humanoid robot falls in love with the hero?' Fair enough. But, in 'Robot', the machine falls in love with Aishwarya Rai. Here, the machine falls in love with an anti-Aishwarya Rai. She claims to know no pain but she looks always pained in the presence of this dumbo.
The sci-fi scenes are not even at the level of a 'Jabardasth' skit. The mad scientist has a dangerous mind and a handful of buffoons for company. He deploys a gangster whose histrionics are insufferable.
The romantic tracks are filled with Sushanth's camera-conscious antics. The chemistry between him and Chandini Chowdary is zilch. Simran Chowdary, who plays the most ridiculous humanoid robot ever, has to do a Silk Smitha to create a semblance of chemistry. She gets up and sits on the hero's lap without a warning. Poor machine!  
The climax, where the hero creates some contraption in nanoseconds, is rushed. There is an action sequence that belongs in the Chittoor Nagaiah era.
From Fish Venkat and Priyadarshi to Tanikella Bharani and Hema, they all look painfully lazy. Josyabhatla's songs and Rajasekhara Sarma's background score  are immensely bad. Sathish M. Lasa's cinematography and Srikanth Ramisetty's art direction don't seem to be aware of the film's genre.
Verdict:
'Bombhaat' is a low IQ sci-fi where villains are silly, inventions are ultra-silly and romance is doubly ultra-silly.
Rating: 1.5 / 5.0
Showcase your talent to millions!!
Write about topics that interest you - anything from movies to cricket, gadgets to startups.
SUBMIT ARTICLE
More
తెలుగు Movie Reviews
Karthikeya 2
Laal Singh Chaddha
Macherla Niyojakavargam
Sita Ramam
Bimbisara
The Legend