Brahmastra Shivarathri special
Tuesday, February 13, 2018 • Kannada Comments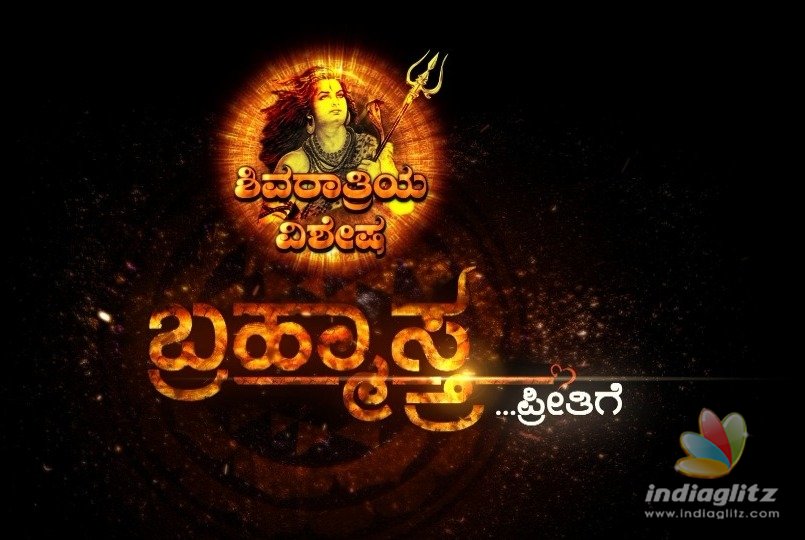 The Maha Shivarathri today is celebrated all over the country. In the small screen the films related to Lord Shiva is common. But Udaya TV is coming up with a special program from its 'Brahmastra' mega serial for Mahashivarathri.
At 8 pm today Shivrathri special episode is telecast in Udaya TV. For the very first time Venu character artist "Ashok Hegde" is making an appearance as freedom fighter Kitturu Rani Chennamma. Hero's mother Krishnaveni character "Triveni" is making an appearance as HiranyaKashupu.
Rashmitha character "Kushi" no doubt is extremely versatile with her acting skills but now for the very first time she is going to perform for 'Shivatandava'.
Anand character Siddu has enacted Dr. Rajkumar's Bedara Kannappa sequence, Priya character Pallavi Mattigatta has come out with the "Yakshagana" concept.
Comedian Pavan, Rajanikanth and Monish will perform a comic play. Lead Santhosh and Shivaranjini along with Pramod and Deepa Hiremath will perform for Duet song.
"Brahmastra" is the love story between the Kannada boy and Telugu girl. The story has begun with, heroin Shivaranjani getting eloped from Andhra Pradesh to Bengaluru reason being her grandma had arranged shivaranjani's marriage with a local rowdy. Now the curiosity is whether Shivaranjini will get caught or not on this special episode of MahaShivarathri?
Santhosh family is all about being united, humble, caring, concerned and lovable. On this special occasion entire Santhosh's family members are set to entertain all of us through special mythological characters.
Actress Photos
Payal Rajput
Mouryani
Athulya Ravi
Chitra Shukla