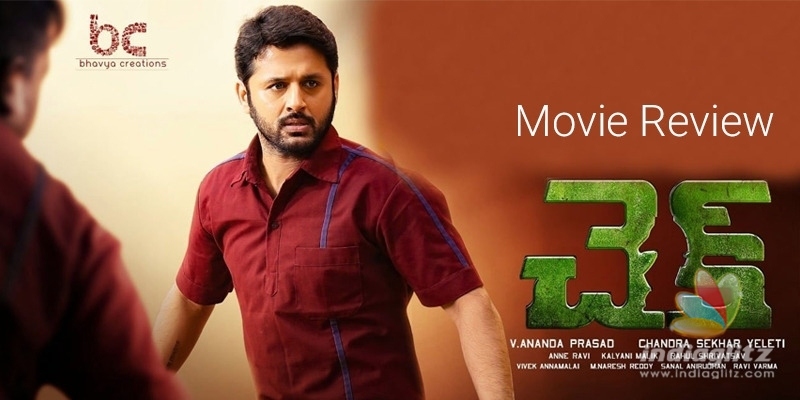 'Check', starring Nithin, today hit the screens. Here is our review of the latest box-office release.
Story:
Aditya (Nithin) is running out of time. His days are numbered because he has been sentenced to death in a terrorist attack case. Aditya just can't prove his innocence but he wants to live. A fellow prisoner (Sai Chand) piques his curiosity in chess. Soon enough, Aditya discovers that he is a pro at the game. He wants to use chess as a ladder to gain popularity and secure mercy from the President of India. In his journey, Aditya has to confront a group of violent men, including a top cop.
Analysis:
Popular titles like 'Queen's Gambit' and 'Shawshank Redemption' have been mentioned in the context of 'Check'. While director Chandrasekhar Yeleti may well have been inspired by these films, he admittedly got inspired to write this film when he learned about an American prisoner who wowed everyone with his chess-playing brilliance. He builds on the idea and makes this film into a mess.
After a fighting scene in the movie, Nithin's character begs the cops not to put him in a dark cell. He is locked up there for a few days. The poor chap pines for light. It's this desperation that ignites the genius in him. Overnight, he discovers the 'Better Than Viswanathan Anand' in himself. From here, nobody can stop him from becoming a chess legend.
Rakul Preet Singh plays a lawyer, who, along with Sai Chand's character, convinces him to represent the country in a chess championship. It's as if he will surely escape death if he becomes a chess champion. Before you know, Aditya is a national icon who gets featured on the cover of India Today twice.
Chandrasekhar Yeleti is no longer beholden to logic. That's fine. But he was expected to stick to his own standards in terms of execution. The sporting scenes lack the ability to keep the audience on the edge. You have to execute such scenes in such a way that the audience believes that the protagonist may either win or lose. Here, Aditya winning every single game is not just a foregone conclusion but he also wins every single game just like that.
The second half becomes all the more cliche-ridden with the entry of Sampath Raj's cop character. He shouts and Aditya maintains his calm (barring in the scenes where he has to do the routine fights). He is calm because he is assured of success.
The climax has Aditya pulling off a seemingly impossible thing. When the feat is explained, you feel it shouldn't have been explained in the first place. The audience might have told themselves that anything is possible for a chess grandmaster and walked out of the theatre with a 'Two minutes of silence to logic' expression on their faces.
With not-so-steady performances, 'Check' doesn't offer have much to talk about. Kalyani Malik's background music is able. The cinematography, by Rahul Shrivastav, is good enough.
Verdict:
'Check' checkmates the audience into thinking that logic and Yeleti may not always go hand in hand. Expect some unintentionally funny moments.
Rating: 2 / 5.0
Showcase your talent to millions!!
Write about topics that interest you - anything from movies to cricket, gadgets to startups.
SUBMIT ARTICLE
More
Telugu Movie Reviews
Shekar
College Don
Sarkaru Vaari Paata
Ashoka Vanamlo Arjuna Kalyanam
Acharya
Oh My Dog