Chinnada Gombe audio, nothing to do with 1964 film
Tuesday, September 12, 2017 • Kannada Comments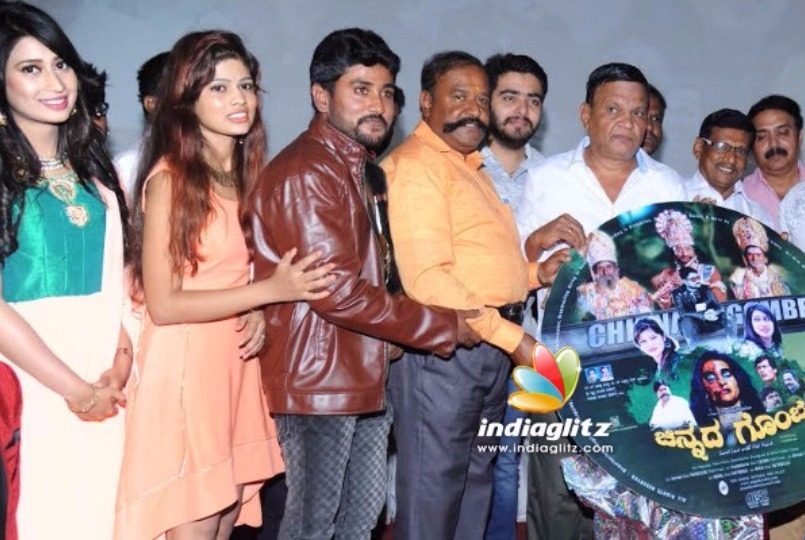 The new Kannada film with title repeating after 1964 movie 'Chinnada Gombe' starring former chief minister of Tamil Nadu Dr J Jayalalitha film in black and white with Kalyan Kumar is totally different concept film. Nothing has been lifted from that successful film of former TN chief minister late Jayalalithaa.
Kanakapura Krishna brother of noted producer Kanakapura Srinivas is introducing his son Keerthi Krishna from this film. Kanakapura Srinivas present at the audio release to bless his brother and his son said any film that wins would give job for at least 100 people. He had seen the struggle of Keerthi Krishna to become a hero in Kannada cinema.
In the cast of this 'Chinnada Gombe' famous 'Thithi' Kannada cinema actors  Gaddappa, Century Gowda played Bheema and Duryodhana roles – that looks very funny.  This film shoot was held with great difficulty in 45 days. The jewels of producer wife were pledged to get money for production of the film. Even friends have helped to make this film.  
A devil force controls the hero in this film. It is a horror cum thriller film said Pankaj Balan writer and director of the film. Keerthi Krishna hero of the film is an inspector in the film. Leena Kushi is in two shades as heroine. Anjusri is another heroine. Tamil actor Penaamani is also in the cast.
For four songs of Chetan Kumar, Dhanasheelan composed music. Veteran actor Bank Janardhan son Guruprasad has done sound recording for the film. Two songs of the film and trailer were screened on this occasion.
Related News