Chiranjeevi: Ganta Ravi's 'Jayadev' will be a Great Movie!
Wednesday, June 21, 2017 • Telugu Comments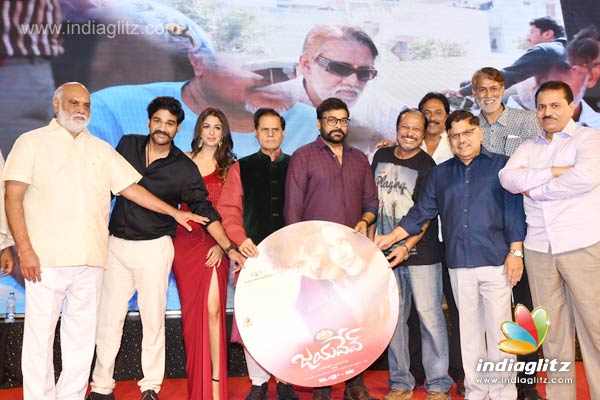 Andhra Pradesh`s Education Minister Ganta Srinivas Rao`s son, Ganta Ravi, is gearing up for his debut in the movie industry. His latest movie Jayadev directed by P.C. Jayanth and produced by K. Ashok Kumar under 'Sri Venkateswara Arts Creations' banner, celebrated its pre-release in Hyderabad last night, 20th June 2017.
The music director of Jayadev, Mani Sharma launched the audio in the presence of Mega Star Chiranjeevi, Ganta Srinivas Rao, Manchu Mohan Babu, K. Raghavendra Rao, T. Subbarami Reddy, Allu Arvind, D. Suresh Babu, C. Kalyan, Paruchuri Brothers, P.V.P Prasad, Bandaru Satya Narayana, Bellamkonda Suresh, S.V. Krishna Reddy, Mahesh Reddy, Damodar Prasad, Boorugapalli Sivarama Krishna, Kodali Venkateshwar Rao, Ganesh Babu, Gemini Kiran, Lagadapati Sreedhar, Aadi Seshagiri Rao, Vajra Srinivas Rao, Kumar Choudhary, Ashwini Datt, Maruti, Ramesh Babu (Elamanchali MLA), Raghuram Krishnam Raju, Vishnu Kumar Raju, MLA Anita, K.V. Rao, Chaamundi, Laalam Bhaskar Rao, Govind Rao, Palla Srinivas Rao, Avanti Srinivas, Venugopala Chary, Vinod Kumar and more.
Mega Star Chiranjeevi unveiled the big CD and handed it over to Raghavendra Rao, while Actor Manchu Mohanbabu launched the audio CDs.
On that celebratory occasion, Chiranjeevi says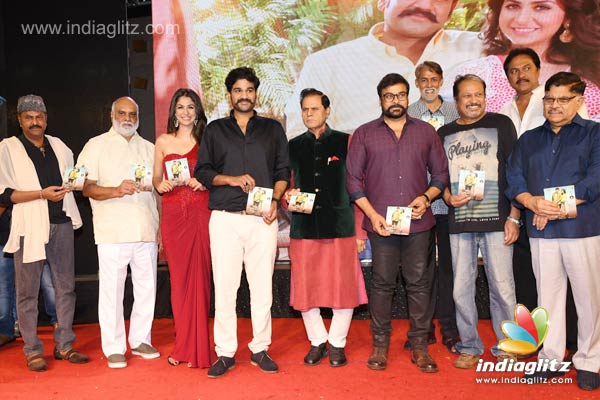 'To see my best friend`s (Ganta Srinivas Rao) son grow into an actor makes me feel very proud and happy. He is being launched by some of the most versatile and talented bunch in the industry. Mani Sharma gave great music to the movie and the movie is amazing. I have to appreciate Ravi`s effort to choose such a different story and look as his debut because not many choose such a project as their debut. Actors did a great job and the producer and the director did their best to make this movie. All the best to the team of Jayadev and I am sure this movie will be a grand hit!'
Then, Manchu Mohan Babu spoke a few words saying 'Ganta Srinivas Rao is a great human being and I am happy to be a part of this pre-release function. I think Ravi is doing a great job as a debut actor. In fact, he is doing a better job than me as a beginner. He is very talented and sporty and I think that will add to his career'
Allu Arvind said 'I heart-fully hope that Ravi achieves great success with this movie and I hope he does more movies and stays in the industry for a long time. He is a passionate actor and he has that burning desire in him to achieve that goal in his life. I am sure he will succeed. All the best'
Many more celebrities spoke about the Ganta Ravi and the movie including S.V. Krishna Reddy, Bellamkonda Suresh and Subbarami Reddy, wishing the team of Jayadev a grand success.
Jayadev will be in theaters soon!
Actress Photos
Muskan Sethi
Sony Charishta
Rashi Khanna
Sneha Gupta