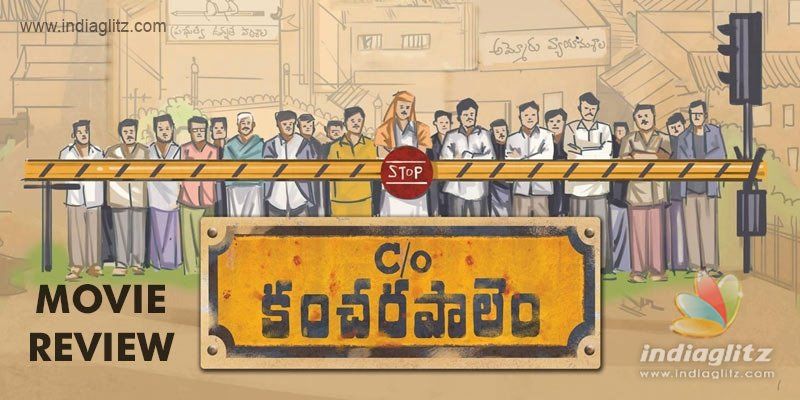 'Care Of Kancharapalem', directed by Maha Venkatesh, hit the screens this Friday.  Here is our review of the village-based drama featuring unfamiliar faces.
Story:
Not one but multiple stories make this film.  Raju (Subba Rao) is a 49-year-old, unmarried man who works as an attender in a sarkari office.  He happens to be befriended by Radha (Radha Bessy), a 42-year-old colleague.  Friendship takes root in an atypical way and this is the film's best-narrated story.
Sundaram (Kesava Karri) is an upper-primary school kid who is attracted to his classmate Sunitha (Nithya Sri).  They bond over little things that end up having major, unforeseen ramifications.
Joseph (Karthik Ratnam), a 20-something, works under a gym instructor, who is also a muscleman aspiring to be a politician.  And this Joseph guy finds hope in the companionship of Bhargavi (Praneetha Patnaik), a Brahmin girl.
Geddam (Mohan Bhagat) works in a bar and is in love with Saleema (Vijaya Praveena Paruchuri), a prostitute.  
What kind of endings do these love stories have?  What has life got in store for these different characters with different temperaments?  What is the role of the villagers of Kancharapalem in their lives?  That's the film for you.
Analysis:
In a fabulously written portion, a mellowed man in his middle ages tells a youngster that the latter can't understand his feelings of love for a woman.  This is a terrific role-reversal of sorts for Telugu cinema.  In hundreds of films, we have seen youngsters saying it to older characters.  In 'COK', it's the other way round.  
When a mother asks her daughter, 'What happened to your feminism today?' it's so hard-hitting.  We may claim to be this or that, but how do we behave when it comes to us?  Would we accept rebellion or be convenient conformists?  
These two episodes, together with the thread involving Raju and Radha, are ahead of its times for Telugu cinema.  
Relatable situations and dialogues abound.  'Girls don't talk to dullards, they talk only to clever boys', a friend tells the 13-year-old Sundaram, who is too shy to overtly woo his classmate.  'Any damn party with girls is good', the men from lower class tell themselves as they prepare for a small-time treat at the neighbourhood bakery.  
In the unparalleled sculpting competence of Rammurthy, we see the skilled Indian villager who can be a successful entrepreneur if not for feudalism, socialism and red tape that are integral to our national life.  In Saleema, we see a woman with an unfortunate past trying to find enduring love.  
Amid such aspiring characters is Raju, who seems to have resigned to his fate of being a bachelor while not having any complaints in life.  His largely pleasant attitude is a far cry from so many unwelcome things that happen in the village.  He is humiliated by the village as a pervert, but when push comes to shove, the villagers stand with him.  
Cinematography by Aditya Javvadi and Varun Chaphekar is intelligent.  Music by Sweekar Agasthi is elegant.  Sound design by Nagarjun Tallapalli is fab (the film was shot using Sync Sound technique).  
The performances are a mix of natural and mainstream ones.  But for Radha Bessy, Subba Rao, Praveena, Kesava Karri, others give cinematic acts.  
Everything said, we have some strong creative and ethical reservations about the film:
Its characters don't have a sense of the past even after going through so much misery.  How is it possible to not be affected by catastrophes in life?  (Is the philosophical opening song meant to be taken as the film's proof of interest in the gravity of suffering?)
It's as if Raju is a tourist of his own life.  It's bizarre that he recollects his past as if it were a bed of roses.
After a point, the dialogues acquire cinematic glamour.  They lose their innocence and if the audience fails to see through it, it's because the film starts pandering to our tastes.  What do you call the repetitious 'Natti gadu' (colloquial for gay, apparently) comedy?
The children talk like adults.  The Sunitha-Sundaram track should have come with far fewer dialogues.  
One more love story should have been suspenseful till the end just so that tragedies don't seem strained.  
The sculptor's stuttering problem becomes a cartoon in the script, a sin you would trust only a mass masala film to commit.
After a point, the film acquires a generic feel.  It's because some tropes (like a girl falling for a muscleman, as it happens in Tamil films) are too familiar.  
Bhargavi says she will start attending the Sunday Christian prayers because she will anyways have to do it after marrying Joseph.  Why?  Is it because she is a woman and she is expected to follow her husband's religion?  
The Standard VIII girl having an interest in a film song that alludes to soft porn language ('Bhale bhale mogadivoy' from 'Maro Charitra'). That's her innocence but her father's concern is not shown with sympathy. The inappropriateness of the sexualized song doesn't occur to the teachers.
Verdict:
The film charms us with its innocence. If its love stories are largely engaging, its characters inspire affection. Rooted music and fairly good dialogues help.  But the film does have many creative issues.  If you don't take them into consideration, you will over-rate this film.
Rating: 3 / 5.0
Showcase your talent to millions!!
Write about topics that interest you - anything from movies to cricket, gadgets to startups.
SUBMIT ARTICLE
More
Telugu Movie Reviews
Peddha Kapu 1
Skanda
Chandramukhi 2
Sapta Sagaralu Dhaati
Changure Bangaru Raja
Mark Antony