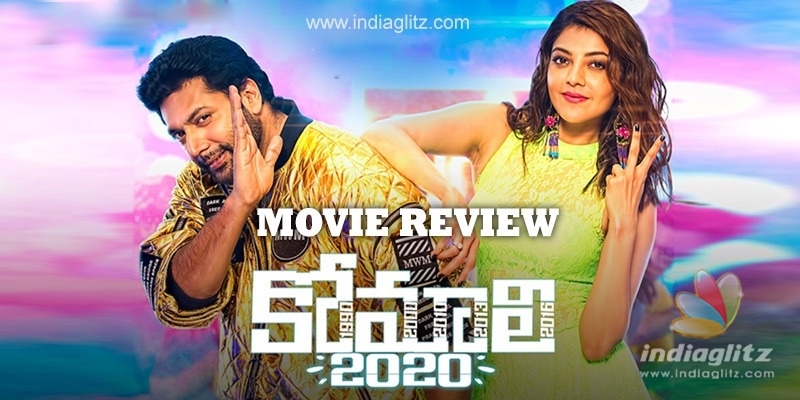 'Comali', dubbed from Tamil, is now streaming on ZEE5. This direct OTT release is a comedy drama. Here is our review of the film.
Story:
It's 1999 and Ravi (Jayam Ravi), an Intermediate student, is in love with classmate Nikita (Samyukta Hegde of 'Kirak Party' fame). The day he decides to propose to her, the young lad meets with an accident and falls deep into a coma.  
Sixteen years later, Ravi wakes up and finds everything around him quite perplexing. His close buddy Mani (Yogi Babu), who has now become his brother in law, is his only go-to guy. He bumps into a young woman (Kajal Aggarwal) and later discovers that he has a purpose in life. The drama involves a coveted idol that is at the root of an MLA's surging fortunes.
Analysis:
Debutant director Pradeep Ranganathan stuffs 'Comali' with Kollywood nativity that is hard to shake off. Every scene is littered with basic gags that look not only repetitive but also juvenile. Soon after the male lead regains his consciousness, he watches on TV that politicians are still talking about the Polavaram project. He doesn't believe it is 2016 and quarrels with his friend that he is being fooled.
Slowly and surely, he is supposed to realize that life has a major challenge for him. But since this is a comedy, the proceedings are deliberately light-touch. It wouldn't have looked so below-average had the film assumed an aura of dignified narration at least every 15 minutes or so.
Jayam Ravi, whose performance in 'Thani Oruvan' (the Tamil original version of Ram Charan's 'Dhruva') was top-notch, is ill at ease here. We are told that his mental age is 17. But, in his attempt to look timid/oh-so-cute, he ends up seeming like a clueless, cranky person. Even this would have been pardonable had the character development been consistent and believable. But, no! What the writing does with his character is a leap of faith. He somehow believes that it's okay to fool around with a doctor, his ex-GF's husband and all. Even such tropes would have been enjoyable had the dialogues and acting been strong. Jayam Ravi and Yogi Babu compete with each other in their attempt to be over-the-top.
The film's emotionalism is affected instead of being affecting. The hero's sister shouts at him for being a freeloader at this age just weeks after he came out of a 16-year-old coma. As she screamed and cried, it looked strange if not filthy.
Jayam Ravi's Rip Winkle tropes are all low-hanging fruits. He is astonished about Facebook (which is likened to a lovers' park) and WhatsApp and torn jeans and malls and buildings. Otherwise, he is very competent at uncle-shaming and raising his voice against caste endogamy.
From a bumbling sting operation that comes undone to a series of lazily-written scenes involving Kajal Aggarwal, Yogi Babu and others, this film gets many things so wrong.
The idea of wedding a come-of-age character with a politician's cynical politics should have made for scintillating drama. This film is a colossal wasted opportunity, with all the scenes involving the politician falling flat.
Hip Hop Tamizha's songs and Richard M Nathan's cinematography are so-so.
Verdict:
'Comali', at 130 minutes, looks quite inane. Laced with Tamil nativity, it turns out to be mediocre, over-the-top and juvenile.
Rating: 2.5 / 5.0
Showcase your talent to millions!!
Write about topics that interest you - anything from movies to cricket, gadgets to startups.
SUBMIT ARTICLE
More
Telugu Movie Reviews
Thiru
Highway
Karthikeya 2
Laal Singh Chaddha
Macherla Niyojakavargam
Sita Ramam