Darshan Chakravarthy on 14 in Udaya
Thursday, January 11, 2018 • Kannada Comments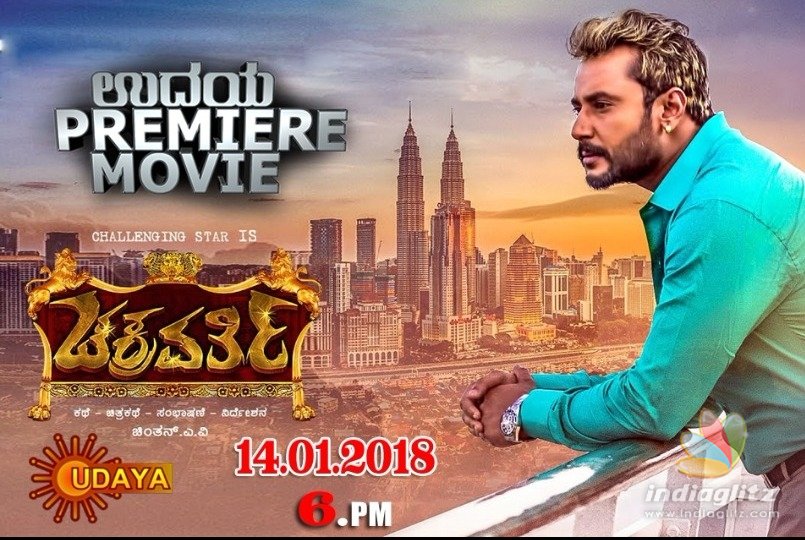 While the box office sultan Darshan is having merry time with his new Rs.5 crores car Lamborghini – an additional car to a series of other brand cars of high value – the small screen audience could have a pukka entertainment on the eve of Pongal festival as udaya TV is bringing 'Chakravarthy' of Darshan.
Darshan Chakravarthy in the direction of dialogue writer Chintan was not a top grosser in the box office. It was a periodic cinema tracing the underworld of the 80's.
SrujanLokesh, Adityaa, Shivadwaj and Kumar Bangarappa who have hero status are in the cast with beautiful Deepa Sannidhi as female counterpart to Darshan.
Darshan's 'Chakravarthy' is about an underworld don Shankar, Shankar (Darshan) is caring free guy having a habit of hunting Tigers in Kodagu. After his father who is a retired army officer sends him to Bengaluru in a search of Job, he accidentally becomes an underworld don.
Arjun Janya has come up with a brilliant music and background scoring, which will a value added element for this film, especially 'Ondu Malebillu and title track Chakravarthy is one of the popular tracks.
Udaya Television Premier Movie "Chakravarthy" is been telecasted on Sunday (14.01.2018) at 6 PM.
RELATED NEWS
Actress Photos
Kiara Advani
Shyamala
Amritha Aiyer
Neha Shetty