Dhanush & Soundarya on 'VIP-2', nepotism & more
Wednesday, August 23, 2017 • Telugu Comments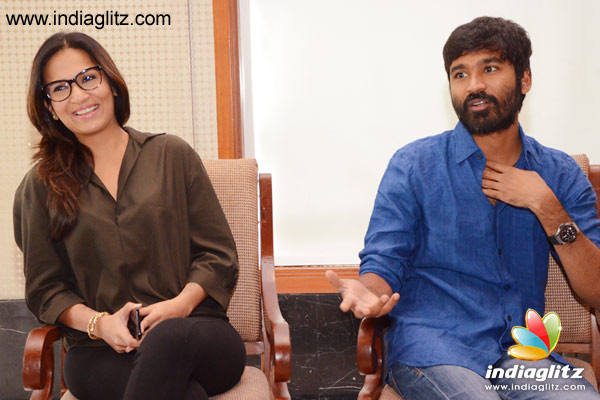 Dhansu and Soundarya Rajinikanth, promoting their film VIP-2 (August 25 release), talk about what is unique about the movie, whether it's fair to call it a misogynistic movie, whether nepotism exists in the film industry, what is special about Hollywood's pre-production work culture, and more.
First straight Telugu outing:
Dhanush: Since 'Raghuvaran B.Tech' was a big hit, I felt this is the right film to which a sequel can be made. This is the first time I have spoken in Telugu. 'VIP-2' is a straight Telugu film.
We couldn't ensure a simultaneous release because of the practical difficulties. The day our film released in Tamil, there were three films releasing in Telugu. So, Aug 25 was the best date available for us.
Comparing first part vs second part:
Dhanush: It is not about how different the two films are, but how the characters, etc are in the same space. There are certain elements in the first part which everybody liked. What is new about the second part is that the world has gotten bigger, for example, with the kind of character that Kajol mam is playing. Otherwise, the comedy, emotions, fights are all there. They are only bigger.
Was Soundarya actually the one who was supposed to direct this film from the beginning, given that someone else directed the first part?
Dhanush: When I wrote the script of 'VIP-2', I had no idea as to who will direct it. Soundarya was supposed to do a film with Thanu sir, who is this film's producer. We were brainstorming as to which one she should do. This is when we felt that 'VIP-2' is the perfect script for her as her vision is big.
Soundarya: In the first part, Raghuvaran is more of a boy who was jobless and getting scoldings from his elders. In the second part, he is married; this is the next phase of his character.
Why Kajol?:
Dhanush: Kajol mam's Vasundhara is not an antagonist. It's only that Raghuvaran and Vasundhara have different ideologies. We wanted to cast someone who is stylish, majestic and confident without taking an effort. Kajol mam has these traits. By God's grace, she agreed to do the film. She has done a fabulous job.
Why Kajol couldn't speak the Telugu lines:
Dhanush: It's not like she was hesitant to do a Tamil movie. She only had second thoughts about doing a non-Hindi film. We eventually figured a way out. We shot both the versions in 52 days. It was not practical to make her speak in Telugu. It would have been time-taking.
A powerful female character:
Dhanush: A powerful and successful character needn't necessarily be only a male. Just as there is no such thing as a lady director and a male director. A director is a director. How does gender come into the picture? A powerful opponent can be of any gender.
Is the film misogynistic?:
Soundarya: In Chennai, the term 'Amul Baby' is used for a spoilt brat who is from a comfortable background. There is nothing misogynistic about that. If you have watched the first part, you will find Raghuvaran calling his opponent the same thing. It became quite popular. As a punch line from the first part, it had to be there in the sequel. It's not just Kajol mam who is called as 'Amul Baby'. A male character, too, is called as one in a scene.
Being a "Lady director":
Soundarya: Be it the seniors (Samuthirakani anna, Vivekh sir, Kajol mam and others) or others, at no point did they see me as a female director.
Dhanush: You (any creative worker) should first get over your limitations. Everybody is equal. Everybody's job is tough.
On mixed reviews:
Dhanush: I am fine with any kind of reviews as long as the collections are good. We can't force people to write positive reviews only. If you are happy with positive reviews, you have to accept mixed reviews, too.
I don't think the gap of 14 days between Tamil and Telugu releases is going to affect the Telugu version. The audience here is waiting to watch our film. They are happy that we have made it in Telugu.
On nepotism in film industry:
Dhanush: I think talent alone exists. It doesn't matter what is your background or whether you have one. Nothing can stop a true talent.
Soundarya: A lawyer's kid, a doctor's kid - they come to be in the same profession. It doesn't happen only in the film industry. Of late, we are talking about it because nepotism was spoken on a very big platform by very successful people. If people don't accept you, you don't last long in films. Nepotism is there everywhere, but it can't (sustain you for long if you are not competent).
Hollywood vs Southern industries:
Dhanush: I can't speak for others. I can only speak for myself. As an individual, I want to improve the pre-production part in our industry. The way they (Hollywoodians) plan their pre-production is very precise and thorough. They decide what an actor is going to wear, the color of it and the color of the background six months before they are on the sets. It's that precise. This is what I learned from them. (Note: Dhanush is doing a Hollywood film, which will hit the screens in 2018)
Directing Rajinikanth Vs Dhanush:
Soundarya: I enjoyed directing either of them. It's every filmmaker's dream to work with a superstar. God was kind enough that I got to work with a superstar with my first film. As for Dhanush, he is a true actor. Working with as natural an actor as Dhanush felt great. Both are family.
Dhanush: Did you expect a different answer? When you ask someone to choose between two family members, you are always going to get this kind of answer. (Laughs)
How come you are so natural?
Dhanush: It's a compliment. I really don't know. I am not a trained actor. I am not a trained dancer. I came here for survival.
Aren't you tired because of the taxing schedules?
Dhanush: For me, working is chilling. You give me half day's rest, I will be restless. If I am idle for two hours, next moment I am going to write something or trying to do something creative. Working is play time for me.
Forthcoming movies:
Dhanush: My next release will be 'Vada Chennai'. It will be dubbed in Telugu. 'Maari-2' will be a bilingual. It will go to the sets by the end of this year. Anand Rai's film will happen next year. Gautham Menon's film will be wrapped up soon. I will work with Selvaraghavan (brother) for sure. I am also writing something.
People are asking me about producing films in Telugu. I will do it definitely. But 6-7 films are going to be bilinguals. I have to first know the pulse of the Telugu audience.
Related News
Actress Photos
Priyanka Jawalkar
Sanchita Shetty
Rasheeka dutt
Indhuja