Dhanush's Wunderbar- A factory of Wonderful Films
Saturday, October 24, 2015 • Tamil Comments

One cannot be sure of whether Dhanush selected the name of his production company to convey his intention of giving wonderful film for Tamil audience. But he has already achieved that with the films that have come from the Wunderbar Films so far.
From Ethirneechal` to the latest sensation Naanum Rowdy Dhaan` all the six films that have released under the banner have been commercial super hits that have pleased all sections of audiences. And the list includes the National award winning Kaaka Muttai` the film which has come as as an ever glowing gem on the crown of Tamil cinema. At the sametime Dhanush produced Velai Illa Pattadhari, 25th film as an actor which was not just a blockbuster but also elevated his star power in Kollywood to new levels. Maari` despite getting mixed reviews prospered well at the box office as the high octane entertainer was approved by the audience.
It`s rare to find an actor producing films with others as lead heroes that too the juniors who are struggling to carve a niche for themselves. Back in the 1980s Kamal Haasan produced Kadamai Kanniyam Kattupadu` with Sathyaraj in the lead role and the film apart from becoming a super hit is considered as one of the best films to have come from the veteran in his long acting career.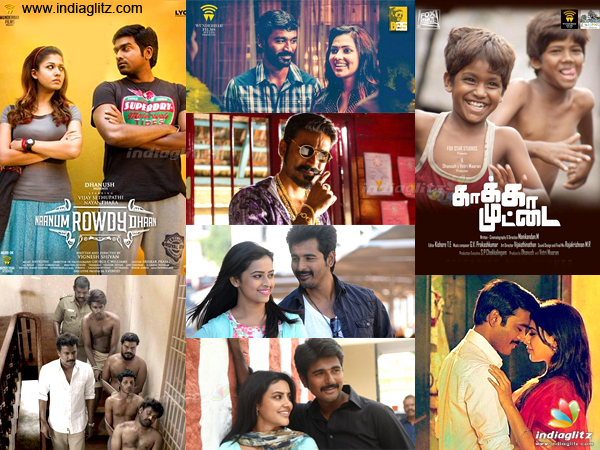 Dhanush almost did the same for Sivakarthikeyan by bankrolling Ethirneechal` which established Sivakarhtikeyan as a solid bankable hero (though his previous films Manam Kothi Paravai` and Kedi Billa Killadi Ranga` were commercial hits). Dhanush also produced 'Kakki Sattai' a commercial entertainer which turned to be one of the super hits of 2015 and also elevated Sivakarthikeyan to a few more steps on the star ladder. Vijay Sethupathi who was emerging as a bankable hero at the same time as Sivakarthikeyan has been going through a rough patch with continuous box office duds recently. Now he has also got the essential break with Naanum Rowdy Dhaan` produced by Dhanush. The film which released on Aayudha Pooja and marching ahead towards the super hit status with positive reviews flowing from all corners also served as the much needed opening for director Vignesh Sivan whose debut film Poda Podi` released three years ago.
A Producer is not just a person who has with him or able to amass finances required to make a film. A producer should have a good taste for stories, ability to choose the right persons to make a good, possess a deep understanding of the box office business and also a good knowledge on how to promote a film. Those who have demonstrated and retained these abilities have only emerged as successful film producers. Dhanush as a producer shines with these traits with every film. As a person who has been a part of the film industry for almost 15 years Dhanush shows a fantastic understanding of people`s pulse in selecting the scripts that will click with the audience and churns out commercial super hits. He also has the more admirable trait of banking his finances on content oriented, award winning films like Kaaka Muttai` and with apt promotions made sure that the film is commercially successful, which will encourage other producers to make such meaningful films amidst commercial entertainers.
As a person who would easily customize to the order of the day Dhanush is active in social media and he directly updates and promotes his films. The official information, reviews and box office performance of every film connected with Wunderbar films will be updated in the official Twitter pages of Wunderbar Films and Dhanush.
Dhanush`s penchant to make good quality films, to take them to people and ensure their commercial viability is evident not just by how he promotes his own films but also on how he promotes good films of other actors, directors and producers in his social media pages.
Coming up next form Wunderbar Films will be Visaranai` a film directed by Vetirmaran which has already won an award in the Venice International Film Festival for its portrayal of human rights issues. Another film that is getting ready to release on December 18 is Thangamagan` directed by Velraj starring Dhanush, Amy Jackson, Samantha and others and it is expected to be a commercial treat on the lines of 'VIP'. Dhanush will also be producing Vada Chennai` which will be directed by Vetrimaran and the track record of the actor-director duo would speak volumes. The combination of these three films shows the diversity and uniqueness of Wunderbar Films as a production company and what it takes to be a successful and a good producer like Dhanush. .
We can expect more wonders in the coming years and wish that the success streak should continue forever.
Actress Photos
Muskan Sethi
Sony Charishta
Rashi Khanna
Sneha Gupta