Dil Raju on gains & losses, 'DJ' losses, 'MCA' & more:
Sunday, December 17, 2017 • Telugu Comments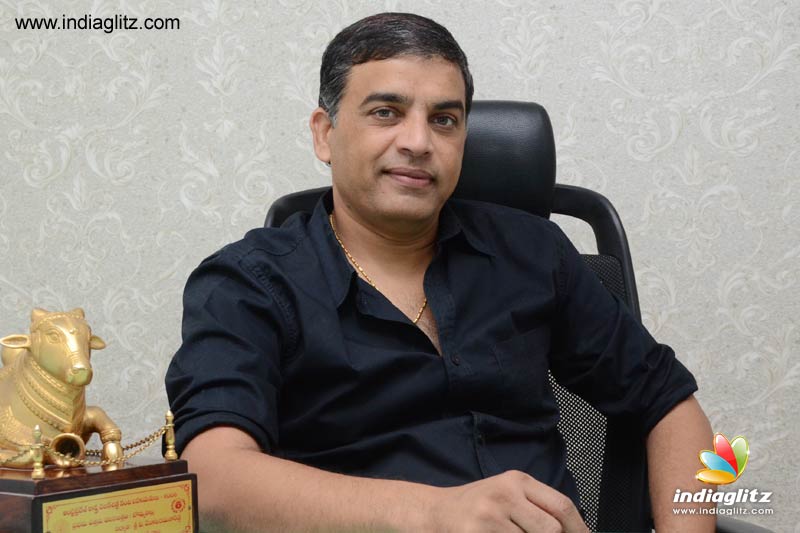 As Dil Raju turns 47 on Monday (December 18), he takes stock of the year that has gone by. He gets frank about what brought him joy and sorrow on professional and personal fronts, the 'DJ' controversy, scoring five hits in a row, the menace of piracy, and more.
A year full of gains & losses, joys & sorrow:
I turn 47 now. I have seen both highs and lows over the past one year. As a producer, I have scored five hits in a row and am gearing up to deliver my sixth hit (with 'MCA'). But on the personal front, I lost my wife, which is an irreparable loss for me.
So far, I have produced 28 movies and most of them are hits. This is big for me. However, as a distributor, 2017 is one year when I suffered the highest amount of loss. This is in contrast to how successful I was this year as a producer. I ended up losing out as a distributor because I took some decisions based on emotions and certain prior commitments.
When you accept successes, you should be ready to accept failures as well.
Explaining the flops:
Responsibility for success and failure is not to be borne by the director alone. For example, Venu Sriram's debut movie 'Oh My Friend' didn't do well. But we consciously did that movie as an experiment. We had thought of doing the movie in just Rs. 4 Cr. But once Siddharth was in, two star heroines (Shruti Haasan and Hansika Motwani) were roped in. With this, the film's shape changed.
Something similar happened with 'Krishnashtami'. We started out with the intention of making a hilarious entertainer. But, by and by, it became a heroic film. When we were making 'Josh', it didn't occur to us that college campus rivalries ceased to have currency any longer.
Evolving with the audience:
Over the years, the audiences are exposed to a whole range of avenues of entertainment. We have to make films such that they will think of coming to theatres.
Reaching the expectations:
We made 'Shatamanam Bhavati' counting on the idea that youngsters will relate to the emotions. And it did. It even won a National Award. 'DJ' was my special outing with Allu Arjun. 'Nenu Local', 'Fidaa' and 'Raja The Great' were hits, too.
'MCA' is for families:
If 'Shatamanam Bhavati' was about the importance of parents, 'Fidaa' brought out the emotions involved in a father-daughter relationship. In 'MCA', you will see the emotions in a Maridi-Vadina relationship.
Nani, Sai Pallavi and Bhumika Chawla have done a fantastic job. If the first half is in rom-com mode, it's in the second half that the film becomes story-based. The last 15 minutes are crucial.
We are doing a mistake:
As a distributor myself, I know well the pain of distributors when they suffer losses. I release my movies on my own in some of the key areas. And 3-4 of the distributors have always been with me over the years.
When some distributors suffered losses on 'DJ' (Dil Raju made profits as a producer, but some distributors couldn't recover their investments and their losses were made good by 'Fidaa'), it was later wrongly said that 'Raja The Great' also fetched losses. It's not right. I am a no-nonsense person and I stay away from controversies.
We are seeing this trend of many adding up hire values when they talk about a film's share. It's like cheating oneself. This is not how it happens in Bollywood.
If share values are separated from hire values, controversies can be avoided. A producer will get moral support only if the distributor is happy. Suppose if I compensate a distributor with Rs. 35 lacs if he suffers a loss of Rs. 1 Cr because of my film, he will have belief in me. If not, there won't be any healthy relationship between him and I. Relations are more important than the agreements they strike.
A film can be deemed successful only if it recovers costs. If not, it's not a hit. What a film collects is as important as the cost at which it was made. I have learned this as a producer.
A joint fight against piracy needed:
The scourge of piracy needs to be fought by the distributor and the producer. These days, you can get a pirated CD on the second day of a film's release. Can anyone stop the audience from watching a film that way? When he can do that, he will also want to watch it on Amazon Prime. That's only expected. More than such digital platforms, it's piracy that is a huge problem.
Upcoming projects:
My next films will be in the direction of two new directors. One of them will be directed by Sashi. The other one is titled 'Ade Nuvvu Ade Nenu'.
Related News
Actress Photos
Aishwarya Rajesh
Payal Rajput
Pooja Hegde
Eesha Rebba