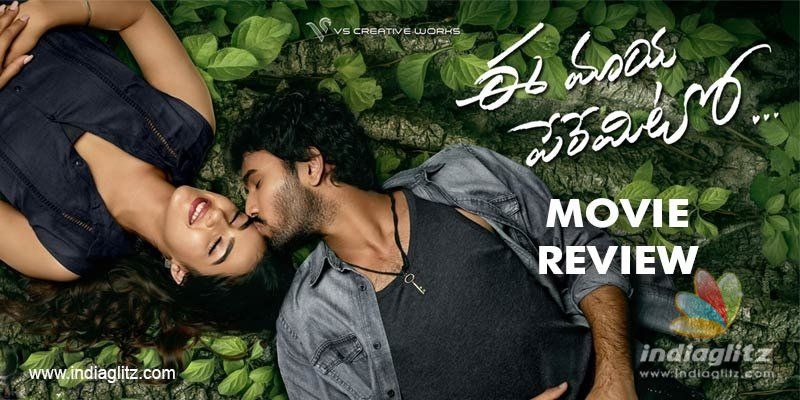 'Ee Maya Peremito', starring Rahul Vijay and Kavya Thapar, hit the screens this Friday.  Here is our review of the rom-com.
Story:
This one is a typical waste fellow versus worried, would-be father-in-law story.  Sri Ramachandra Murthy aka Chandu (Rahul Vijay)  doesn't give a damn about anything.  He is aimless and would rather be rebellious.
Love happens with Sheetal Jain (Kavya Thapar), the daughter of Pramod Jain (the much-happening Murli Sharma).  Yes, she too falls in love because, in Telugu cinema, those who are not worthy of anything have the best nature.
But Pramod Jain has other plans.  He lets the hero know that he has to be good-for-something in life if he has to be eligible to marry the heroine.  Meanwhile, all hell breaks loose when Sheetal herself develops differences with the hero.  
Analysis:
While the storyline is made to a template, the film lacks the necessary ease of flow to make an impact.  If the interval bang succeeds in inducing interest, the narration falters later.  Due to either over-indulgence or familiarity, the proceedings lack zing in the second half.  
 
Contrived emotional scenes, too, are there.  While the lead pair strikes a decent enough chemistry (with the lead man looking too lovey-dovey at times), the romance track lacks fizz.  The family drama portions come with known tropes.
For a film that seeks to showcase love as a magic, it should have avoided those many pro-Rahul Vijay shots and frames.  The romanticization of irresponsibility finds subtle representation here and there.  As if this one is a great guy, his father Rajendra Prasad (as Babu Rao) finds his son too cute.  Also, for a newcomer, all those lines that hail his handsomeness and those dance moves should have been avoided.  
Kavya Thapar is glamourized in a typical manner.  In a film that falls for patriarchy rather subtly, her character is unfleshed.  It's tiresome to see elders in our cinema talk about the ideal husband for their daughter even before she steps out of college.  This heroine later goes on to feel jocularly saddened at the drop of a hate.  
While the conflict point is stale, there is nothing in the screenplay that can infuse life into the proceedings.  Escapism abounds.  Forget others, Murli Sharma himself has played one or two such roles in recent past.  
Rahul Vijay has a long way to go before he can be given a thumbs-up.  He should focus less on dancing (which sensible heroes like Vijay Deverakonda know that they should).   Kavya does a fairly good job.  Murli Sharma is at his usual best, while Rajendra Prasad turns out to be narcissistic one more time.  
Mani Sharma's songs don't make a mark at all.  Shyam K Naidu's cinematography is reasonable.  Editing by Navin Nooli works fine.
Verdict:
'Ee Maya Peremito' is torn between an outdated narration style and predictable proceedings.
Rating: 1.75 / 5.0
Showcase your talent to millions!!
Write about topics that interest you - anything from movies to cricket, gadgets to startups.
SUBMIT ARTICLE
More
Telugu Movie Reviews
Sky Lab
Akhanda
Anubhavinchu Raja
Drushyam 2
Ram Asur
Missing