Will sweep you off your musical feet
Saturday, December 30, 2017 • Tamil Comments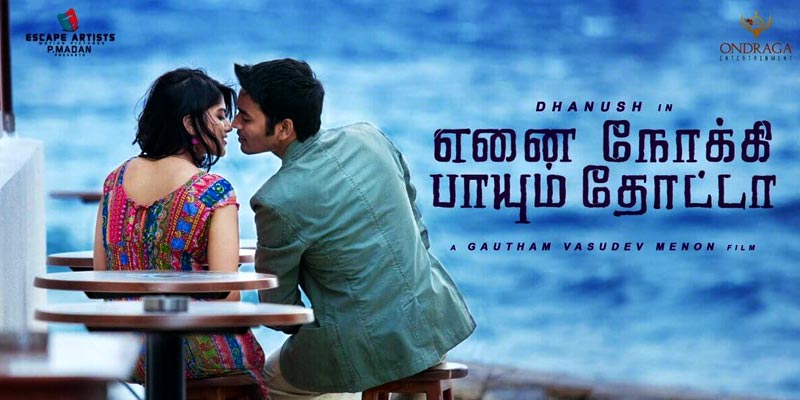 Goutham Vasudev Menon's tryst with beautiful albums for his movie is very much evident in his impressive portfolio. Songs play a crucial role in bringing out the reputed GVM 'class' in his movies and the director has roped in composer Darbuka Siva, formerly known to ENPT followers as Mr.X. With noted lyricist Thamarai penning the lines, the expectation among music lovers has been only riding high for this much awaited album.
Maruvaarthai
Voices: Sid Sriram
Lyricist: Thamarai Music: Darbuka Siva
As guitar riffs take a fleeting dive into the song's contrastingly upbeat background beats, Sid's vocals startles you with its fluid rendering. The song also boasts of flute portions that are nothing less than soothing. However, the beat pattern for the song seems a little displaced off the vocal nature of the number. But maybe that is what the composer wanted, however it might work only for a few. While the song is intself an enjoyable experience, it gets a tad repetitive. However on the whole, Maruvaarthai is a pleasant song that should be in your playlist.
Naan Pizhaippeno
Voices: D.Sathya Prakash
Lyricist: Thamarai Music: Darbuka Siva
Sathya Prakash's vocals are easy flowing, doesnt come off as laborious or strained despite strong aceentuations in the song. Guitar chords and licks set you to a breezy number albeit the composer relying on a beat pattern similar to the one in Maruvaarthai. There are also a few impressive vocal inflections which adds texture to the song. Naan Pizhaipeeno if not out of the box, seems like a number fit to be played on an evening with your friends.
Maruvaarthai- Restrung Version
Voices: Sid Sriram
Lyricist: Thamarai Music: Darbuka Siva
The restrung version of Maruvaarthai is much more lively than the original giving you the feel of being in a jazz bar. There is the desparate tone in the vocals that just clicks withThamarai's lyrics. The singer has the pace in his control and does a wonderful job in handling it to his advantage. Sid will keep you hooked to his perfect strains and howls while the jazz quotient is just that : enjoyable and worth several repeat hearings.
Visiri
Voices: Sid Sriram
Lyricist: Thamarai Music: Darbuka Siva
The familar strumming of guitars seems to be a motif in Darbuka Siva's compositions. Sid Sriram is flawless throught the album. The entire song is accompanied by string music that complements Sid and Shashaa Tripathi's duet to the very note. At times Visiri sounds like western folk and sometimes a tad oriental thanks to the wonderful utilisation of instruments. Visiri is a strikingly neat song that demands an eternal spot in your playlist.