Fast and Furious 8 – Turbo powered Adrenaline rush
Wednesday, April 12, 2017 • Tamil Comments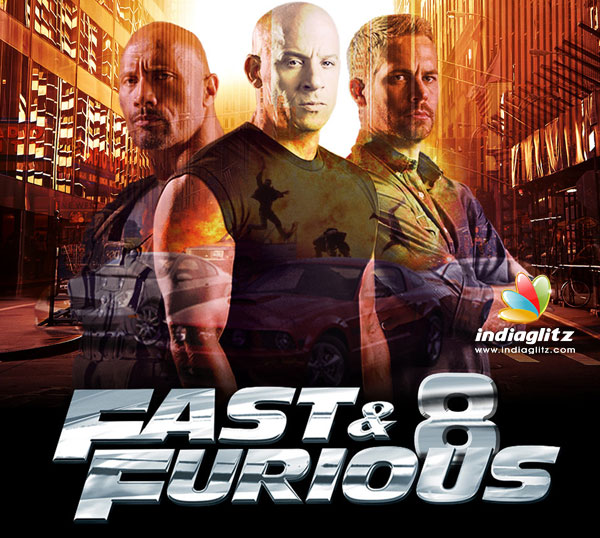 A franchise that has dished out seven money spinners in the billions around the globe has evidently pre-sold its eighth even before commencement. So there we are probably on one of the first shows of 'Fast 8' on the globe lazily awaiting the familiar but F. Gary Gray ups the ante on the action front springing more than a few surprises and you surely get more than your money's worth.
As the trailers clearly suggested Dom (Vin Diesel) goes rogue and turns against his wife Letty (Michelle Rodriguez) with whom he is honeymooning in Cuba and the rest of the gang played by Dwayne Johnson, Tyrese Gibson, Chris Bridges and Nathalie Emmanuel. Cypher (Charlize Theron) a maniacal terrorist mastermind has an inexplicable hold on Dom (No Spoilers) and he does her bidding like a tame cat whether stealing nuclear weapon codes or even putting his family in grave danger. A delightful twist comes as the covert ops head Petty (Kurt Russel) gets the gang's old foe Dexter (Jason Statham) to work with them to stop Dom and Cypher and needless to say all hell breaks loose with cars are destroyed in thousands not to forget the trucks, tanks, planes and a sub to boot.
Vin Diesel is his usual self and in the very first scene wins the audience over when he races a rundown car against a loan shark and gains his respect. He also has a few emotional scenes when Cypher reveals what she is holding hostage and he is even effective as tears roll down his cheeks. Oscar winner Charlize Theron plays the steely eyed terrorist mastermind Cypher with assured élan and easily towers over every other actor on frame. Dwayne Johnson in his intro scene lights up the fun as he coaches his daughter and her friends football team and later keeps it that way with his banters with Jason Statham. Statham first impresses with his amazing guile in the action sequences and later brings the house down with his interactions with a toddler during the climax fight. Michelle Rodriguez is all steel and power while Tyrese Gibson regularly tickles the funny bones with the aid of Chris Bridges. Elsa Pataky's surprise role has probably been written into this movie to write her off the franchise. Another Oscar winner and crowd favorite Hellen Mirren puts in a cameo and steals the show as she forces son Statham into submission shedding crocodile tears. Kurt Russel, Scott Eastwood, Nathalie Emmanuel and the others have put in energetic performances.
What is good in 'Fast and Furious 8' is the amazing action which begins from word go and midway Cypher hacks into every system in New York City and causes cars to start in auto-driver mode and mayhem is created as hundreds fall from high rise buildings and others crash into each other on the road. Scary this one as the technology already exists. If you thought this was action enough what follows after that is equally mind blowing and the unbelievable climax makes one scream silly. The major twist is turning the villain of the previous film Statham into one of the heroes which works big time. There is also a cute little tribute to Paul Walker in the end which the crowds love.
On the downside the family sentiments scenes are overdone and the straight faced dialogues are so in your face. The heroes surviving suicidal crashes and bullets while the villains perish is too much to swallow and we are not even mentioning the escape from a nuclear blast with only some charcoal marks on the faces to show.
Writer Chris Morgan and director F Gary Gray along with the other technical crew have ensured that there is never a dull moment in the running time and the fact that they manage to keep our disbelief suspended for that long is in itself great credit to them.
Verdict : Go for it with family or friends and have a screaming fun time.
Actress Photos
Priyanka Jawalkar
Ashima Narwal
Sreemukhi
Samantha