'Gautham Nanda' will be Sampath Nandi's Biggest Hit! -Gopichand
Saturday, July 22, 2017 • Telugu Comments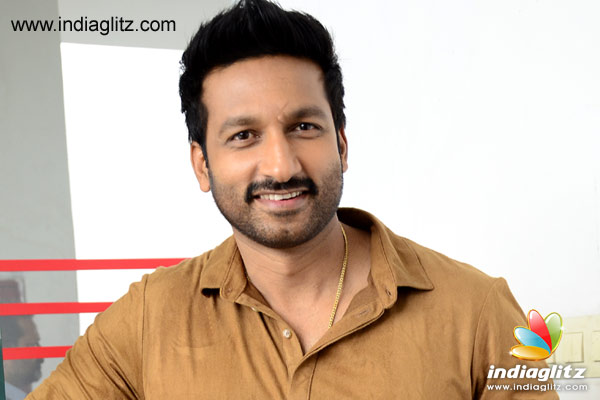 The hunky sat down with us to have a little chat and we got to some of the burning questions that his fans wanted to know.
After almost a year of a no-show in the industry, the actor is back with an action entertainer Gautham Nanda, produced by J. Bhagawan and J. Pulla Rao and directed by Sampath Nandi under Sri Balaji Cine Media production house.
The movie stars Gopichand, Hansika and Catherine Tresa with some of the best-known artists in supporting roles.
What is it like to come back to the industry after a year of hiatus?
"I feel great…I know that have almost disappeared from the big screen for over a year and I know that I have to up my game and go forward with this movie and hopefully my next projects too."
What do you have to say about Gautham Nanda?
"The movie is a full-on action packed entertainer. It`d got all the commercial factors to make it a great hit. There`s romance, family, drama, edge and self-identity factor involved in the movie, which makes it very special for me."
You have worked with some of the greatest directors in the industry. How did it feel like to work with Sampath Nandi?
"It was definitely a great start for something exciting. This movie just came around the time where I wasn`t expecting much. He came to me one day and narrated some details about the script. I was so gob smacked with the script and the little things he told me about the project that I just had to say yes. He is insanely amazing at what he does and very focused."
"This movie might be one of the biggest hits for him and me as well. It`s just too good to just let it go." He adds.
What would you like to say about working with your costars, Hansika and Catherine Tresa?
"They both are extremely dedicated and determined. In the movie, both of them have very different roles. Hansika is this homely girl that you just want to fall in love with, while Catherine is very posh and classy, there are just two options too good on both ends. They both did an amazing job."
Why is it that you always choose action genre?
"It`s not that I choose action genre, it`s just that I don`t like to do movies where the action isn`t there. The action builds up the tension and keeps you occupied. It really helps you build your character and get you out of your comfort zone."
What was your experience with the producers of Gautham Nanda?
"The movie is definitely a passion for the ones that make it and for the ones that watch it. The producers are those who expect an output from the movie and obviously some business too. The producers of this movie, obviously put a lot of money and thankfully, the table-business is a win for them now. However, they are still awaiting the movie`s release and hoping for the best, well, so am I."
From the whole show-biz to the working process, we switched the subject to more of a personal one.
How did you spend your time off from the industry in the past one year?
"My son kept me occupied (laughs). He`s my best friend and obviously, I love to spend time with my family. The fact that he was born at the same time my dad passed away makes his arrival more special and a sentimental one for me."
"I spent this time on looking for a good script, reading books, watching movies and stuff. Just the regular" he adds.
Why did you have to take this hiatus?
"It wasn`t intentional. There was just a lot of over-thinking and miscalculations combined with some very bad decisions that lead me to that break. More like an identity crisis that I was suffering in the industry because I was all over the place. This movie really lifted up my spirit and got me back to normalcy. I wouldn`t say it was easy, but I`d definitely say it was worth it."
How do you feel about some movies like Fidaa, Vaisaakham and such, have you seen them?
"Yes, I have seen them and they were very well written. Of course, they were the same old stories of love, but the ideology was different and the way the directors presented the movie is different, which is a good thing for the industry. Versatility is important."
What is your general opinion on the audience?
"You can`t force them to watch what you want them to watch. If I`ve learned anything, then it`s that they have their own mind and they know what they want. They are definitely changing and they are looking for something new and different. The generation too has changed quite a bit and they expect better content and quality presentation from us, which is a good thing"
Are you excited about Gautham Nanda?
"Definitely. This movie is very special and basically, the movie is a very genuine and original. The audience will definitely remember the story once they walk out of the theater because it`s that enticing and grabbing."
You heard him! Gautham Nanda will be out on 28th of July 2017 in all theaters.
Stay tuned for more interviews like this!
Follow us on Google News and stay updated with the latest!
Follow
Actress Photos
Poorna
Pragya
Nithya Menen
Kriti Sanon