A casual, fun album
Wednesday, July 18, 2018 • Tamil Comments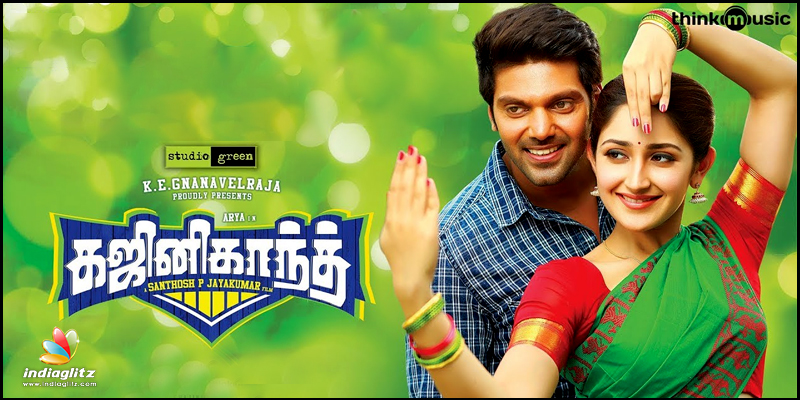 Album: Ghajinikanth
Composer: Balamurali Balu
A casual, fun album
After a brief space, Arya is all set for comedy outing in 'Ghajinikanth' starring opposite actress Sayyesha. The film which is directed by Santosh P Jeyakumar has composer Balamurali Balu scoring the music.
Bar Song:  Voices: Rahul Nambiar, Lyricist: Ku.Karthik
Say cheers to the Bar Song ! True to its title, the first track from 'Ghajinikanth' is high (pun intended) on celebration as much as it touts the misadventures of a love-lorn lad. What starts off as a seemingly 'local' flavoured EDM, the song catches heat with Rahul Nambiar's easy going vocals. The tunes are catchy though at times becoming too strained. Contrary to the bar songs we've usually heard, this song is well tooled and crafted giving space even to electric guitar reams. Karthik's graspable lyrics with conventional vocabulary has added much to the vivacity that the song exudes.
Hola Hola,  Voices: Benny Dayal, Christopher Stanley, MM Manasi, Lyricist: Madhan Karky
Hola Hola is basically a party number. And who better than Benny Dayal give a party song its zing? Christopher Stanley and Manasi as well unite for a groovy rendition. It sets its pace from the very beginning retaining it to the very end. One must also say that Manasi adds variety amidst two male vocals giving a merry flavour. A few seconds into the song, beats and rhythm work gel to give a fun dance floor worthy three minute song, a song you can imagine people shaking to in a Hawaiian beach party.
Aariyane: Voices: Shweta Mohan, Lyricist: KabilanVairamuthu
The song is basically a woman doting lines of praise for her love. The song has a classical approach as its backbone as you can identify with some exuberant violin portions and some vocal strains. However, Aariyane also brings in a balance by adding modern elements like beats, and just by the casualness of the song in general. Shweta Mohan has given justice to the song by rendering a fitting, sweet voice.
Karu Karu Vizhigalil:  Voices: Sanjith Hegde, Aishwarya Ravichandran, Lyricist: Balamurali Balu
Karu Karu Vizhigalil is yet another short dong from the album. Sanjith Hegde's rendition comes off as apt to this small song that just transfuses into an instrumental extension. But there's a feel good flavour to the film with the humming portions, albeit this being a short track. Could've been a little longer track.
Pick of the Album: Bar Song
Verdict: A small album with short tracks, but enjoyable.