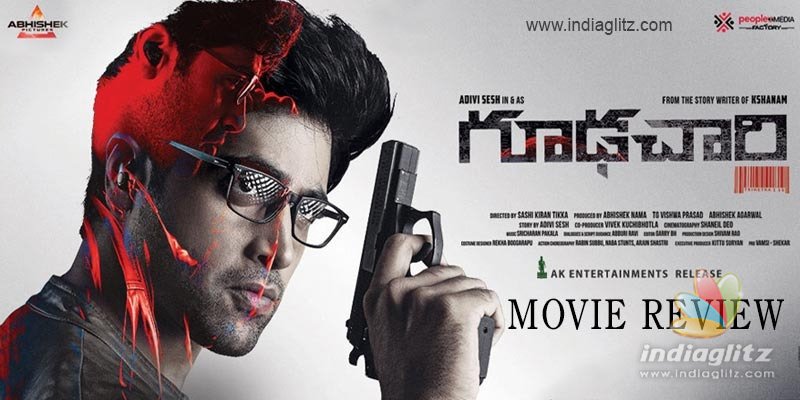 'Goodachari', starring Adivi Sesh in the lead, hit the screens this Friday.  Here is our review of the spy thriller.
Story:
Arjun (Adivi Sesh) grows up with the ambition of serving the nation by joining an internal or external security agency.  The heads at Hyderabad-based Trinetra (a sub wing of the RAW) spot him.  They train him in sophisticated techniques, self-defence mechanisms, and assign him to a challenging job.  
This is when the head of Trinetra and another trainer gets assassinated in a well-planned a terror attack in Hyderabad.  These two high-profile deaths in the attack later, Arjun comes to know from his foster father (Prakash Raj) that terrorists had planned the attack in such a way that he (Arjun) is framed.  
He stages a brave escape and flees to Chittagong in Bangladesh.  Arjun carries out anti-terror ops, only to stumble upon a stunning revelation during the operation.  A blast from the past shocks him.  
Analysis:
Actor Sesh also doubles up as the film's writer.  Together with co-writers Sashikiran Tikka (director) and Rahul Pakala, he pens an engaging tale full of detailing, emotions, sophistication and, above all, some neat twists.  
Somewhere in the first half, Arjun's trainer (Anish Kuruvilla in a suave role) tells him that his late father is his weakness.  Just in isolation, this line makes a thorough impact on the audience.  In the second half, Arjun remembers this very line and this time, it has a different aura to it.  It acquires a new sense and emotion.  And in the context of the story, this line is way too penetrating!  This one element should define the pack of niceties that is 'Goodachari'.  
In so many films, we have taken the intelligence and audacity of the hero for granted.  In 'Goodachari', a slew of training episodes makes sure the audience understands that smartness and guts don't come easily to spies.  Arjun is shown learning everything from how to con a lie detector test to how to game the system in an alien country.  
The first half spends enough time on elevating the profile of Trinetra in the audience's mind.  'If you don't die in the next 20 years, consider yourself very lucky', a trainer tells his rookies.  The risks that spies take to ensure our safety are horrendous.  If caught by the enemy, a spy could face unspeakable torture, his or her body could be destroyed by the torturer, limb by limb.  Yet they join RAW, etc.  Their madness is explained by patriotism.  Ask Ajit Doval, India's current National Security Advisor to the Prime Minister.
Elevation of heroism is something 'Goodachari' achieves with practised ease.  'Anni areas lo strong unte?' the hero asks his trainers with a trace of quiet confidence.  Had this been said by a superstar, his fans would have had their 'paisaa vasool' moment right at the moment.  The action scenes are neatly executed with brilliance.  All the while, Sricharan Pakala's background music understands the importance of being subtle and stylish at the same time.  
Right from portraying the hero as incompetent in the beginning to how he overcomes his weaknesses, the script packs a punch.  But then there is a slight leap of faith in terms of showing Arjun as someone who picks up lessons too fast after a short bout of motivation.
Director Sashikiran doesn't oversell anything, be it romance or the portrayal of Jihadi indoctrination.  It's all minimalist.  
The interspersing of two separate tracks here and there in the first half is the kind of screenplay our writers should try to explore more and more.  Krish has done it in with brilliance twice (read 'Kanche' and 'Gautamiputra Satakarni').  
Sobhita Dhulipala as Sameera can look two ways in two different contexts with the same expression.  This can't be said about Vennela Kishore in the film.  He is a comedy material.  Supriya Yarlagadda fits the bill as a Trinetra commander.  She has the earnestness to carry the role with elan.  Prakash Raj as the hero's fallback guy is helpful.  Madhu Shalini gets space in the second half to prove herself.  As the hero's compatriot, she is convincing.
The climax is curious.  Curious for an intelligent film like 'Goodachari'.  It mixes old-style formula and sophistication to a nice effect.  Sentiment is pitted against value-based conviction and it works.  
We are not revealing the name of the actor who played Rana (the leader of Al-Mujahideen) because the makers have kept it under the wraps.  Let's just present a caveat: don't over-expect from him.  Also, he is the kind of actor you will least expect to play an India-hating, Kaffir-hating Islamic terrorist.  
Shaneil Deo's cinematography is one of the best things to have happened to small-scale cinema.  After 'Kshanam', he offers another gem.  Garry BH's editing is top-notch.  
Verdict:
'Goodachari' has the right mix: underplayed heroism, saleable emotions, thrilling twists, technical finesse, clap-worthy dialogue.  Besides, it has got some of the coolest performances.
Rating: 3.25 / 5.0
Showcase your talent to millions!!
Write about topics that interest you - anything from movies to cricket, gadgets to startups.
SUBMIT ARTICLE
More
Telugu Movie Reviews
Calling Sahasra
Atharva
Animal
Kota Bommali P.S
Aadikeshava
Sound Party