Something for everyone
Saturday, July 22, 2017 • Telugu Comments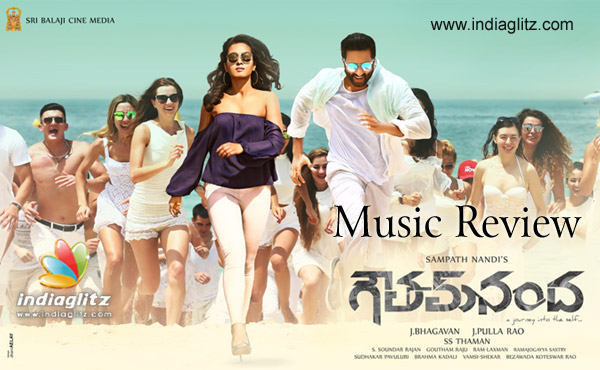 Thaman's this album throws up lyrics by Ramajogayya Sastry. Yazin Nizar, NSK Ramya, Divya Kumar, Nakash Aziz, Ramya Behara, Srikrishna and ML Sruthi are the singers.
Zindagi Na Milegi Dobara
Singers: Thaman, Yazin Nizar & NSK Ramya
Lyrics: Ramajogayya Sastry & Neeraja Kona
Thaman draws inspiration from a range of pop musical trends. He is enlivening as a singer and is in his elements as a music director. Since the song was the first number to be released, it has already become quite popular. Joined by the crooners Yazin Nizar and NSK Ramya, the peppy number lends enough space for Gopichand to show off his dancing skills. Ramajogayya Sastry marshalls his English-language vocabulary, and is assisted creatively by the multi-talented Neeraja Kona, the debutante lyricist.
Black & White
Singer: Divya Kumar
Lyrics: Ramajogayya Sastry
Having thrown up a song that seems to preach hedonism, the album presents a dark comedy sort of song. Ramajogayya Sastry's 'basthi' residents sing as if they are straight out of a balladeer's notebook. Divya Kumar (don't be confused by the female-sounding name) has a very relatable voice and he should be a hit among the mass audience (whether or not they will come to know his name). Thaman's tuning and instrumentation will make you want to jive.
Basthi Dorasani
Singers: Nakash Aziz, Ramya Behara & Sony
Lyrics: Ramajogayya Sastry
In keeping with Telugu cinema's lascivious tradition of stuffing special songs (better known as item songs among everybody except those from the film industry and the media) with terms/jargon from movie titles, items on the menu and all, Ramajogayya Sastry is at it again. From exclusively popular English-language words to not-so-easy terms like "chanting", our lyricists have come a long way.
Nakash Aziz is fast becoming his routine choice. Given his throbbing voice, it's delectable. Ramya Behara is donning the mantle of a Geetha Madhuri of late.
Bole Ram Bole Ram
Singers: Srikrishna & ML Sruthi
Lyrics: Ramajogayya Sastry
One of the best duets in recent times. The beats and the mood of the song lend themselves to rain dance as well as poetry. And the lyricist doesn't waste the opportunity, Sastry being Sastry. Look at the kind of language which the lover boy and the lover girl are using. If the former deploys terms generally associated with celebration and grandeur (read holi, Kumbamela, Kohinoor, etc) in our culture, the latter doesn't do that.
Srikrishna and ML Sruthi exude exuberance and purity that the song requires.
Verdict:
'Gautham Nanda' has better songs than 'Zindagi Na Milegi Dobara'. 'Bole Ram Bole Ram' and 'Black & White' bring out Thaman's refreshing style. Ramajogayya Sastry's fecund lyrics are enjoyable.
Rating: 3/5