Gowdru Hotel audio hits, Ananthnag grace
Monday, September 11, 2017 • Kannada Comments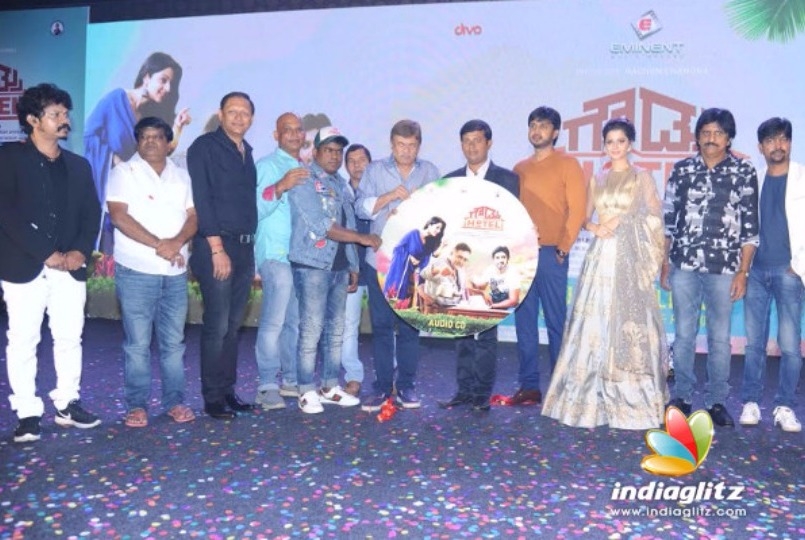 The graceful actor, versatile Ananthnag was present at the audio release of the film 'Gowdru Hotel', it is in this film the stylish actor at 70 Ananthnag plays the father role of Rachan Chandra and popular actor Prakash Rai is in grandfather role.  
Among the three audio releases on last Saturday 'Gowdru Hotel' a remake of 'Ustaad Hotel' of Malayalam was the last one to happen at JW Marriott Hotel.
The Kannada film 'Gowdru Hotel' is also debut in music for composer from Maestro Ilayaraja family Yuvan Shanker Raja. He has scored music for five songs. He wants his music to speak. He thanked for a very good welcome and good atmosphere to work.
Producers Ramesh Shiva, Sathyan and Satish expressing happiness welcomed the team for the audio release evening.
Ananthnag in his address appreciated director Pon Kumar for his active presence on the sets. He is not like other directors who sit before the monitors he stated. The newcomer Rachan Chandra is very free in his performance and conscious about what he has deliver applauded Ananthnag. It was a total comfortable atmosphere of work from producers appreciated Ananthnag in his address.
Actor Rachan Chandra admitted that he uttered lies with his father and that was his acting experience. Beautiful looking Vedhika said 'times files when you are with right people'.  She said patience of director Pon Kumar was fabulous. Rachan Chandra will be future super star. I could not share screen space with Ananthnag. I hope to get in coming days stated lovely looking Vedhika thanking the cameraman and dance director in the end of her speech.
Pon Kumar was at his best speech at the 6th Kannada film audio release. Speaking in Kannada Pon Kumar appreciated the caliber of Ananthnag and Prakash Rai with example, the humble nature of Vedhika when she had problems in her costumes was a mirror to heroines who show attitudes he pointed. 
Related News