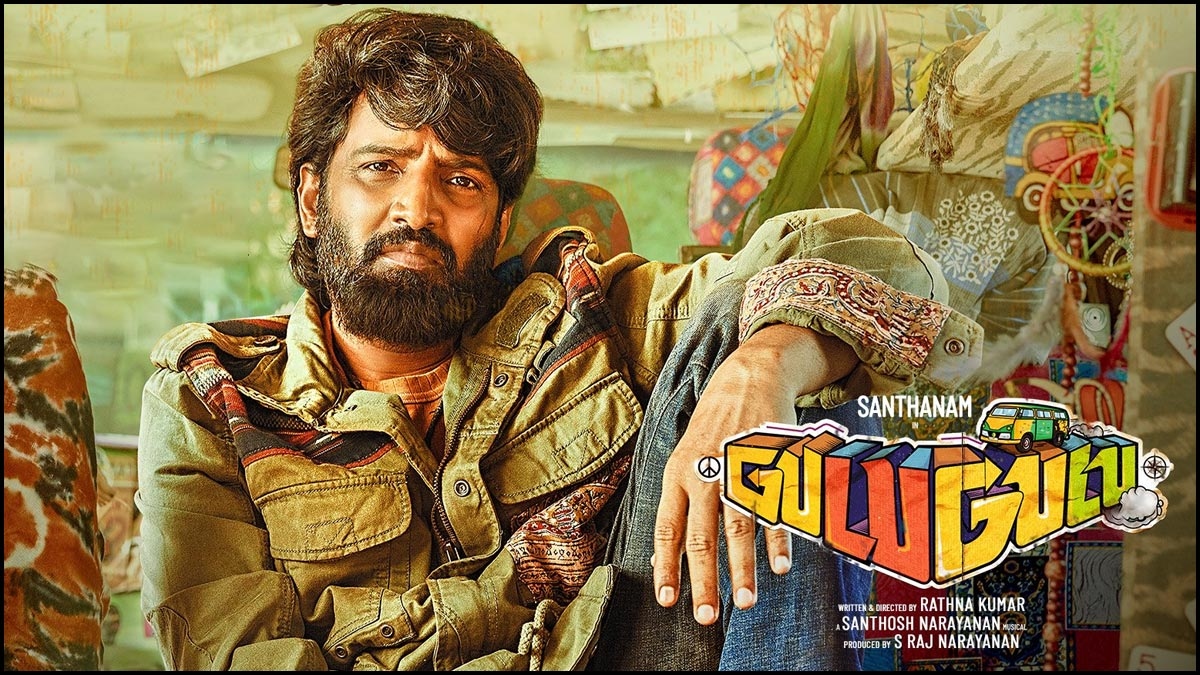 Gulu Gulu - Santa, Rathna and SaNa rock in this absurdist comedy
Rathnakumar who made the highly enjoyable 'Meyaadha Maan' lately is known more as a co-writer of the blockbusters 'Master' and 'Vikram'.  He has joined hands with Santhanam for the absurdist comedy 'Gulu Gulu' that entertains for the most part.
Gulu Gulu aka Google is a junkie who has his roots from the Amazon forests settled in Chennai.  He always lends a helping hand to anyone and everyone the end result of which is trouble for him every time.   Matilda (Athulya Chandra) is the illegal daughter of a liqor baron who comes from France for his funeral and her stepbrothers David (Pradeep Rawat) and Robert (Bipin Kumar) are waiting to murder her.  The job to finish her off is assigned to a bumbling group of Sri Lankan Tamils headed by George Mariyan.  Meanwhile a famous scientist's son comes to India from Australia and, wanting to find if his dad really loves him, plans a fake kidnapping of himself with the help of his friends.  However, George Mariyan's group kidnap the scientist's son instead of Matilda and his friends go to Gulu Gulu for help. The rest of the screenplay deals with how all these subplots connect to the protagonist and whether he succeeds in his mission or not.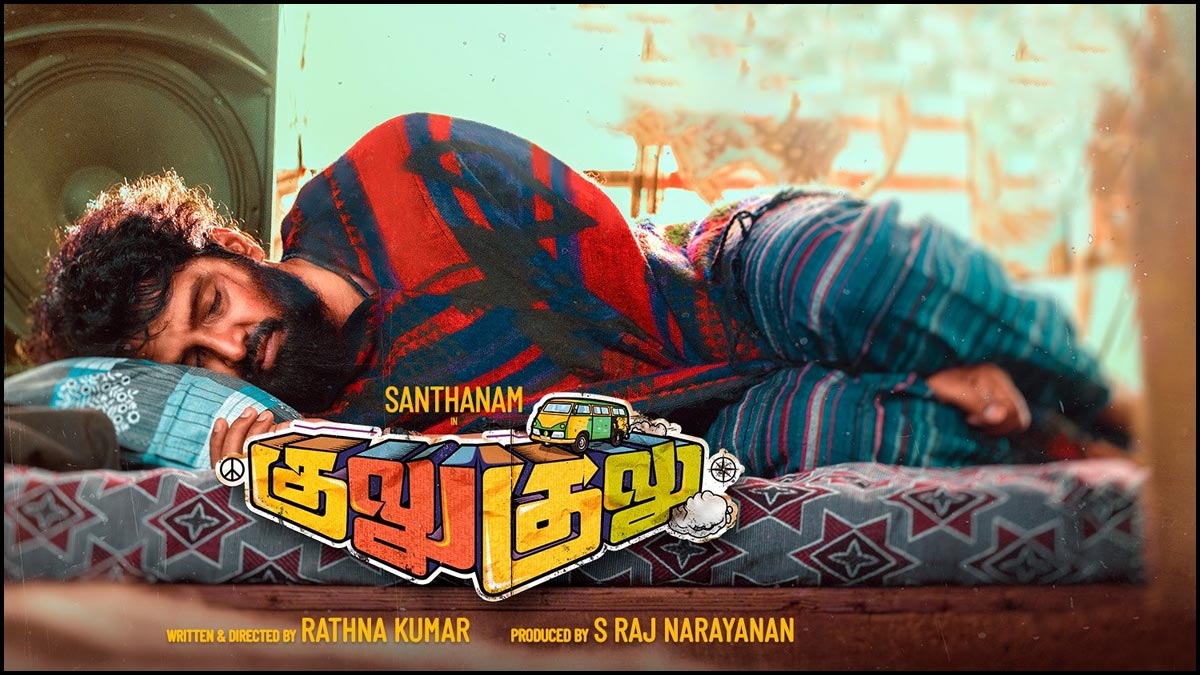 Santhanam as the serious junkie has revealed a hitherto unknown side of his acting skills. He has excelled as the mysterious man who has the heart to help anyone, appearing to be careless but carrying strong emotions inside him.  The excellent characterisation makes him standout as a hero in spite of him getting beaten to a pulp even in the climax.  Watch out for his riveting moments during his tearful farewell to a dead dog and when he atlast finds a person who can speak his language.  George Mariyan as the innocent head of the kidnappers gets yet another meaty role after 'Kaithi' to showcase both his comedic skills and his ability as a character artiste.  Debutante Namita Krishnamurthy is terrific as the young girl with a fear of aging.  She is a scene stealer when she switches her heart between her lover and Santhanam and back again bringing to life the confused Insta driven twenty something of today.  Athulya Chandra as Mathilda and the young actor playing the scientist's son have done neat jobs while the young teenage debutante who hates his mother's gravies brings the house down with his antics.  Bipin Kumar as the PUBG addicted villain provides the best laughs in the film while Pradeep Rawat as the loud villain also makes his presence felt.  The rest of the cast including Mahanathi Shankar and Lollu Sabha Maaran get their own moments to score.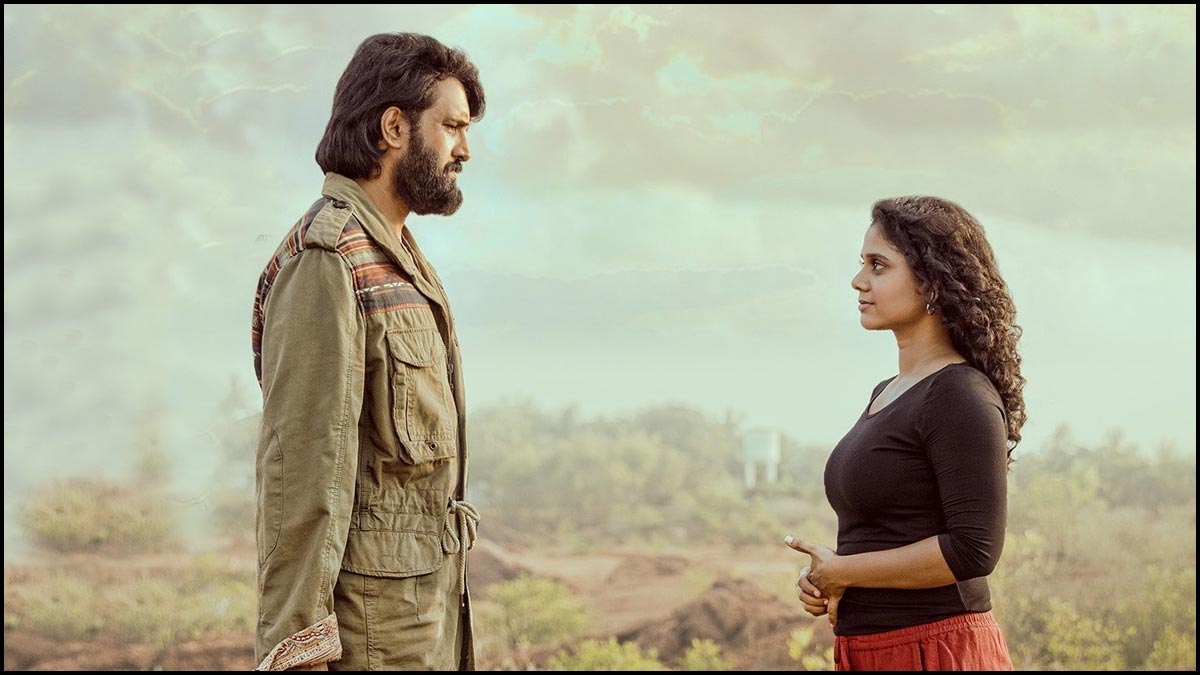 What works for 'Gulu Gulu' is its quirkiness which is a welcome departure from the usual fare dished out every friday.  Though the film may seem to be mindless on the surface there is depth in its layers, especially its strong message about the importance of protecting one's language from all types of threats.   The sequence where Athulya Chandra willingly sacrifices herself to protect a school girl from losing her virginity and in the same moment George Mariyan doing what he couldn't do back in Sri Lanka is a masterstroke in writing.  The film keeps its humor much like its messages embedded in the flow of the screenplay rather than on the face which makes it enjoyable.  The sequence where the PUBG war takes place between the villains and the Chinese is hilarious.  Sharp dialogues hit hard in several places such as "What language is needed to understand the pain and hunger of another human" and "If a woman should shun the respect she gets if it means her freedom to live life her way including her sex life".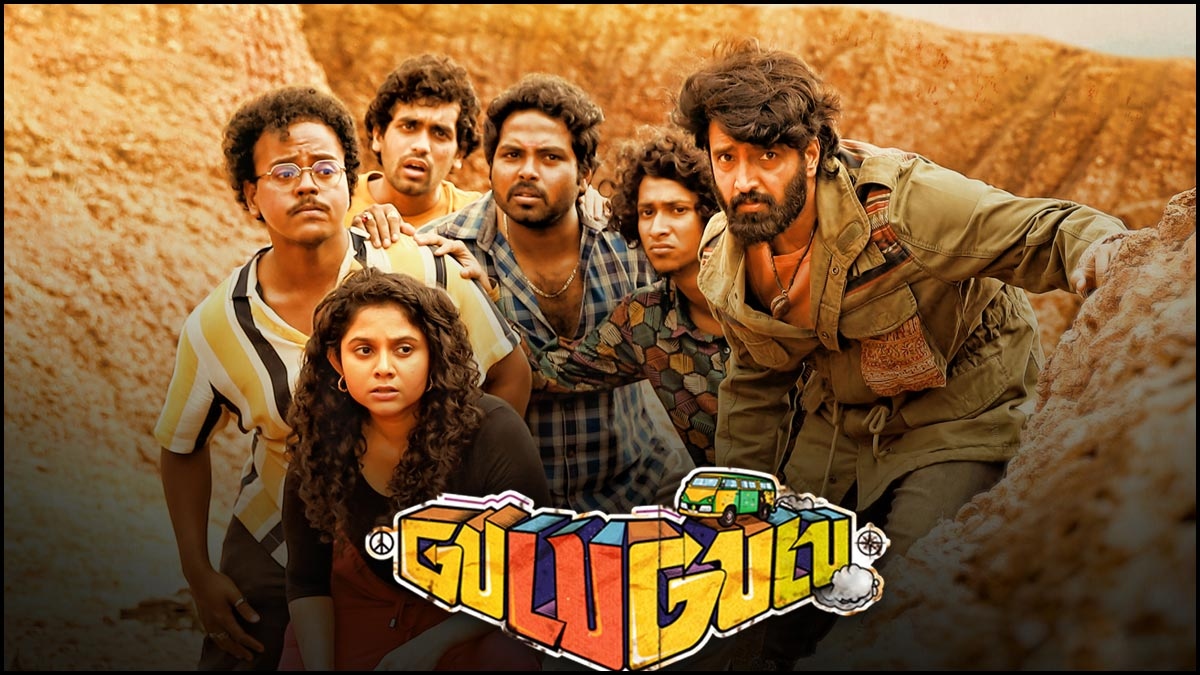 On the flip side the shootouts and much of the quirkiness carry a mix of western and Korean flavours thereby causing a disconnect among the average viewer.  The screenplay loses fizz midway and the climatic sequence in the harbour is a let down as the humour quotient is pretty mild there.  There is inconsistency in the flow of the screenplay and at a few places it is also confusing forcing on to take an effort to re-connect the dots.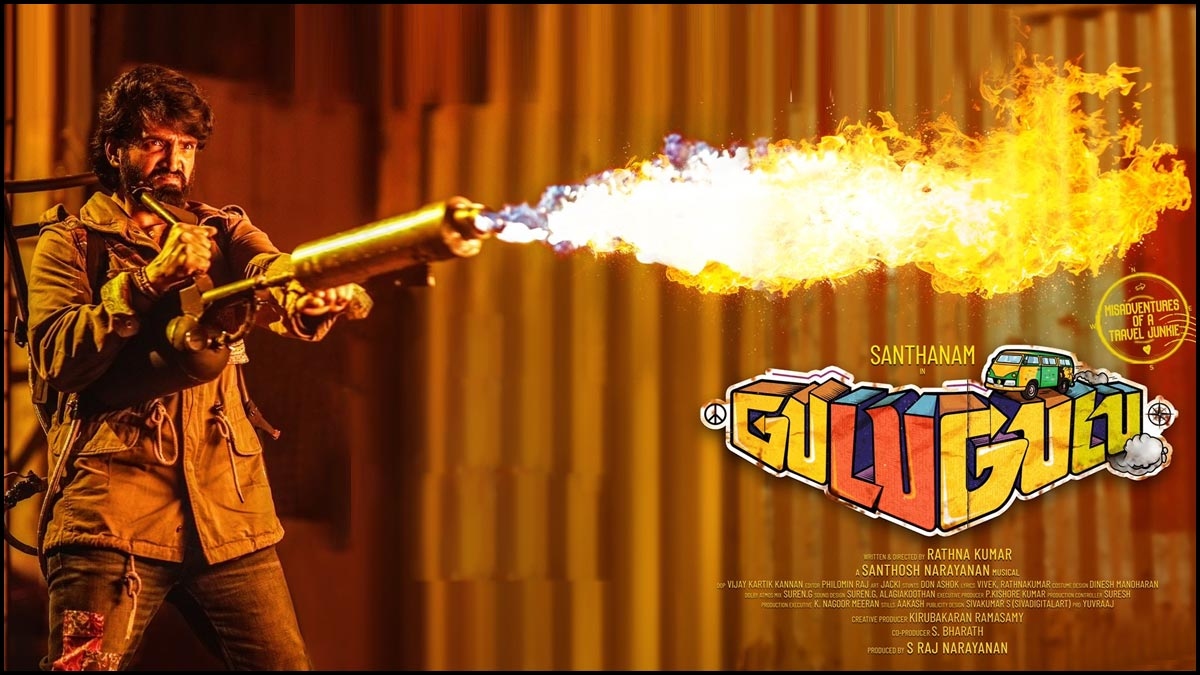 Santhosh Narayanan has peppered the proceedings with his own quirkiness in the background score, especially his singing of "Matna Kaali" and "Amma Nana" with a peculiar voice that complements every scene.   Vijay Karthik Kannan's cinematography and Philomen Raj's editing are of a high order as expected of them.  Circle Box Entertainment has produced the film deserving praise for opting for a different genre. Rathna Kumar has once again proved that he is a writer of high caliber and his passion to give the audience as new watching experience is also praiseworthy.  However it will be better if he adapts his inspirations with a more local flavor to reach his vision to a much wider audience.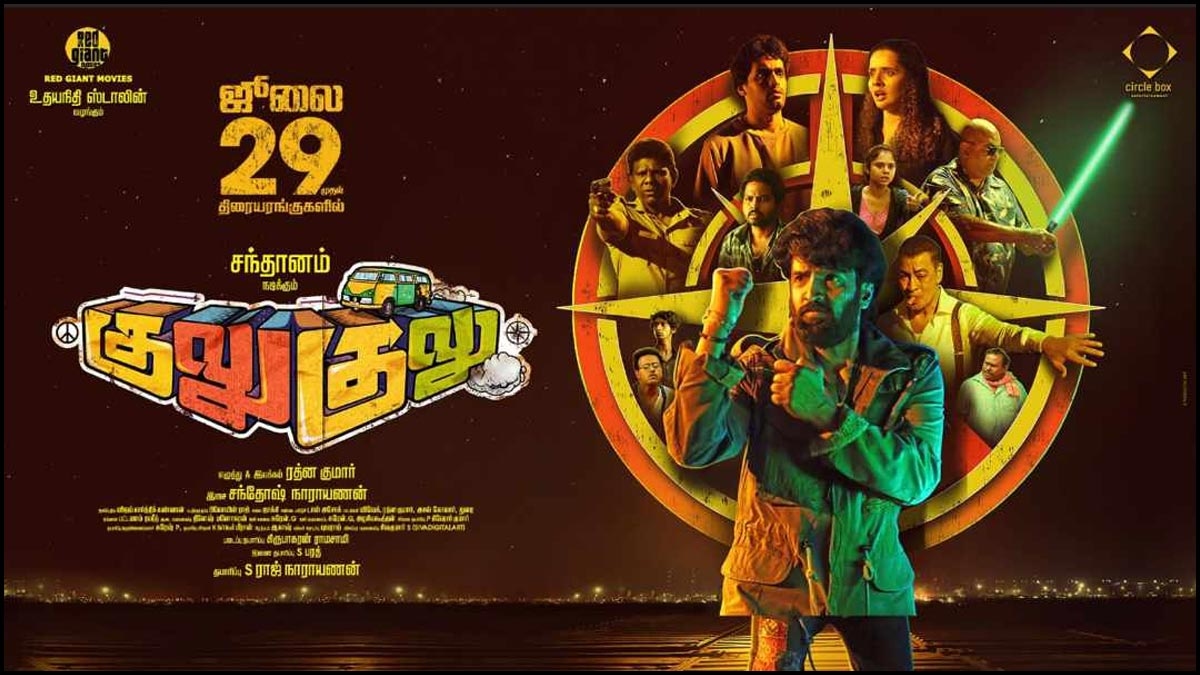 Verdict : Go for this quirky film which will entertain you if you fancy dark comedies or have an open mind
Rating: 2.75 / 5.0
Showcase your talent to millions!!
Write about topics that interest you - anything from movies to cricket, gadgets to startups.
SUBMIT ARTICLE
More
தமிழ் Movie Reviews
Chithha
Iraivan
Chandramukhi 2
Mark Antony
Jawan
Kushi