'Gunturodu' is full-on heroism-based: Manoj
Sunday, February 26, 2017 • Telugu Comments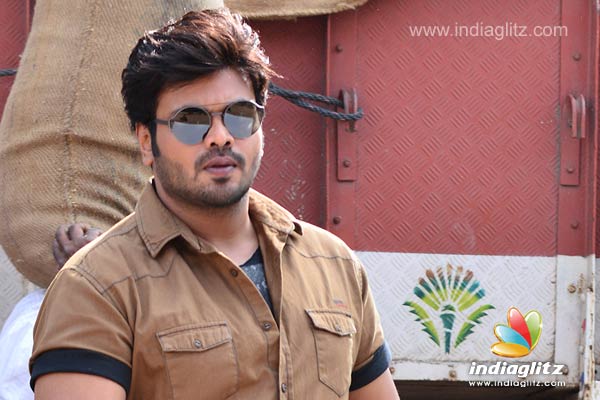 Manchu Manoj is super-confident about 'Gunturodu', the March 3 release. In this interview, he talks about his character in the movie, why he likes to experiment, and more.
What is your character in the movie?
'Gunturodu' is a full-on heroism-based movie. What happens when an egoistic baddie is disturbed by the hero, is what the film is about. As for my character, he can't handle too much of anything extreme. There are plans to remake the film into Tamil with me.
Chinna's RR is awesome. It's Anirudh-style BGM. The critics will write specially about it. Take it from me. The film itself is a racy one, like those of Hari and Lingusamy.
From the trailer, it seems the villain is the film's mainstay. Isn't it?
It was great working with Sampath garu. He has given a terrific performance, which made me want to outdo him. There are two approaches. If the other one is mediocre, you rest assured that you will be seen as the better one by default. If the other one is superb, you are motivated to be better than him. I like the latter of the two.
The director's first film didn't do quite well. Didn't you think it risky to work with him?
I became a fan of Sathya's narration style from day one. You can't judge a director's talent by just one film. He wanted to debut with this kind of film, but he couldn't. Also, I feel blessed to have got to work with these producers who have spent Rs. 10-11 crore.
How did Chiranjeevi's voice-over happen?
I asked Charan to do it, but since he was unavailable immediately, I decided to request Chiranjeevi uncle. He immediately said, 'Can we do it today?' It's an awesome gesture. When I messaged Charan about it, he said to me that I found the tiger!
What keeps you going as an artiste?
When I try to do films with a difference, all that I look for is whether I get appreciated as an artiste. I don't make calculations about the pay-offs. Whether my film is run-of-the-mill commercial type or experimental, you will get to know it by watching the trailer.
Without an emotional core, I can't act. 'Potugadu' may have been a hit, but I did it due to pressure. I did over-act in that movie. It's films like 'Prayanam' and 'Vedam' that I am proud of.
I get motivation from senior actors like my father, Chiranjeevi uncle, Balayya garu, NTR garu, ANR garu and Krishna garu who essayed a range of roles. At a time when theaters are in the grip of 3-4 people, everyone wants to do safe films. I want to come out of that mold. Long before experimental films were made in Tollywood, I did 'Prayanam' and 'Vedam'. I am happy that we did a horror-comedy like 'U Kodatara Ulikki Padatara' before the genre came into currency.
What has changed after marriage? Does your wife give you advises?
After marriage, I am conscious of time. I am looking at the watch more often now! (Laughs). The good thing is I have married my best friend. She is a movie-lover and does give me feedback about my looks, etc. She judges a film on the basis of the genre.
How easy or difficult is it for you to keep gaining and losing weight film after film?
It's easy to put on weight, but not to reduce, especially because of the busy lifestyle. When I have to put on weight, I am free to binge. But shedding weight with deadline upon you is not easy. I will stop this weight-gaining and losing after a while. I have abused my body enough.
In 'Okkade Migiladu', are you glorifying LTTE Prabhakaran, who is seen as a terrorist?
Someone can be made a hero or a villain by the state. Even the media can do that. They can glorify a 'vedhava' if they want. The film presents the point of view of Prabhakaran before the Rajiv Gandhi assassination. The film doesn't use the names, but the character is modeled after that man.
Follow us on Google News and stay updated with the latest!
Follow
Actress Photos
Nithya Menen
Sanchita Shetty
Rashi Khanna
Kalyani Priyadarshan