Happy Birthday Vadivelu!
Tuesday, October 10, 2017 • Tamil Comments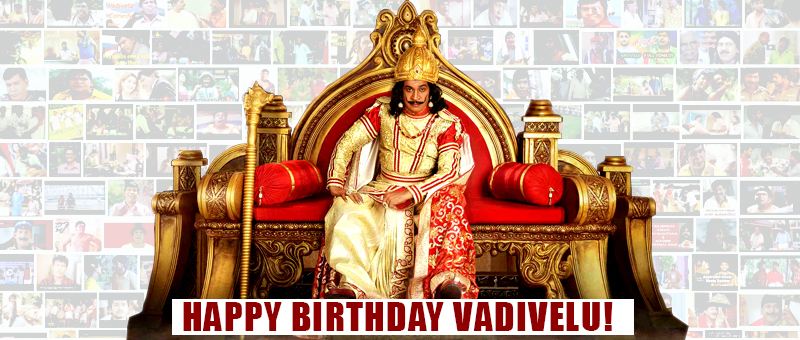 The king of comedy, Vaigai Puyal are some of the titles that Kollywood has bestowed upon this versatile comedian for his vast contribution to Tamil cinema.  Vadivelu is synonymous to comedy in Tamil films with his very own comic attributes and naive demeanour on screen. 
Vadivelu who started off just as a sidekick to the celebrated Goundamani-Senthil duo earned his first big break with his role in 'Kadhalan'.Born in the temple town of Madurai, his accent is also one of the highlights of the actor which complements his humor style. 
Be it either playing the role of a short tempered painting contractor Nesamani in 'Friends' or the self professed macho don in 'Winner' Vadivelu has never failed to tickle our funny bones.
His commendable filmography comprises of more than 200 movies with films like 'Bharathi Kannamma', 'Vetri Kodikattu', 'Giri', 'Thalainagaram', 'Marudhamalai', 'Chandramukhi' which earned the actor not only fame, but also love from fans almost akin to a cult following when it comes to comedy.
Vadivelu is also known for his ability to gel with actors either of mass appeal or little known, his humor being the backbone of the film's success. Eventhough after a point Vadivelu was stereotyped to slapstick comedy and run-of-the-mill gags, there is a certain charm to his jokes which one can get never tired of.
After a barrage of typecast comedian roles, Vadivelu essayed the hilarious king Pulikesi in Chimbu Devan's 'Imasai Arasan 23am Pulikesi'. The film became a raging success and Vadivelu began acting in similar protoganist roles.
 Vadivelu also had a long hiatus in acting after his involvement in a political hassle with DMDK's Vijayakanth. However, he has began retrieving his lost space with the advent of new films and much more films in the pipeline.
Vadivelu is now all set to entertain and enthrall millions of fans worldwide with a full fledged role in Thalapathy Vijay's 'Mersal' coming Diwali. Indiaglitz takes this opportunity to wish the veteran a happy birthday and a much more prosperous career ahead.
 
Related News
Actress Photos
Sumaya
Hebha Patel
Aditi Myakal
Priyanka Jawalkar