Hebbat Ramakka starts, CM clap for muhurut
Tuesday, August 29, 2017 • Kannada Comments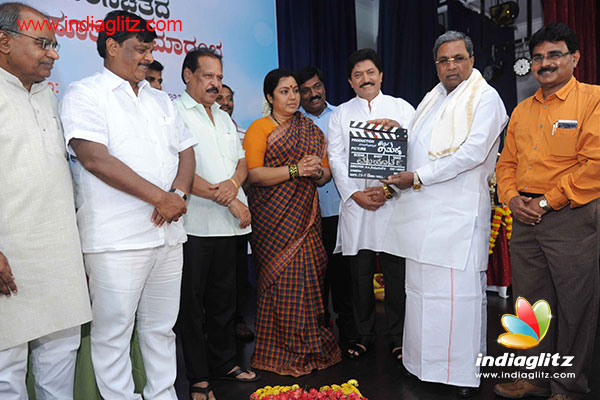 The Karnataka chief minister Siddaramaiah took a few minutes time before cabinet meeting to flag off the Kannada film 'Hebbat Ramakka' at Gandhi Bhavan near Shivananda Circle on Monday morning.
I know director Nanjunde Gowda from a long time, he invited me for an interesting film that throws light on women empowerment in the film 'Hebbat Ramakka', so I have come here with pleasure. Nanjunde Gowda would do a good job in this film and save the producer Puttaraju
Chief Minister Siddaramaiah sounding clap board showed actress in the lead role Thara Anooradha the right sign from his thumb connecting to the title of the film 'Hebbat Ramakka'. Thara was showing it in thumbs up style. The chief minister also joked that he would call her 'Hebbat Ramakka' at legislative council as she is an MLC from BJP on artist's quota.
Drawing his attention on the concept of director Nanjunde Gowda the chief minister described on fifty percent for reservation for women in Panchayat election said there is no qualification for becoming Panchayat member. Even for MLA and MP there is no binding of qualification as such he pointed. The uneducated member who represents the people is supposed to take up people friendly programs. I hope on these lines Nanjunde Gowdru has made the script. Giving solution to problems in the work of Panchayat member. That would change the society for better added chief minister Siddaramaiah.
Cabinet colleague of chief minister HC Mahadevappa attended the muhurut of 'Hebbat Ramakka' at Gandhi Bhavan. Thara and Devaraj are experienced actors. They know how to fill 'Galla Pettige'. I wish this film gets award and also win for producer Puttaraju mentioned the chief minister.
Prior to launch director Nanjunde Gowda welcomed the gathering and explained the reservation issue for women importance in village Panchayat election, how it is used and misused is his concept. It is Saviraj cinemas Puttaraju maiden production.
Kannada watch dog head SG Siddaramaiah is writing dialogues and lyrics for the film. Poornachandra Tejaswi is scoring music. Gowdru welcomed Chief Minister for lighting the lamp and clap for the first shot after the Nadageethe sung by Kikkeri Krishnamurthy.