Honarary doctorate to BKSrinivas
Wednesday, December 13, 2017 • Kannada Comments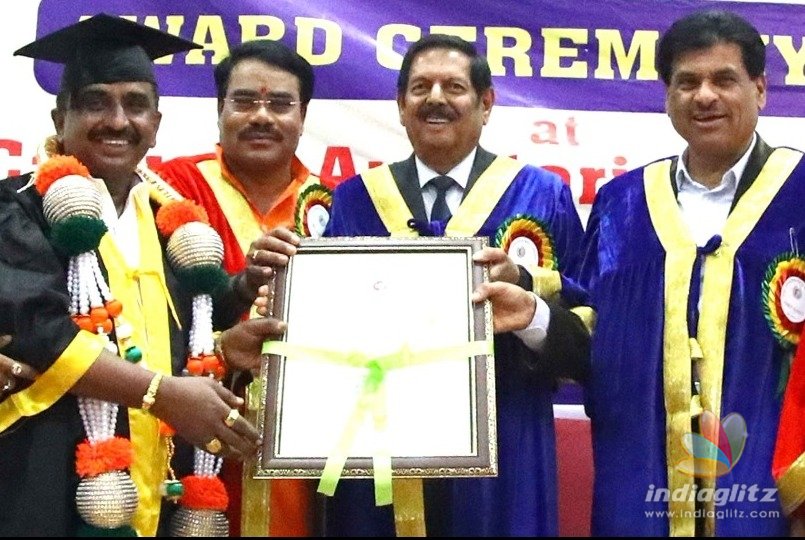 The humble producer of Kannada films – 'Mandakini, Alemari, Bhagirathi, Dove, Angulimala' BK Srinivas a realtor and writer of his autobiography 'Nambikeye Jeevana' gets the honorary doctorate from Indian Virtual University for Peace and Education a university functioning as model of United Nations.
This has been recognized by Indian Niti Ayoga. The award is bestowed for film production, book and other qualities of BK Srinivas who is popularly known as Benkosri. He is Dr B K Srinivas today.
Last year another producer, Chartered Accountant and actor Auditor Srinivas got the similar award from Indian Virtual University for Peace and Education.
December 9 happened to be BK Srinivas birthday, the honorary doctorate was bestowed at Mysuru Manasa Gangotri in Cauvery Auditorium. 130 persons from all over India have been selected for this prestigious honor this year.
BK Srinivas received the honorary doctorate in the presence of Mysuru Mayor MK Ravikumar, Justice Chandrashekaraiah, Senate member KS Rangappa and Human Rights Council Mysuru wing Pushpa Iyengar on the dais.
Actress Photos
Aishwarya Dutta
Yaashika Aanand
Shruti Haasan
Parvathy Nair