Hosa Anubhava next week, producer story
Monday, July 10, 2017 • Kannada Comments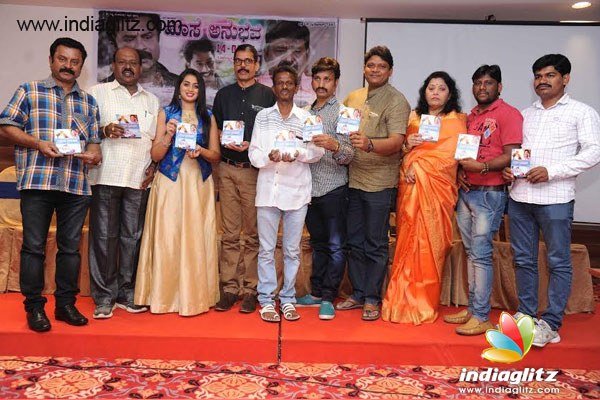 The new Kannada film by senior director S Umesh is a story based on producer of the film Ramanappa. Ramanappa has penned story, lyrics and also appeared in an important role in 'Hosa Anubhava'. It is his experience in the cinema industry that is the concept of the film.
In the past there was 'Anubhava' of Kashinath in 1984 a love story with a difference. This one 'Hosa Anubhava' is based on new experience of the producer. Director of top films like Avale Nanna Hendathi, Avane Nanna Ganda, Tumbida Mane etc S Umesh narrated one story to producer but Ramanappa wanted the one he narrated to come on silver screen. That's how 'Hosa Anubhava' took off and held audio release at Sanctum Hotel on Saturday evening.
There is national award winning actor Sanchari Vijay for twenty minutes and noted director S Narayan in a guest role. What is the situation for a director to get producer, how he has to adjust, actors who are making entry facing situations are clubbed in the story of this film.
Padmanabhan of over forty films plays a villain in this film. Rudrani Raj plays the financier role in the film. Yashaswini is making debut and she is in search of a role inside the film. AT Ravish has scores music.
Audio CD off late only for the release purpose and no display in shops is the situation agrees Lahari Velu. Lahari Velu explained the earlier days of S Umesh caliber and said he would take his directorial films till he makes the film.